Trdelnik Prague
Where to taste the best one?
Some people love it, others consider it a tourist kitsch and an overpriced delicacy full of calories. But for lovers of sweet pastries, it's hard to resist, as it usually scents the whole street with cinnamon. Yes, we're talking about trdelnik (shortly "trdlo"), which has managed to "push" even sausages or hot dogs out of Wenceslas Square due to its popularity. But what exactly is a "trdlo"? And is it really "traditionally Czech" or "Old Bohemian" sweet pastry?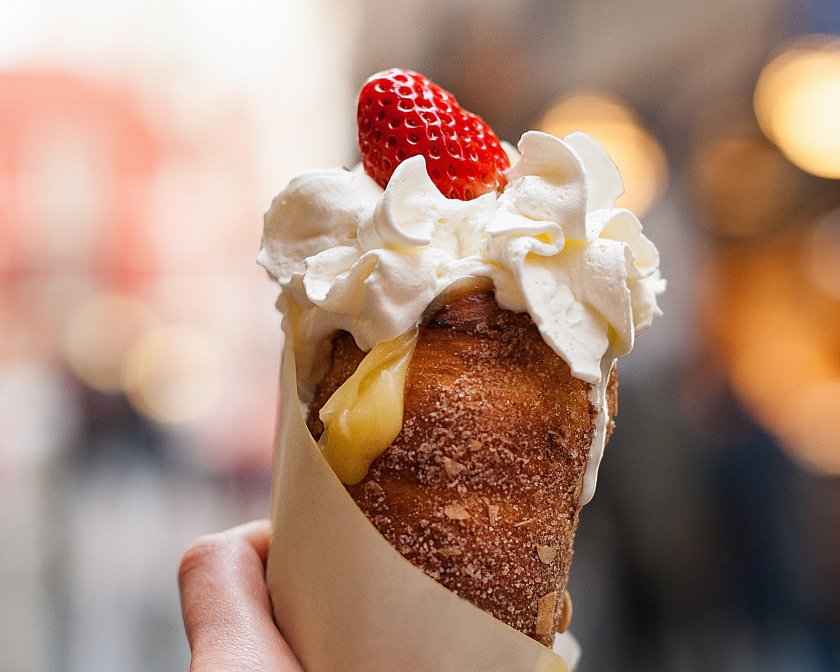 What is a trdelnik?
Trdelnik is a sweet pastry made of yeast dough that is baked in the heat over charcoal. It is first rolled out in strips and then rolled onto a metal cylinder and baked over hot coals. As it bakes, it is turned and brushed with milk until golden. It is then carefully removed from the metal cylinder and rolled in cinnamon, sugar, cocoa, coconut or a mixture of nuts. It is safe to recognise as it is typically shaped like a hollow custard, albeit without filling and larger. It is eight to ten centimetres in diameter. In Prague, it is also popularly offered in an improved version - filled with whipped cream with strawberries, ice cream or nut spread.

Trdelnik and its origin: Where did trdelnik come from?
In recent years, trdelnik in Prague has become something like churros (fried cinnamon sticks) for the Spanish. It has become so popular that it is not only sold in stalls during markets or fairs, but is also available in brick-and-mortar shops. Although traders are fond of referring to it as an Old Bohemian delicacy or even presenting it as a national symbol, the revolving grate dessert was not sold in the Czech lands until the 19th century and originated elsewhere. However, it is impossible to say exactly where from. In fact, two countries - Hungary and Romania - argue over its origin. As always, the truth is somewhere in the middle. According to legend, it was first baked in the Romanian region of Transylvania, but by Hungarians who conquered the area (also known as Transylvania) in the 10th century. The cinnamon sweet pastry was first brought to the town of Skalica on the Slovak-Hungarian border, then to our territory in the 18th century by the Hungarian general József Gvadányi, or rather a cook from his entourage. Later on, it was spread and baked mainly on festive days, and was also worn as a gift for parents during the six months of childbirth. Today, it can also be enjoyed in Luxembourg, Sweden, Germany and Austria.

Why is this sweet pastry called trdelnik or "trdlo"?
As mentioned before, the dough of trdelnik is now rolled onto a metal cylinder and baked over a fire. In the past, this function was performed by a wooden peg with a handle, called a trdlo. It is from this that the sweet delicacy gets its name. In addition, the movement of the dough over the fire was clumsy, so the term "trdlo" came to be used even for clumsy people.

Trdlo Prague: Where to taste best trdelnik in Prague?
You could say that trdelnik became an overnight hit in Prague. The first time trdlo appeared in Prague was in 2002 at the Prague Easter markets on Old Town Square and it was a bit of a revelation next to hot dogs or langos. For visitors to Prague, it was a brand new delicacy that quickly gained attention. In the past, trdelniky used to be baked and sold only in Moravia. In recent years, not only are they at every Christmas market, but all year round they are sold in Prague around Old Town Square or Wenceslas Square. And although trdelniky are not so much "Old Czech" and are far from the "typical Czech delicacy" as they are often presented, they are a popular and sought-after delicacy among tourists. On the other hand - why not? If you have a sweet tooth, we definitely recommend a taste.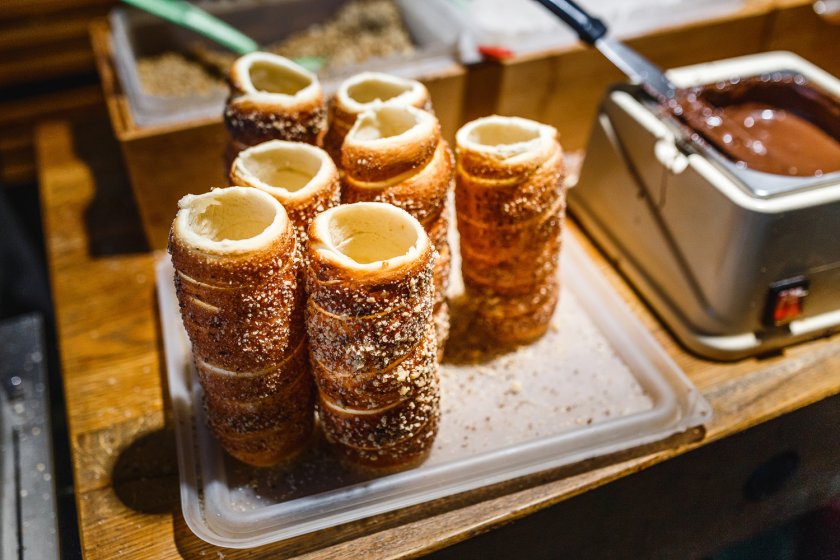 Our tips for the best trdelnik in Prague
TRDELNIK & COFFEE
A small but cosy place in the former Jewish ghetto where you can also buy kosher trdelnik. Guests especially praise the friendly service and larger portions for the standard price.
address: U Starého Hřbitova 42/2, Praha - Staré Město
https://trdelnik-coffee.business.site/
Good Food Chimney Cake
Trdelníkárna just a short walk from the Charles Bridge, offering cakes enhanced with homemade ice cream, flavoured whipped cream, with caramels or even fresh fruit. They have a branch not only in Prague, but also in Romania, Bahrain and Saudi Arabia.
address: Karlova 160/8, Praha - Staré Město
https://goodfoodchimney.com/
Trdlo
A period-themed restaurant where you will be served in old Czech clothes. The menu currently offers four modern trdlo, accompanied by whipped cream and fruit.
address: more branches in the city centre: Mostecká 3, Karlova 165, Na Můstku 1, Na Příkopě 23
http://www.trdlo.com/
Božský Trdelnik
Small wooden stalls located in different parts of Prague, mostly near shopping centres. You can also order a trdelnik on request - with ingredients of your choice.
address: more branches: Prague 5 - NC Nové Butovice, Radlická 520/117, Prague Letňany - bus Tupolevova, Prague Černý Most - Bryksova 759/60, Prague 10 - NC Eden, U Slavie 1527, Prague 9 Prosek - Verneřická 559/3A
https://www.bozskytrdelnik.cz
Old Prague Trdelnik I.
Trdelnik bakery a short walk from Havel Market, near the Klementinum building. They offer traditional trdelnik and those with whipped cream and nutella. An ideal stop during a walk through Prague.
address: u Klementina (Karlova 187/6, Prague - Josefov)
Trdelnik Sweet Dreams
A stone shop with trdelnik, which is very small and the queue is usually all the way outside. It is possible to take the cakes only with you. Classically conceived business.
address: Celetná 565, Prague Old Town
Interesting