TOP 5 seafood restaurants in Prague
serving the best seafood and fish you've ever eaten

A few years ago, it was possible to enjoy quality fish and seafood in only a few restaurants in Prague. The popularity of a healthier lifestyle and the preference for fresh and quality ingredients together with the boom of the Prague gastronomic scene have led to an increase in the number of places where the treasures of the sea play a major role on the menu. Fancy mussels, oysters, octopus or just well-prepared fish? Visit one or more of the seafood restaurants Prague mentioned below and we guarantee you'll feel like you're on holiday by the sea. Some restaurants are even part of Maurer's Choice, a prestigious ranking of the best and most interesting restaurants in the country.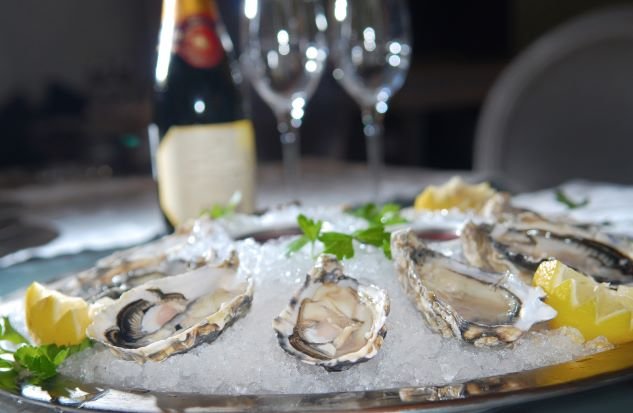 Zdenek's Oyster Bar Prague
Address: Malá Štupartská 636/5, Prague 1
GPS: 50.08848225487853, 14.424429157721605
https://www.oysterbar.cz/
Rolls Royce among seafood restaurants in Prague. That's Zdenek's Oyster Bar. In this restaurant you can enjoy the best that only the sea has to offer: several types of quality oysters, lobsters, crabs, shrimps, sea snails, octopus and many other delicacies. All of this is prepared using modern techniques, in an original fusion style, and combined with the freshness and quality of the ingredients, you can be sure of a unique taste experience. Not sure what to choose from the tempting menu? A friendly and professionally trained staff will be happy to guide you through the entire menu. The same goes for the choice of champagne, of which there are 180 varieties! This is also what makes this restaurant unique. The permanent menu is complemented by the chef's specialties, which are changed every month. Making a reservation is practically a must in Zdenek's Oyster Bar.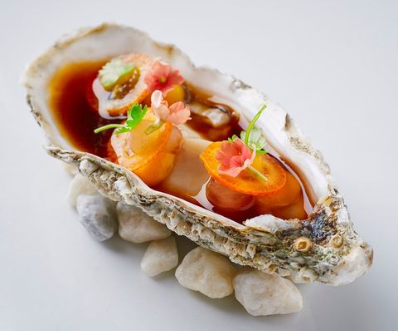 Source: instagram.com/zdeneksoysterbar/

Les moules
Address: Pařížská 19, Prague 1
GPS: 50.09073671286772, 14.418005869367812
https://www.lesmoules.cz/
If you prefer mussels to oysters, head to Pařížská Street. Alongside luxury shops, there's also a Belgian restaurant called Les Moules, probably the most famous "mussel spot" in Prague. Proof of this is the fact that it holds the Best Mussel in Prague award. Every day they prepare 12 kinds of fresh mussels, which they import from Denmark (by the way - they can be on your plate just 12 hours after being caught!) and if you think that a classic portion of mussels is not enough, you can also enjoy unlimited consumption here. Supposedly, 1500 kg of mussels are consumed in Les Moules every month. Proof of quality, isn't it? Of course, the offer is not limited to mussels, the menu is varied and the Belgian beers even more so. As for service, it depends on who you happen to bump into. But the overall experience matches the location - it's simply luxurious!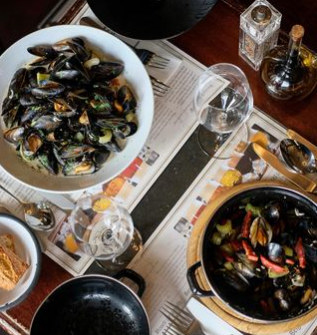 Source: instagram.com/lesmoulespraha/

Bruxx
Address: Náměstí Míru 9, Prague 2
GPS: 50.07551449122803, 14.438063155873369
https://www.bruxx.cz/
Do you want to experience a piece of real Belgium in Prague and enjoy not only fresh mussels, but also legendary Belgian fries, waffles or Belgian beer? Head to Náměstí Míru. Fresh mussels are supplied there three times a week and in addition to mussels, oysters and other delicacies from the sea, you will also find dishes prepared according to traditional Belgian recipes on the menu. An interesting feature is the pairing of dishes with exclusive Belgian beer, of which there are over 50 varieties. Beer with mussels? Or even with a sweet dessert? Why not! Just choose the right one, which the helpful staff will be happy to help you with. Visitors with small children will appreciate the children's corner with professional babysitting, and children are generally welcome there, which - in higher-level restaurants - is quite exceptional. So whether you're a lover of mussels, waffles, beer or even as a parent you want to enjoy a meal in peace for once and are wondering where to go - the answer is Bruxx. The wider menu can come in handy even if you're going for a meal with someone who's not a fan of sea creatures. There's something for everyone!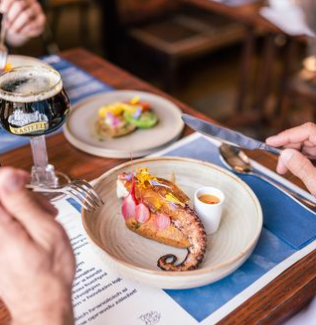 Source: instagram.com/bruxx_prague/

Blue Fjord
Address: Dlouhá 14, Prague 1
GPS: 50.08940006658248, 14.42269649820315
https://www.bluefjord.cz/
You walk into the restaurant, choose what you fancy from a counter full of fresh fish and seafood, and the staff will prepare your meal right in front of your eyes immediately. Just a nice idea? Not at all! That's exactly how it works at Blue Fjord, a fish restaurant in Prague and fishmonger in one. The menu is really wide, with fresh fish delivered several times a day from all over the world. What we must mention is the excellent staff, who really know everything about seafood and can help with the selection even for those who are not very familiar with the "gifts of the sea". The prices here are fair and the experience? Even better. The only minor drawback may be the open kitchen, which means that in addition to a satisfied stomach, you may leave with a bit of fishy odor on your clothes. However, even if you're not a big fish fan, this place - with an interior reminiscent of a fast food bistro at first glance, but with top-notch quality - would be worth a visit even just to peek in thanks to the uniqueness of the concept. Besides, of course, you can buy and prepare anything from the fish assortment at home.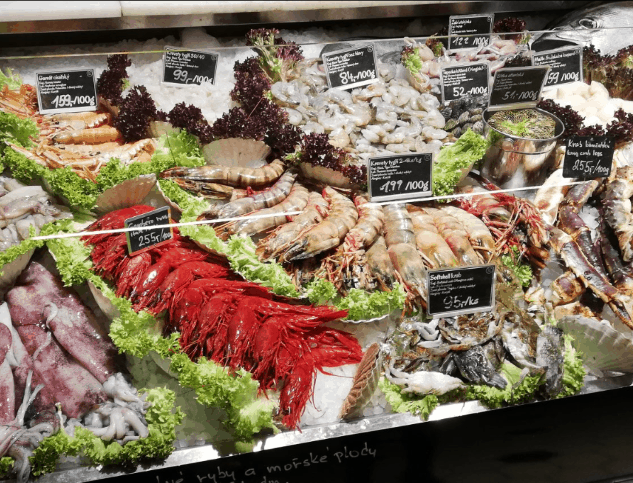 Source: facebook.com/BluefjordPrague

Aromi
Address: Náměstí Míru 1234/6, Prague 2
GPS: 50.07633531480232, 14.436318682861083
https://aromi.lacollezione.cz/
Italy, tradition, quality, freshness, local ingredients, simplicity and authenticity - all wrapped up in a fine dining concept. This is how one could describe the Aromi restaurant, which ranks among Prague's culinary top. The proof is the many international awards Aromi boasts, including the Bib Gourmand label in the famous Michelin Guide. Fish and seafood, served raw (crudi) and cooked, are the main features of the menu. A luxurious establishment also demands professional service, and you'll certainly get that here. Do you like to look under the chefs' hands? Then you'll be pleased with the large open kitchen. The restaurant also has a bistro where you can have breakfast, coffee or even a quick lunch. In the summer, you can make your dining experience more enjoyable by sitting on the terrace. And if one authentic Italian experience isn't enough, stop by sister restaurant La Finestra in Cucina.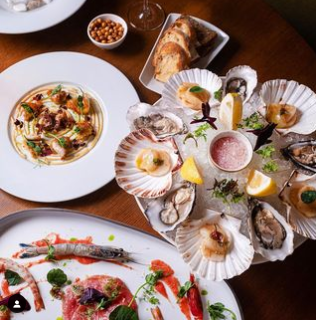 Source: instagram.com/aromi_prague/

Extra tips:
There are more high-quality restaurants serving fresh fish and seafood in Prague, therefore it wasn't easy to choose the best of the best. For the restaurants mentioned above, we took into account their location in the centre of Prague and therefore their easy accessibility. However, if you don't mind travelling a little further from the centre to try other Prague seafood tips, these places are worth a visit as well!
Chorvatská rybí restaurace DECO
Address: Komořanská 101, Prague 4
GPS: 50.003155477376886, 14.405277969364741
https://www.decorestaurace.cz/deco/
Kalendova Chabrybárna
Address: Pod zámečkem 92, Prague Dolní Chabry
GPS: 50.15129847087799, 14.438309498205308
https://www.chabrybarna.cz/

Map with an overview of the TOP 5 seafood restaurants in Prague
Interesting