Swimming in Prague
30+9 tips for the best places to swim in Prague and its surroundings

There are plenty of places to swim or just enjoy water fun in Prague. Whether you're looking for a place to cool off on a hot summer day, or the weather isn't so good for wandering around Prague's beauty and having some outdoor fun, we've prepared an overview of the best places for swimming in Prague, where you can enjoy swimming, some water fun or just relax with a book and maybe a drink in your hand. You can choose from indoor and outdoor swimming pools in Prague, natural bathing and biotopes, there are also large aquaparks that, in addition to a good portion of fun for the whole family, also offer other sports and wellness services. Current opening hours, ticket prices and other information is available on websites by particular places.
Last update: July 2022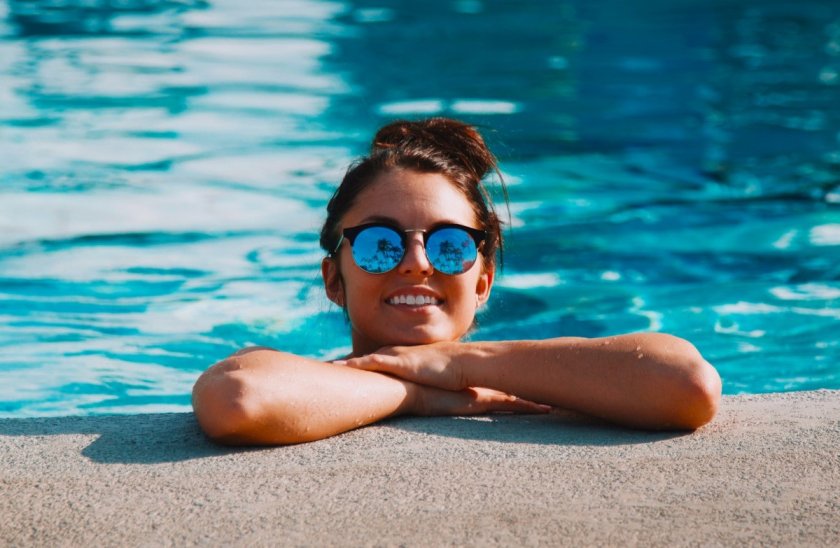 1. Aquaparks Prague
Aquapalace Prague, PRAGUE ČESTLICE
The largest water park in Central Europe offering a water world, consisting of 3 themed palaces: Palace of Relaxation, Palace of Treasures, Palace of Adventure with an outdoor zone. This water park also boasts the longest water slide in the Czech Republic measuring 250 metres. In addition to fun in the water world, the complex offers a sauna world, spa & wellness centre and a modern fitness centre.
https://www.aquapalace.cz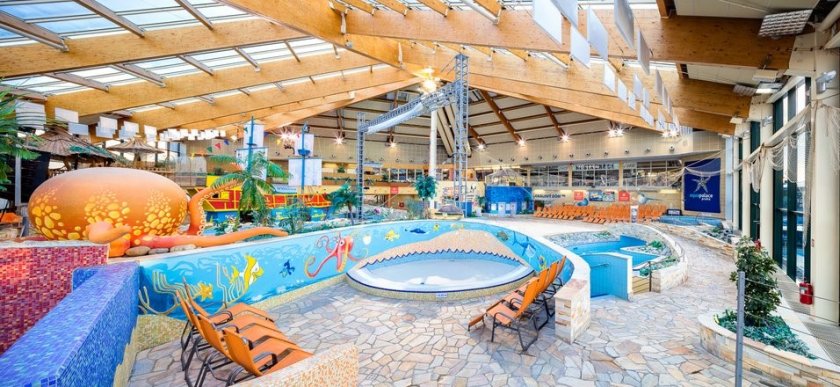 Image source: aquapalace.cz
Aquacentrum Letňany Lagoon, PRAGUE 18
In addition to a 25-metre pool where you can swim in peace, there are a number of attractions designed purely for fun and relaxation, such as an 86-metre long water slide, a pool with massage gargoyles and a so-called wild channel, a pool with air and water massages and much more. The centre also includes a relaxation area with a Finnish sauna and whirlpool or a fitness centre. The complex is located directly in the shopping centre Letňany.
https://www.letnanylagoon.cz/
Aquadream Barrandov, PRAHA 5
Compared to the previous ones, this is a smaller and older aquatic centre, but both young and old will enjoy it. In addition to the classic 25 m swimming pool and outdoor relaxation pools, the complex offers two water slides (115 m and 62 m), a wild river with counter-current, whirlpool and various massage jets, children's pools with paddling pool. If you get a craving for something good, you can use the water bar.
http://aquadream.cz
Aquacentrum Šutka, PRAHA 8
One of the newest water worlds offering a 50-metre indoor pool, relaxation pool, whirlpool, wild river, 2 water slides, waterfall, paddling pool for the little ones and a water bar with refreshments and wellness. In summer, you can use the outdoor terrace with a beautiful view of Prague. The whole area is also fully wheelchair accessible.
https://www.sutka.eu

2. Multifunctional sports complexes with outdoor and indoor swimming pools

Podolí Swimming Stadium, PRAGUE 4
One of Prague's most popular sports venues offers two outdoor and one indoor swimming pools, an outdoor water slide, a large grassy area for summer sunbathing, and additional services such as steam, sauna, solarium and fitness centre. The outdoor pool is also accessible in winter, as the water is heated and does not drop below 25 degrees Celsius. Interesting fact? Since 2020, the area has been protected by a monument.
https://pspodoli.cz
Sports and Recreation Complex Pražačka, PRAGUE 3
Together with Podoli, one of the most famous sports and relaxation complexes, which stands out with a swimming pool with the warmest water and a great view of Prague. The outdoor heated pool is divided into 3 functional zones - swimming, relaxation with whirlpools and family with attractions for children. In the Pražačka complex you will also find an indoor swimming pool, sauna, gym, volleyball, football, beach volleyball, fitness, athletic oval or football field. It is truly a multifunctional complex.
http://www.prazacka.cz/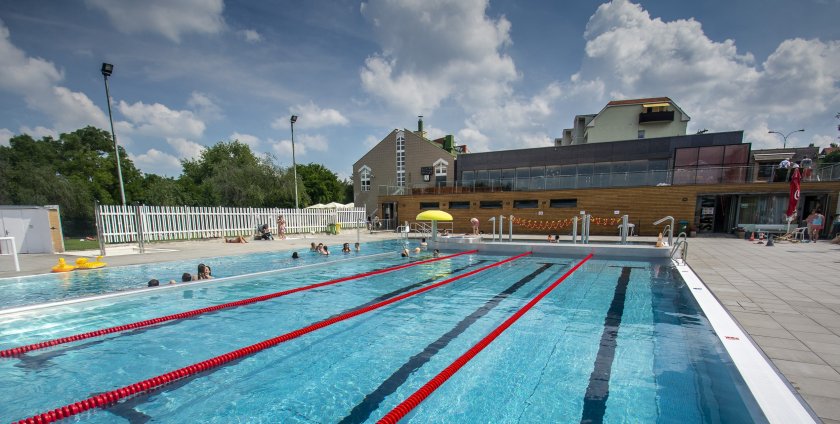 Image source: prazacka.cz
Swimming and sports complex Hloubětín, PRAGUE 14
Two indoor saltwater pools are the main attractions of this complex. In addition to these, an outdoor pool is open in the summer, and you can also use the gym, fitness room or sauna.
http://www.bazenhloubetin.eu
Swimming stadium SK Slavia, PRAGUE 10 - Vršovice
The swimming pool is part of the Slavia Eden sports complex, so it is again a space offering various types of activities. In addition to two swimming pools - an indoor 25m and an outdoor 50m, where it is also possible to use diving boards, the complex includes a children's pool with a water slide, sauna, massage, solarium, fitness, additional recreational sports facilities, and a number of courses.
http://psslavia.cz
Swimming complex Jedenáctka VS, PRAGUE 11 - Jižní Město
Another multi-purpose complex consisting of 3 halls. In the first one there is a 25m swimming pool, a water world including a water slide and a paddling pool with a slide for children, a wellness zone, and a restaurant. The second hall - the Children's Swimming Centre - offers pools specifically for children and babies, while the third is multi-purpose for indoor sports.
https://www.aquasportclub.cz/
SK Motorlet Praha, PRAGUE 5 - Radlice
A sports complex offering a 25m swimming pool, and in summer an outdoor pool with a massage grid and a spout. There is also a gym, spinning centre, sauna or rooms for group lessons and a sports hall for ball sports.
https://www.sk-motorlet.cz/

3. Indoor swimming pools Prague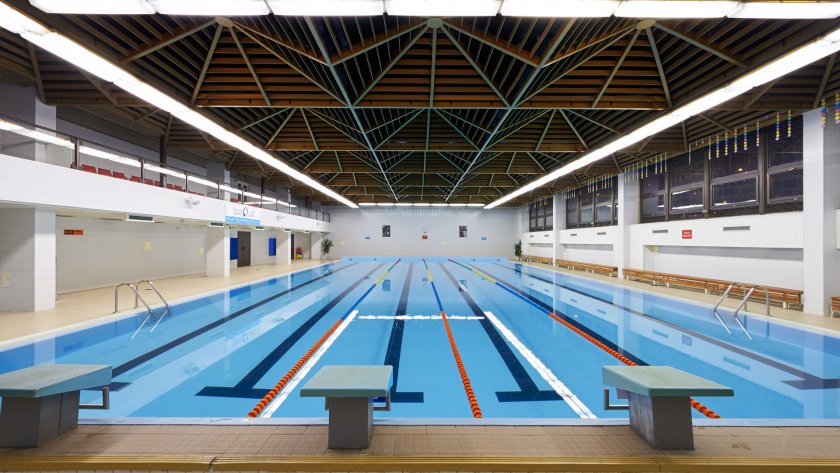 Image source: scymca.cz
Indoor pool Axa, PRAGUE 1
This 25m pool is part of the Axa Hotel, but can also be used by the general public. In addition, there are saunas, a steam room, relaxation room, solariums and massages available for visitors. The special feature of this pool is the price - you don't pay for entry or hours, but 1 CZK for 1 minute.
https://www.bazenaxa.cz/bazen.htm
Sportcentrum YMCA, PRAGUE 1
A sports facility right in the city centre, which offers a sauna, solarium and massages in addition to a swimming pool. Also offered are aqua aerobics classes, float yoga or swimming school.
https://scymca.cz/bazen/
Swimming pool in hotel Olšanka, PRAGUE 3
Another swimming pool that is part of the hotel complex, but is also open to the public. It also includes services such as sauna world, gym, massages, badminton and various group lessons.
https://www.hotelolsanka.cz/sport/bazen/

4. Outoor swimming pools Prague

Petynka Swimming Pool, PRAGUE 6 - Střešovice
A modern complex with a 50-metre heated swimming pool, 100-metre water slide, paddling pool and grassy beaches. You can also relax on the grassy roof of the service building. The advantage is that it is fully wheelchair accessible.
https://www.koupalistepetynka.cz
Na Stírce swimming pool, PRAGUE 8 - Kobylisy
In addition to a large swimming pool, the swimming pool Na Stírce also has a children's pool with a water mushroom and a slide. You can play volleyball, football or petanque. There is also a sun lounger and umbrella rental service, a Finnish sauna, fitness massages and a restaurant with a garden. The pool is fully wheelchair accessible.
https://www.koupaliste-stirka.cz
Ládví swimming pool, PRAGUE 8 - Ládví
A swimming pool that is used as an ice rink in winter. In addition to the pool, it includes a paddling pool with a slide, and the possibility to play petanque or ping pong.
https://www.koupalisteladvi.cz
Divoká Šárka swimming pool, PRAGUE 6
This beautiful swimming pool in the Šárka Valley, surrounded by high rocks and the Šárka Stream, is Prague's most peaceful swimming pool. The swimming pool is one of the quietest and most peaceful places in the Czech Republic. Thanks to the fact that the water in the swimming pool comes directly from the Šárecký Brook, the water is significantly cooler. In addition to the two swimming pools for swimmers, it also includes a paddling pool for children, a slide, slides, a swing, a trampoline or a children's castle.
https://koupaliste-sarka.webnode.cz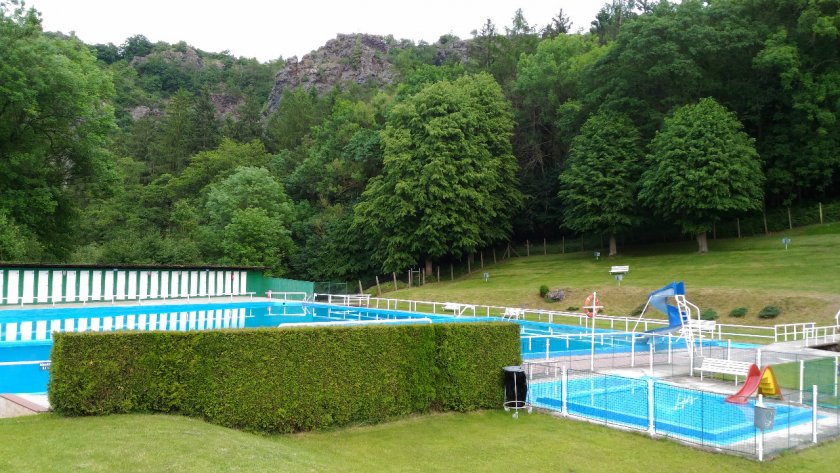 Image source: koupaliste-sarka.webnode.cz

Swimming pools in the outskirts of Prague
Summer swimming pool Čakovice
If you're looking for a quieter but easily accessible swimming pool from Prague, try Čakovice. The area includes a large and small swimming pool, a water slide, a playground, a large green area for sunbathing and plenty of space to relax in the shade.
https://www.koupalistecakovice.cz/
Klánovice swimming pool
Like Čakovice, Klánovice is a peripheral but one of the most beautiful parts of Prague. You can use the swimming pool with a gradual entrance to the water, a paddling pool, a large grassy beach, two playgrounds for children, trampolines, rocking animals, beach volleyball, table tennis or mini golf for athletes. The advantage may be also the off-prague prices of refreshments. And if you get tired of lying by the water, we recommend a walk through the Klánovice Forest.
http://koupalisteklanovice.cz
Kolovraty swimming pool
If you want to combine swimming with cycling, the swimming pool in Kolovraty may be the right choice. From Prague you can get here by bike along pleasant cycle paths and as a reward you can enjoy a swim in the heated pool with a swimming and relaxation area. For children there is a smaller, also heated pool with a slide and a spout. The sun terrace with sun loungers also provides relaxation.
https://www.koupalistekolovraty.cz/

5. Biotopes in Prague
Image source: koupaliste-lhotka.cz
Bathing biotope in Radotín - PRAGUE 5
An artificial water reservoir with a natural appearance, which is cleaned biologically - without chemistry, using only algae and natural ecosystems. Yet the water is beautifully clean. Swimming is also suitable for the little ones or allergy sufferers who would be bothered by the chlorine in a traditional swimming pool. It includes refreshments, sports equipment rental, a Finnish sauna, toilets, showers and changing rooms. Children can enjoy several attractions with a playground.
http://biotopradotin.cz
Biotope Lhotka - PRAGUE 4
Similarly to the biotope in Radotín, the water is purified naturally and is therefore suitable for allergy sufferers and people with sensitive skin. Visitors can use changing rooms, showers, toilets, a clubhouse, a refreshment stand, and there are plans to expand the range of leisure activities in the future with a climbing wall, a ropes course, a multifunctional playground and other attractions.
http://www.koupaliste-lhotka.cz

6. Natural bathing in Prague

Žluté lázně, PRAGUE 4
One of the most popular sports and recreation areas in Prague. It offers grassy and sandy beaches, sports facilities for beach volleyball, table tennis, an outdoor gym, and regular cultural events such as concerts and a summer cinema. There are several restaurants and bars overlooking the Vltava River.
https://www.zlutelazne.cz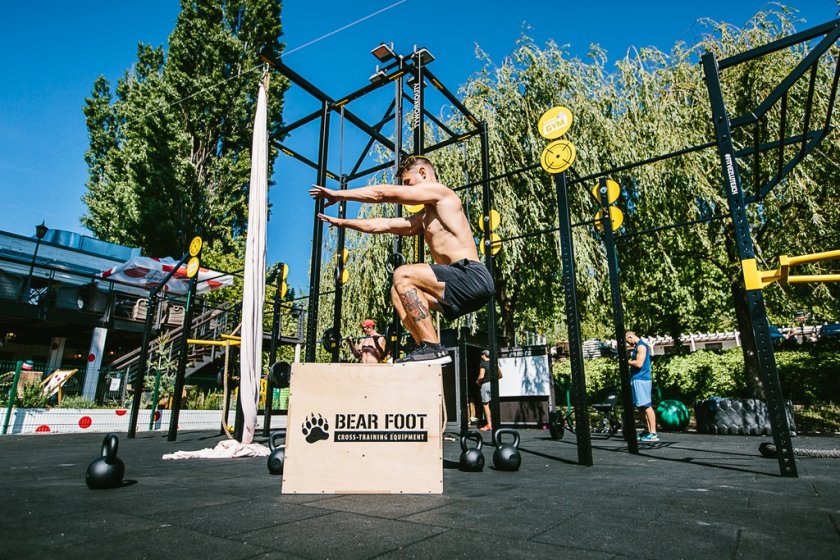 Image source: zlutelazne.cz
Hostivař dam, PRAGUE 10
The largest body of water in Prague in the middle of Hostivař forest park, just a short distance from the centre of Prague, with easy access by car and public transport. The area is suitable for families with children, sportsmen and nudism lovers. In addition to swimming or relaxing on the grassy and sandy beaches, it offers a range of sports activities - pedal boats, paddleboards, slacklines, fitness zone, wakeboarding lift, beach volleyball court, multifunctional playground, mega trampoline, giant slide and many other attractions. Of course, there are changing rooms, toilets and several refreshments. Cultural and sporting events are regularly held here throughout the season.
https://www.hostivarskaprehrada.cz/
Natural swimming in Modřany, PRAGUE 4
Pleasant grassy areas in close proximity to the popular Vltava cycle path in Prague 4 Modřany. There are no services available, but it is an ideal place for relaxing by the water, with plenty of shade thanks to the trees. The water is clean but cold.
Motol natural swimming pool, PRAGUE 5
This natural reservoir is fed by the Motolský Brook and is described as one of the cleanest natural bathing waters in Prague. The water quality is regularly checked by the sanitary service. Thanks to its gradual entrance and shallow sandy bottom, it is especially suitable for children, there are also children's attractions (playground, slide, trampoline...). There are changing rooms, toilets and refreshments. Fans of nudism will also find something to do here.
Leisure area Šeberák - PRAGUE 4
The swimming pool is part of the leisure complex, which also includes a restaurant open all year round. There are also various weekend programs for children and adults, including weddings. Sports equipment rental is available.
http://www.seberak.cz/
Swimming pool Baden Baden Štvanice, PRAGUE 7
Traditional swimming pool offering not only relaxation and sports activities but also a cultural programme - occasionally small concerts are held here. Sun loungers, paddleboards, toilets, showers and refreshments are available for visitors.
Počernice pond, PRAGUE 9
The largest pond in Prague. Although the grassy beaches are not landscaped and the water is not completely clear, it still offers pleasant swimming. The back part is a popular place for nudists.
Water reservoir Džbán, PRAGUE 6
The second largest natural swimming pool in Prague is located in the Šárecké valley. There are changing rooms, sanitary facilities, refreshments. Due to its gradual entrance, it is suitable for children, part of the beach is also reserved for nudists. Various cultural events were also held in the area. Wakeboarding was also an interesting attraction. ATTENTION - unfortunately the whole area is closed in the 2022 season.
Other possibilities of nice natural swimming near Prague
Natural swimming pool Vyžlovka https://vyzlovka.cz/koupaliste-vyzlovka/
Lake Lhota https://www.jezero-lhota.cz/
Natural swimming pool Konětopy https://www.jezerokonetopy.eu
Natural swimming pool Jureček near Říčany https://www.jurecek-ricany.cz/plovarna/s-54
Lake Poděbrady https://koupalistejezero.cz/
Proboštská lakes https://probostskajezera.com/
Kosov quarry
Sandpit and lake Sadská
Malvíny sandpit and Mezi mosty lake

Map with an overview of all tips where to swim in Prague
(outdoor as well as indoor - select which ones you want to display)
Interesting