Luggage Storage in Prague
last update: 2023
Apart from hotels, the easiest way to store your luggage in Prague is to use luggage storage facilities at the airport, train stations or commercial companies offering this service. Below you will find an overview of luggage storage facilities where you can safely store your luggage in Prague and enjoy the beauty of Prague without any limitation.
Note: Luggage storage facilities usually accept easily portable luggage without the risk of soiling, injury or causing any damage to persons. A complete list of luggage and items that can or cannot be stored is usually available on the website of particular services.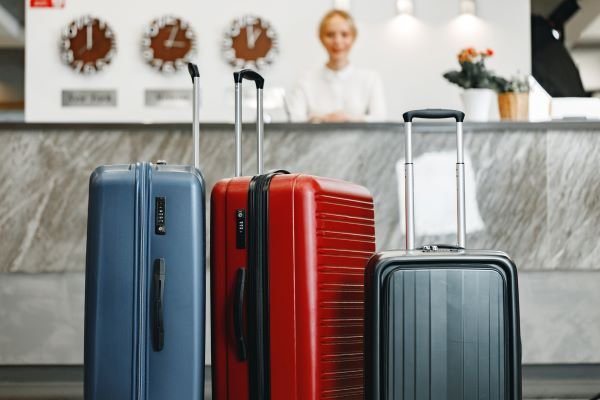 Luggage storage in Prague at transport hubs

At the airport
Václav Havel Airport Prague Luggage Storage
Address: Aviatická, Prague 6
Accessibility: bus stop Terminal 1 or Terminal 2 (directly in front of the airport hall) or Airport Express bus stop providing direct connection between the airport and the main train station (approx. 25 minutes).
Info: open 24 hours a day, payment by cash or card.
More information: www.prg.aero/en/baggage-storage

At the train station
Prague Main Railway Station Luggage Storage
Address: Wilsonova, Prague 1
Accessibility: metro station A or C - Hlavní nádraží, tram stop Hlavní nádraží or Jindřišská
Info: Luggage can be stored for a maximum of 40 days. If it is not collected within the time limit, it can be opened to identify the owner. Items in storage are released upon presentation of a storage ticket and payment of a fee for the storage period. Attention - the luggage can be released to anyone who has a storage ticket, so beware of losing it!
Another option is to use self-service lockers at the train station operated by a commercial company - see below for more information. There is a bicycle locker at the station, too, also run by a private company.
More information: www.cd.cz

At the bus station
ÚAN Florenc
Address: Pod výtopnou 13/10, Prague 8
Accessibility: bus, tram and metro station Florenc
Info: There are two luggage lockers. Luggage can be left in the luggage room for a maximum of 30 days and can only be checked out during opening hours. After this period, it can be removed without a refund. The value of one piece of luggage, including its contents, may not exceed CZK 15,000. Proof of receipt of the luggage in the luggage room is a storage ticket with the price for this service. The following items are accepted: suitcases, rucksacks, travel bags, wrapped and clean bicycles, snowboards and skis in a special packaging. In addition to dirty and damaged luggage, the following items are not accepted: strollers, valuables, documents, money, jewelry, weapons, laptops and other electronics. A complete list is always listed on the website.
More information: florenc.cz

Other luggage storage options in Prague
In Prague, as in other cities, there are also storage facilities operated by private companies. The advantage is that more parts of the city are covered, the disadvantage is usually higher costs and limited storage time.
▪️ Radical Storage Prague RECOMMENDED
An international network of luggage storage facilities offering luggage storage in cooperation with local businesses - hotels, cafes, offices and other. Thanks to this, it offers its services in multiple locations around Prague centre. An overview of all of them is available HERE.
Info: Opening hours vary from place to place, some are available 24/7. The price is around 5€ per day, regardless of the size or weight of the luggage.
More information: https://radicalstorage.com
▪️ Travel Box / Cubesave
Address: Main train station Praha, Wilsonova
In addition to manned luggage storage, self-service Cubesave luggage lockers can be used at the main train station. These bright yellow lockers of various sizes (S, M, L or bike) are located in the lobby and can be rented for 6 or 24 hours. The price therefore varies according to size and length of use. Each locker also has a USB connector inside for charging your phone, tablet or camera. You can even charge an electric bike in the Bike Boxes. Another advantage is the possibility of re-entry into the locker. Payment can only be made cashless, by card or mobile phone. Availability is determined by the opening hours of the station lobby.
More information: http://www.travel-box.cz/

▪️ Easylocker
Address: Prokopská 625/1, Prague 1
Accessibility: tram station Malostranské náměstí or metro station Malostranská
Info: Approximately 50 self-service lockers in the centre of Prague, 100 metres from Malostranské náměstí and 150 metres from Charles Bridge. You can store your suitcases, backpacks or travel luggage here. The small and medium lockers include a universal USB charger. When storing your luggage, you must first select the size of the locker and the storage time via an electronic terminal. After payment by credit card or mobile phone, a storage ticket is printed and the luggage is then placed in the locker. The locker is open every day from 9 am to 9 pm. The locker can be rented for 1 hour to 5 days. It is possible to reserve a locker in advance on the website.
More information: www.easylocker.cz

▪️ Luggage storage Prague
Address: 3 branches in the centre of Prague
Revoluční 8, Prague 1 (near OC Palladium, only for long-term storage)
Havlíčkova 2, Prague 1 (Masaryk Station)
Jakubská 663, Prague 1 (OC Kotva) - self-service lockers
Accessibility: all locations are easily accessible by tram or metro station B - Náměstí Republiky and Masarykovo náměstí.
Info: Luggage can be stored even for more than 60 days (at a special long-term rate), with 24-hour security. It is also possible to have your luggage picked up at the hotel or airport and deposited in the luggage room. For ISIC, ITIC, IYTC, ALIVE card holders a 10% discount applies
More information: luggagestorageprague.com
Interesting