Guide for all vegans in Prague
TOP 22+1 tips from locals for the best vegan spots in Prague

Gone are the days when finding a vegan restaurant in Prague was a bit of a challenge. Or rather, not only a vegan restaurant but in general a place in Prague where vegans can enjoy tasty vegan food. And today? You can easily eat whatever you feel like, whether it's a vegan burger, pizza, cake or even typical Czech food adapted into a vegan version.
To make it easier for you to decide where to go for quality and tasty vegan food in Prague, we have prepared this list of vegan restaurants, pubs, bistros, cafes and even one bar in Prague that we dare to say are among the best vegan places in Prague. Thanks to our guide, you'll know right away where to go in Prague for the best vegan breakfast, brunch, lunch, dinner or a delicious dessert with coffee.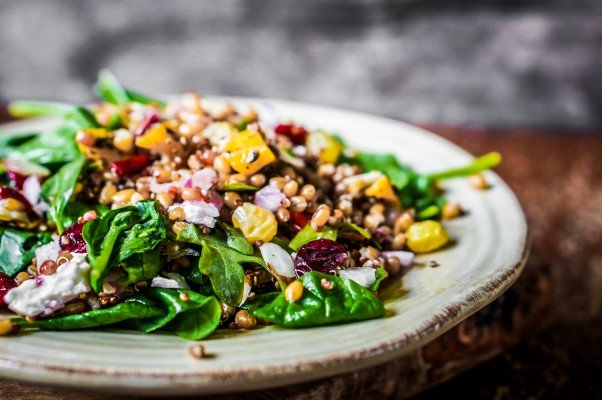 Where you get vegan Czech food in Prague
Shromaždiště
Address: 13 Krásova Street, Prague 3
GPS: 50.08292, 14.44717
https://shromazdiste.business.site/
Žižkov is the Prague district with the highest concentration of pubs. So it is no wonder that a pub specifically for vegans has found its place here. If you want to try in Prague traditional Czech food in a vegan version - goulash, svíčková, stuffed dumplings, chicken with paprika sauce... or fries in several ways and beer on tap, Shromaždiště, just a short walk from the Prague main train station, is the place for you. Just check the opening hours, which are limited on some days.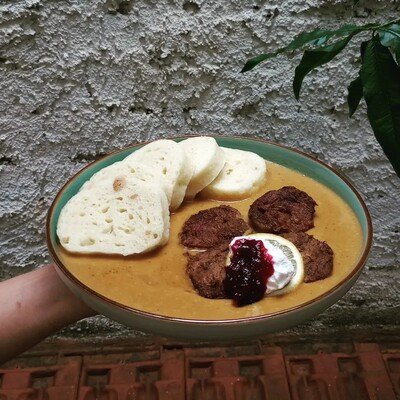 Source: Facebook Shromaždiště

Moment Vegan Bistro & Cafe
Address: Slezská 62, Prague 2
GPS: 50.07618, 14.44732
https://www.momentbistro.cz/
A cosy, welcoming vegan café in Prague combined with a bistro, which has been taken over by the crew from the vegan restaurant Palo Verde (see tips further) and given a whole new face. Compared to Palo Verde, the menu is dominated by vegan versions of traditional Czech meals like "svíčková", goulash or stuffed dumplings. Including draft beer. The bistro is also renowned for its delicious vegan breakfasts and desserts.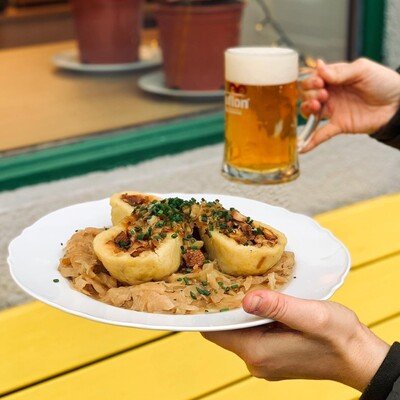 Source: facebook.com/veganmoment

Fast & street food in a vegan style
CHUTNEJ
Address: Letohradská 50, Prague 7
GPS: 50.09813, 14.42443
https://www.chutnej.cz/
A two-storey vegan restaurant in Prague focusing mainly on veggie burgers, vegan pizza and lasagne. The lunch menu is also available during lunchtime with soup. In the summer, they also lend a picnic basket and blanket so you can enjoy your meal in the nearby Letna Park overlooking the whole of Prague. Friendly and fast service is just the icing on the cake - by the way, you can also have desserts and great coffee here.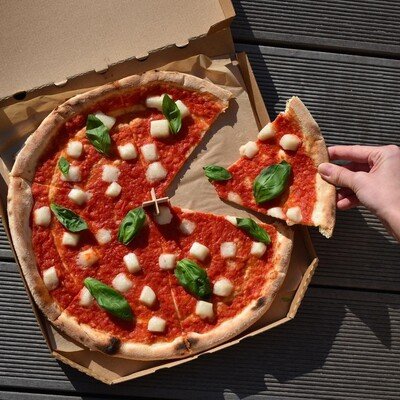 Source: facebook.com/chutnejcz

Forky's Prague
Address: 2 branches
Veleslavínova 93/10, Prague 1, GPS: 50.08775, 14.41633
Milady Horákové 16, Prague 7, GPS: 50.0994, 14.43095
https://www.forkys.eu/
Forky's is an international fast food vegan restaurant chain with two branches in Prague. It focuses mainly on vegan burgers and street food, but on the menu you can also find superbowls composed of so-called superfoods. The permanent menu is expanded with daily specials. Forky's is great proof that plant-based food is not just for vegans - everyone will enjoy delicious vegan food in Prague there.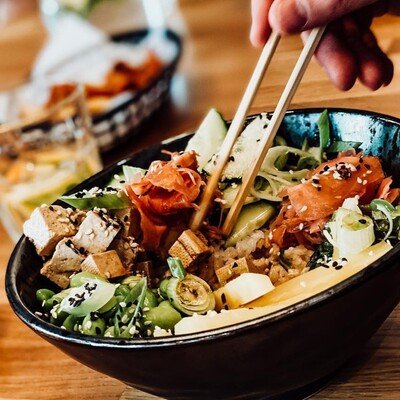 Source: facebook.com/forkyscz

Belzepub
Address: U Rajské zahrady 14, Prague 3
GPS: 50.08248, 14.44428
http://www.belzepub.cz/
Although vegan burgers are on the menu at many vegan restaurants and bistros in Prague, for the best ones we recommend heading to this little punk pub in Žižkov. In addition to the burger, you can also get a fried-no-cheese, mac-no-cheese, no-fish with potato salad and more. With beer, of course, because without it, a pub is not a pub!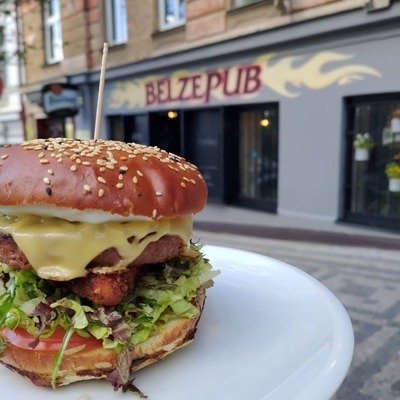 Source: facebook.com/belzepubcz

Sabotage vegan bistro
Address: Kodaňská 651/22, Prague 10
GPS: 50.07074, 14.45837
https://sabotage-food.cz/
Little time, big hunger? Pop into this bistro for a hot dog, burger, wrap, sandwich or nachos and problem solved. Moreover, you can leave with not only a satisfied stomach but also a hat, T-shirt or patch - as the bistro has its own merch.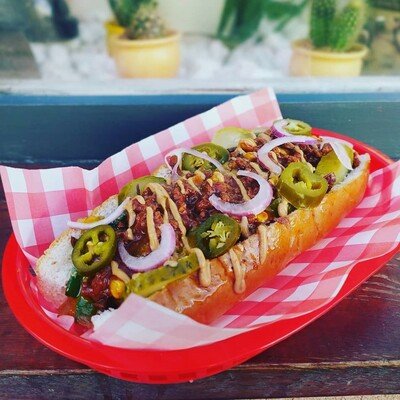 Source: facebook.com/sabotagefood

More than just a vegan restaurant
Social bistro Střecha
Address: Křemencova 7, Prague 1
GPS: 50.07846, 14.41729
https://www.bistrostrecha.cz/en/
Střecha is not just a place to enjoy one of the best vegan food in Prague and good fair-trade coffee. What makes it different from other vegan restaurants in Prague is that it tries to give a new chance to homeless or post-prison people through employment and other help. Moreover, this is another place where you can order typical Czech food in a vegan version- for example, goulash, dumplings, schnitzels and even ribs. The meals are simple but tasty, and well-priced. We recommend a visit already because of that unique concept. In addition, you can also help yourself by purchasing a so-called "zavěšený oběd", allowing a person in need to eat at the bistro for free.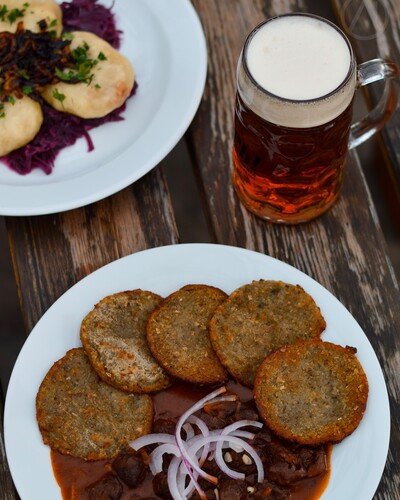 Source: facebook.com/RestauraceStrecha

Eaternia
Address: Nádražní 3, Prague 5
GPS: 50.06559, 14.40764
https://www.eterniasmichov.com/
Eaternia is located in the former malthouse, where concerts are regularly held, skateboarders run wild on the mini ramp and the place is generally alive. It's already clear from this that you won't find fine dining here, but a menu full of vegan burgers, hot dogs, langos or fried (no)cheese. Simply put honest junk food made from local ingredients in a vegan version. Moreover, with nice prices. This original eatery with some of the best vegan food in Prague and a friendly, completely casual atmosphere should simply not be missing from your must-visit list.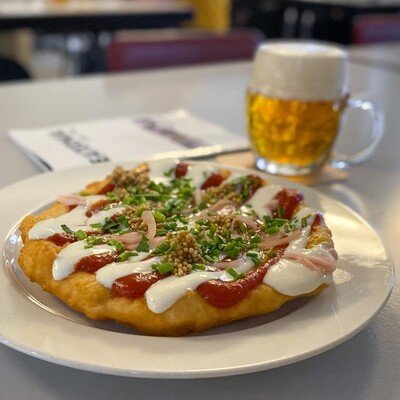 Source: facebook.com/eaterniajidelna



Pay-by-weight vegan restaurants and bistros
Loving Bistro and Loving Hut Prague
Address: more branches in Prague, see the overview on the website
https://www.lovinghut.cz/
https://www.lovingbistro.cz/
Loving Hut may sound familiar to you because it is an international restaurant chain. And without doubt one of the best vegan restaurants in Prague! Like its sister restaurant Loving Bistro, they are located mainly in shopping centres. Both are vegan restaurants based on a self-service buffet concept, where you pay by the weight of your meal. The daily menu is complemented by a permanent offer of mainly Asian dishes such as pho, rolls or sushi. For a quick, healthy lunch, Loving Hut is the perfect place!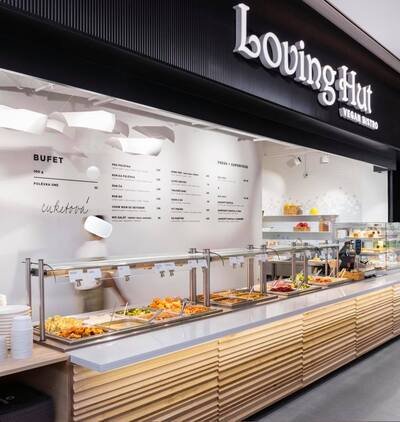 Source: facebook.com/lovinghutczech

Dhaba Beas Prague
Address: more branches in Prague, see the overview on the website
https://dhababeas.cz/
Dhaba Beas in Prague is a chain of vegetarian and vegan restaurants that is definitely not to be missed in our selection. As with Loving Hut, Dhaba Beas are self-service restaurants where you can order anything from the daily menu according to your taste and hunger, have your food weighed at the cash register and pay accordingly. The dishes are mainly based on traditional Indian, Vietnamese and Thai cuisine, but there is also Czech cuisine. Dhaba Beas is the ideal choice if you are looking in Prague for a quick, quality and at the same time affordable meal.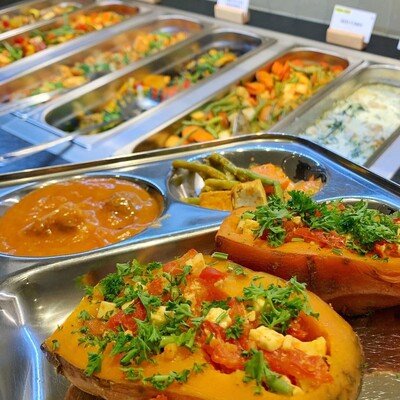 Source: facebook.com/BeasVegetarianDhaba/

Sandokan vegan bistro
Address: Korunní 81, Prague 2
GPS: 50.07551, 14.45143
https://sandokanprague.cz/
A small cosy vegan bistro in Prague where even non-vegans can enjoy fresh vegan food. Especially if you like Indian food. The menu changes every day, and the bistro works on the principle of the self-service buffet, so the price depends on the amount you order. There is also a salad bar. A great choice for a reasonably priced vegan lunch! As a bonus to your meal, you will also get a dose of positive energy from the wonderful owner.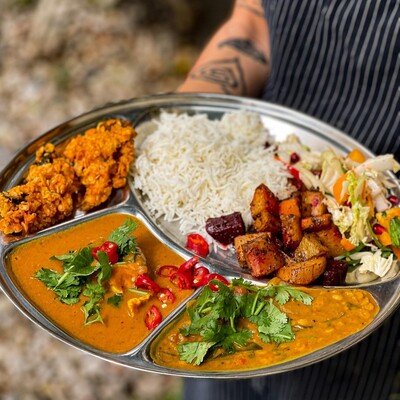 Source: facebook.com/sandokanbistro

An Veganteria
Address: OC Stromovka, Veletržní 24, Prague 7
GPS: 50.10219, 14.43072
https://anveganteria.choiceqr.com/
Do you love Asian food? We recommend going to the Stromovka shopping centre. Yes, you read it right. Although restaurants that are part of shopping malls are often considered inferior, this is certainly not the case here. An Veganteria will surprise you not only with its wide buffet offer but also with its pleasant ambience and friendly service. You can also order from the classic menu. Once you come here for a meal, you will definitely agree with us that this is one of the best vegan restaurants in Prague.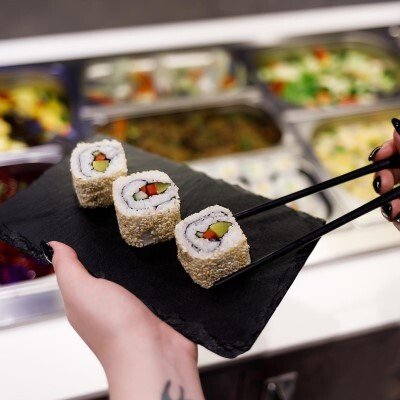 Source: facebook.com/anveganteria

Great vegan food in Prague with a pleasant view
Vegan's Prague
Address: Nerudova 36, Prague 1
GPS: 50.08857, 14.39825
http://www.vegansprague.cz/
Right under the Prague Castle in the heart of Prague, in the attic, you will find a restaurant serving some of the best vegan food in Prague. On summer days, with an amazing view of Prague Castle and the rooftops of the Old Town. On the menu, you will find traditional Czech specialities and world cuisine. As a stop while exploring the streets around Prague Castle, we definitely recommend it!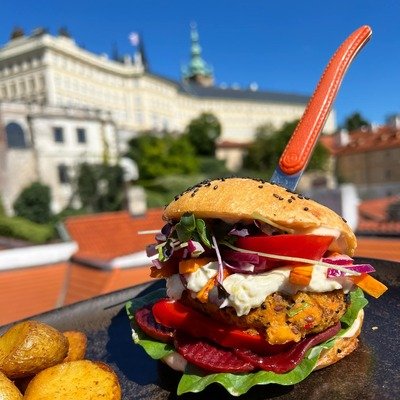 Source: facebook.com/vegansprague

Vegan family lunch or dinner for two
Pastva
Address: Nádražní 102, Prague 5
GPS: 50.06989, 14.40555
https://www.pastva-restaurant.cz/
Besides Eaternia, this is another of the best vegan restaurants in Prague - Smichov. While Eaternia is a place where it's still alive and is suitable mainly for junk food lovers, Pastva is a stylish, quieter vegan restaurant ideal for a family lunch, celebration or even dinner for two. It offers a daily lunch menu and several desserts, plus a fine-tuned permanent menu combining different flavours, including Asian ones. Try the homemade mushroom pate as an appetizer and the lasagna as a main course!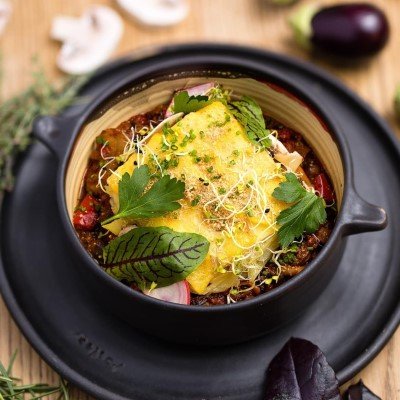 Source: facebook.com/Pastva/

For vegan breakfast, brunch, lunch, dessert... simply anytime
Palo Verde Bistro
Address: Žitná 45, Prague 1
GPS: 50.07727, 14.42862
https://www.paloverdebistro.cz/
Palo Verde Bistro started in Prague as a vegan café, today they focus on homemade pasta in addition to desserts. The menu also includes street food, tapas and bowls, while the permanent offer is expanded by a varied lunch menu. A vegan breakfast offer is also delicious. Whether you settle down in the cosy interior or the pleasant courtyard garden, whether you pop in for breakfast, brunch, lunch or just a coffee, you'll leave satisfied. One interesting fact: Palo Verde is located in the Salvator Boutique Hotel, a vegan-friendly hotel. The perfect place to stay when visiting Prague, isn't it?
Extra tip:
Palo Verde team's projects include also a vegan café / sweet shop SHARE SWEET & ESPRESSO BAR connected to a yoga studio. A real paradise for all sweet lovers. You won't know what to choose from the showcase full of desserts and cakes!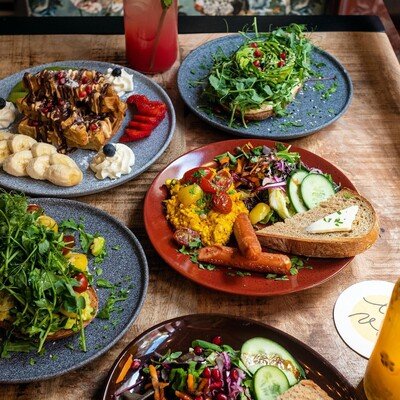 Source: facebook.com/paloverdebistro

BistRAW & Tea
Address: Londýnská 30, Prague 2
GPS: 50.07318, 14.4348
https://bistraw.cz/
Smaller, cosy bistro and vegan cafe in Prague offering raw and vegan food. They prepare fresh juices and smoothies from ingredients to suit your taste, there is also a wide range of vegan lattes and teas. Among the dishes, on offer there is soup, sandwiches, hummus, raw burgers, salads and desserts. And one interesting thing - you can pay here with bitcoins.

Dosa Dosa Bistro
Address: Újezd 390/43, Prague 1
GPS: 50.08465, 14.40422
https://www.dosadosa.cz/
Dosa Dosa was originally a stand offering vegan food at various festivals. Today, you can stop by for their delicacies e.g. after a walk through Petřínské sady. No matter whether for vegan breakfast, lunch or coffee with dessert, which they bake themselves. And what does "dosa" actually mean? It is a crispy fermented pancake filled with various mixtures from traditional Indian cuisine. The dosa also plays a major role in the menu. In addition to this, Asian and Indian dishes also make up the varied daily menu.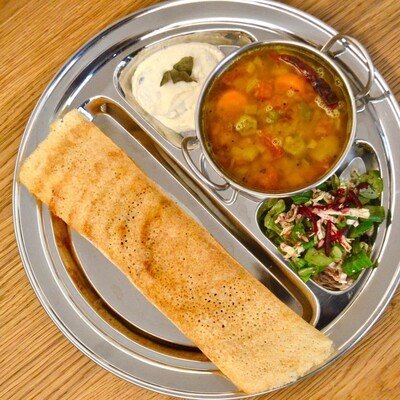 Source: facebook.com/DosaDosaBistro

Forrest vegan bistro
Address: Londýnská 216, Prague 2
GPS: 50.073, 14.43426
https://www.facebook.com/forrestbistro/
Another vegan paradise in Prague, offering a mix of Czech and Asian cuisine. Pop in for lunch, dinner or coffee during the week, and a perfect brunch on Sundays.

Herbivore
Address: Rašínovo nábřeží 34, Prague 2
GPS: 50.06853, 14.41507
https://www.herbivore.cz/
Vegan bistro and shop in one. There are only a few seats, but the location makes it a perfect place to take your food to go and eat it by the Vltava River on the popular Náplavka. The restaurant offers one main meal with soup daily, plus a varied permanent menu. The daily dose of vitamins is easily supplemented with tasty fresh juices and smoothies.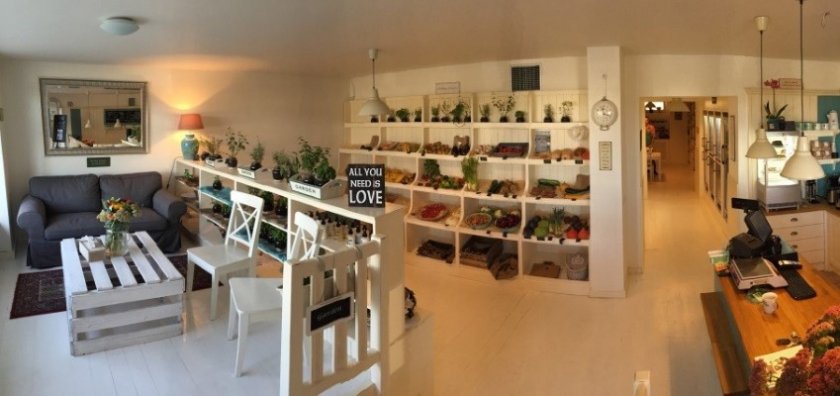 Source: Facebook Herbivore

When you have a sweet tooth
Blue Vegan Pig Shop
Address: Francouzská 76, Prague 10
GPS: 50.07195, 14.44625
https://www.blueveganpigshop.com/
Without exaggeration, this is literally a sweet paradise for all vegans. And actually not only vegans. If you love sweets and doughnuts, this place is not to be missed. Every day you'll find several types of freshly made doughnuts that you won't even be able to tell are vegan.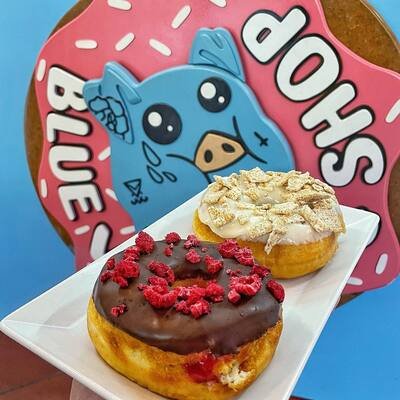 Source: facebook.com/Blueveganpigshop

Chlebíček store
Address: Náměstí Dr. Václava Holého 3, Prague 8
GPS: 50.10699, 14.4747
https://www.chlebicekstore.cz/
Chlebíčky. Who wouldn't love them? For a celebration, a snack for friends, or just because of appetite…"chlebíček" is a Czech legend! And those vegan and made daily fresh at Chlebíček store especially. In addition to chlebíček, you can order soup, coffee, fresh juice and healthy sweets at the bistro.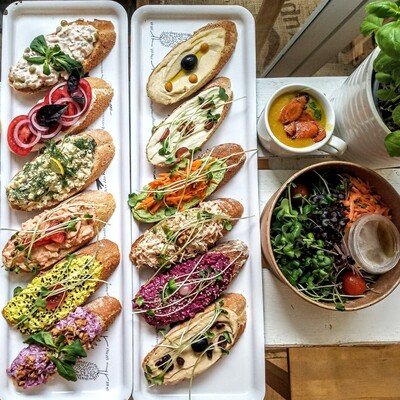 Source: facebook.com/chlebicekstore

Ezra's Bagels
Address: Veletržní 57, Prague 7
GPS: 50.10087, 14.42657
https://www.ezrasbagels.com/
Just as everyone knows "chlebíček" in the Czech Republic, in America you won't meet anyone who doesn't know what a bagel is. But you don't have to go all the way to New York for great vegan bagels. Just pop into Veletržní Street and get one of the bagels on the permanent menu, or build your own. Interesting fact? The couple behind the business are from America and the idea to start a bagel bistro came from a craving for a proper bagel during pregnancy. They couldn't find a perfect one in Prague at the time, so they decided to make their own.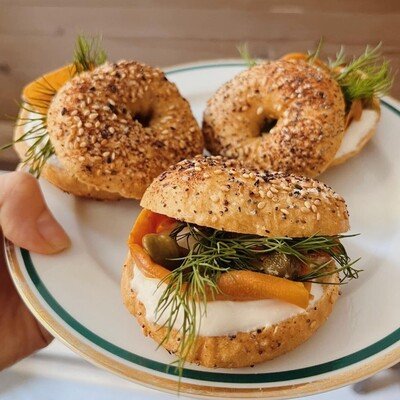 Source: facebook.com/ezrasbagels

Fun into the night with a drink in hand
Electric Sheep Book Bar
Address: Nitranská 1355/7, Prague 3
GPS: 50.0757, 14.45019
https://electricsheepbookbar.cz/
Would you have thought in Prague there is even a vegan bar? We know of one! Just go to Vinohrady, where the Electric Sheep Book Bar is located. The bar is unique in its concept of offering books - so you can come here not only for great drinks but also to read some books in English.

Where you can also enjoy delicious vegan food in Prague
More tips for vegan or vegan-friendly places in Prague:
Country Life
Veggie Garden
Vegan House Karlín
Veget Bistro Cafe
Vegan Life
Lifehouse
Linh's Vegan Corner
MyRaw Café

Map with an overview of the best vegan food in Prague
Interesting