A day trip to Bohemian Switzerland from Prague
Explore the most beautiful national park just 2 hours drive from Prague

Feeling like you've visited everything you wanted to see in Prague? Or just want to explore other beautiful parts of the Czech Republic and wonder where to go for an active day trip from Prague? Look no further. A day trip to Bohemian Switzerland National Park is the answer.
There are quite a few travel agencies organizing day trips to Bohemian Switzerland from Prague because it is one of the most popular national parks in the Czech Republic. But which one to choose?
After a little research, we decided to try a trip offered on the GetYourGuide.com travel portal and have first-hand experience of how such a trip is organised. The result? We can confidently say that it turned out to be the perfect choice. So let us tell you about our experience and what you can look forward to when you decide to take this Day Trip from Prague to Bohemian Switzerland.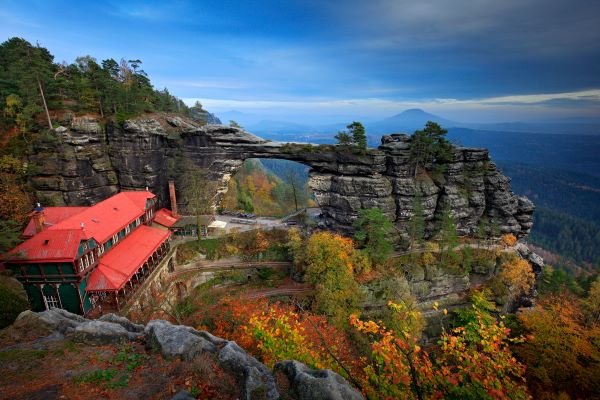 Note: Maybe you're not a great fan of organised tours. And we totally understand! However, in the case of the trip from Prague to Bohemian-Saxon Switzerland National Park, it is definitely worth it, if only because getting there by public transport is quite difficult and time-consuming. Sure, you'll pay a bit more for a guided tour than if you go on your own. But if you want to get the most out of this experience, then a guided tour is the best choice. Once you've booked your trip, just get ready for pick up and enjoy your trip outside of Prague and the beauty of the Czech countryside.
A brief introduction to Bohemian Switzerland National Park
This beautiful national park is located in the north of the country on the border with Germany, just a 2-hour drive from Prague. But believe us, you'll feel like you're on another planet. This unique complex of majestic sandstone towns, rock walls and deep gorges, carved by centuries of natural forces, will simply enchant everyone. After all, its charm has attracted filmmakers too, including e.g. scenes from The Chronicles of Narnia.
Why Bohemian Switzerland? The story behind the misleading name
You may be asking why Bohemian Saxon Switzerland is called that when it actually has nothing to do with Switzerland. Well, it´s pretty simple. The name "Switzerland" comes from two Swiss artists, who were struck by the area's natural beauty and believed it resembled the landscapes of their home country, Switzerland. The combination of the Bohemian region and the Swiss-like scenery led to the name "Bohemian Switzerland," which has stuck ever since.

General information about the trip from Prague to Bohemian Switzerland
Now that you're enticed by the allure of Bohemian Switzerland, let's dive into the specifics of the tour.
It is a full-day trip, leaving Prague in the morning and returning in the evening. Expect a total of 10-12 hours.
The guide will pick you up directly at your accommodation or generally anywhere in Prague. A big thumbs up for this!
Moreover, the price also includes lunch, snacks and drinks. So you don't have to worry about getting hungry along the way.
This is a hiking trip with varied and uneven terrain, so be sure to pack comfortable hiking boots and dress appropriately.
Do not forget your passport or ID card.

What can you look forward to, what does a trip to Bohemian Switzerland from Prague include?
The adventure starts in Prague, where your guide will pick you up directly at your hotel at around 7:30 a.m.
A comfortable air-conditioned mini-van will transport you to your final destination - Bohemian Switzerland National Park. During the approximately 2-hour journey, you can enjoy the views of the countryside while learning about Czech culture, history, and the main highlights on your way to the national park.
The trip programme is planned to ensure you get the most out of the day. Actually, there are three options to choose from: the Hiking Tour, the Fantasy Highlights Tour and the Winter Tour. The most popular option is the first one - the Hiking Tour, which takes you in one day to the main highlights of the National Park, not only on the Czech but also on the German side.
The first destination is the magnificent Bastei Bridge with its absolutely breathtaking view of the Elbe River canyon, enhanced by being surrounded by unique sandstone rock formations.
Right after this gem, the tour heads to the majestic Pravčická Gate, which is also the largest sandstone arch in Europe and the main symbol of Bohemian Switzerland. Once you see it, you will know why. It is also worth mentioning that some scenes of The Chronicles of Narnia were filmed here.
After such an experience, one gets hungry, doesn't one? No worries, the next item on the agenda is a delicious lunch, which is, moreover, included in the price.
What follows is probably the most romantic part of the expedition - the descent into a narrow gorge and a cruise on the Kamenice River. Honestly, we can't imagine a more pleasant ending to this impression-rich day.
A comfortable van will take you back to Prague, with arrival around 7:30 p.m.
If you are planning to visit Bohemian Switzerland from Prague with your family, the second option is also a great choice - the Fantasy Highlight Tour, during which you will visit places that have been the setting of fantasy films. Especially children will be absolutely excited! The winter version of the trip is similar to the first one mentioned above, only a boat ride is not included due to the weather conditions.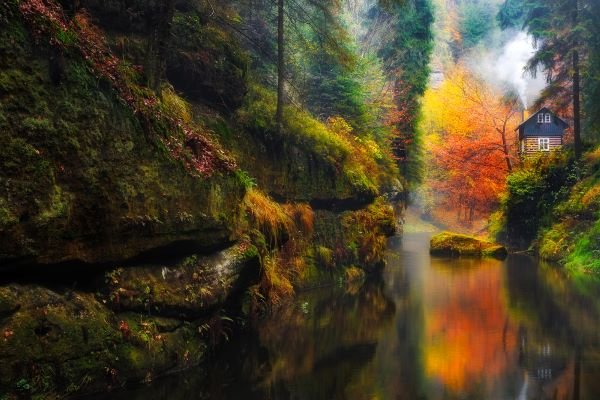 How to book a guided tour from Prague to Bohemian Switzerland
To make a reservation for this amazing trip, just follow these steps:
Go to the website GetYourGuide.com
Select the number of participants, choose the date you want to book and click on the button Check availability
Choose one of the options (Hiking tour / Fantasy Highlights tour / Winter tour).
Add to cart.
Enter your personal details, payment information and confirm booking. All essential information should be sent to your email.
Or simply USE THE FORM ABOVE.

Why is this day trip to Bohemian Switzerland from Prague worth a try, what did we like?
The tour is a great way to see the best of Bohemian Switzerland in a short amount of time. What are some other reasons why it is worth it?
Comfortable transportation from Prague and back incl. hotel pick-up
Expert and friendly guide
Good value for money: additional services like lunch, snacks or beverages included
In terms of the booking process:
easy and flexible booking with an option to pay later
if something happens and you are forced to change your plans, there's a free cancellation with a full refund up to 24 hours in advance
And what about possible "downsides"? Or anything good to know?
Potential crowds during peak tourist seasons
Weather-dependent: Like many outdoor adventures, the overall experience can be influenced by weather conditions, so it's essential to check the forecast and be prepared.
Not recommended for people with some mobility issues as the terrain is uneven and requires a sure footing, especially in poor weather (heavy rain, wind or fog).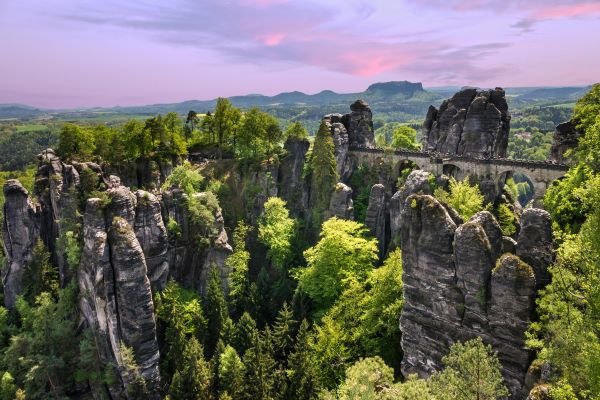 SUMMARY
Bohemian Saxon Switzerland is a place you may hear only the best about, and yet the reality will completely exceed your expectations. If you are thinking of taking this trip, don't hesitate to book in advance, especially in high season. It's a really nice experience that you won't regret. Actually, this makes us give one more recommendation - make sure your phone is fully charged and prepared for taking hundreds of pictures!
Interesting