Bike sharing in Prague
Explore Prague by bike!
Prague might not be the best city for biking around since it's not properly designed for it. However, the number of cyclists in Prague has increased significantly in recent years. This is due to the improving conditions thanks to the construction of cycle paths and cycle lanes, the pandemic of covid, during which people preferred individual forms of transfer instead of public transport, and last but not least - the boom of shared bikes, which are popular for commuting to work, necessary transfers around the city, as well as widely used by tourists or as part of leisure activities. In addition to the well-known pink bikes, you can find bikes from some other companies on the streets of Prague. Which ones are they and under what conditions do they allow you to explore Prague from the saddle of a bicycle?
SPECIAL TIP:
Explore the streets of Prague by bike with a local guide and experience the traditional sights of Prague in an unconventional way - from the saddle of a bicycle! Not a big sports fan? Don't worry, on e-bike everybody will enjoy it. Tested on your own! Find out more HERE.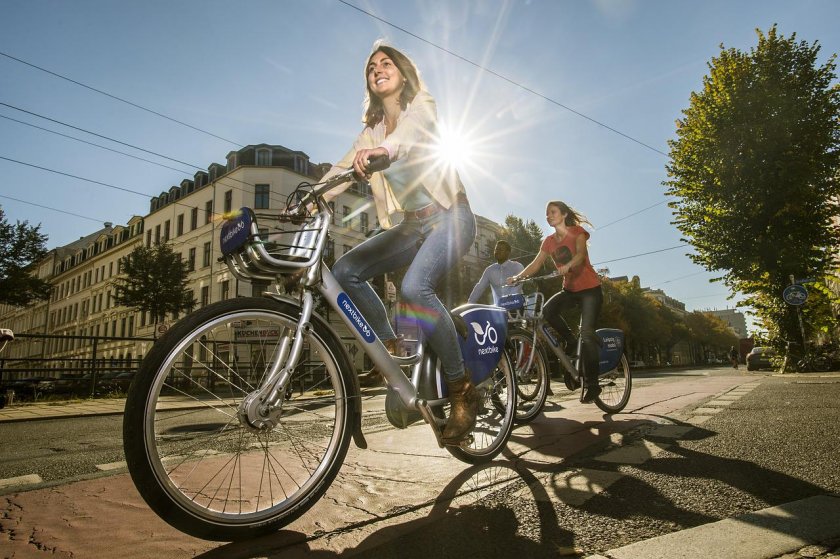 Pink REKOLA
Rekola is a purely Czech project that was the first to offer bike sharing in Prague. The first "fleet of pink bicycles" was created in 2013 by refurbishing old donated bicycles (hence the name Rekola - REcycled bikes, "kola" is the Czech word for bike) and to this day the pink bicycles operate not only in Prague, but also in many other cities and are still among the most famous.
The bikes can be found basically all over Prague, registration in the Rekola app is required to borrow them. Digital locks are used for locking, so the bike can be returned virtually anywhere within the zone. For every 30 minutes, 30 CZK is charged. The price is always charged to the card after the end of the ride; regular users can use one of the subscription plans. In 2021, Rekola has teamed up with PID (Prague transportation system) and owners of the transport card Lítačka can use 15 minutes of free ride twice a day. Multisport card holders can even enjoy 2x 60 minutes a day. Two bikes can be rented per account.
https://www.rekola.cz/en/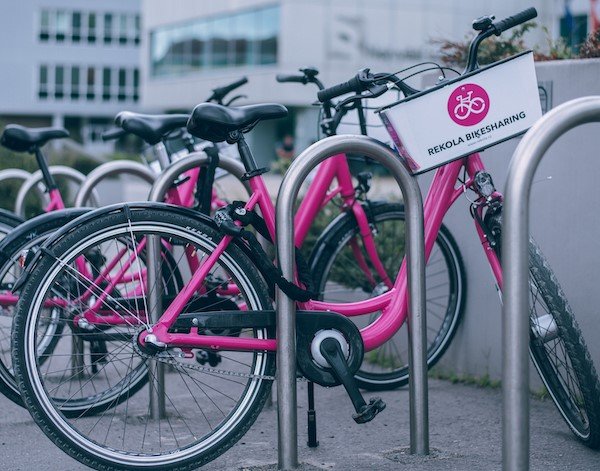 Image source: rekola.cz
Blue-silver NEXTBIKE
The bikes of the German company Nextbike can be found not only in Prague and many other Czech cities, but also abroad. With one registration, you have the opportunity to rent a bike in more than 300 countries worldwide.
As with Rekola, owners of a Lítačka can use 15 minutes free of charge twice a day, for Multisport card holders it is 60 minutes free of charge twice a day. In Prague, without a subscription, you pay CZK 30 for every 30 minutes started. The rental is done through the app, but - unlike Rekola - the bike must be returned to the official nextbike stations marked on the map in the app, you can't leave it anywhere.However, it deserves a big thumb up for the fact Nextbike has decided to cover many edgy parts of the city where no other bike-sharing companies spread so far. So if you feel like exploring non-touristic parts of the city with the adventure of going on a bike, Nextbike is your right choice! Moreover, it is possible to rent up to 4 bikes per account, so you can grab your friends and enjoy a ride together.
https://www.nextbikeczech.com/en/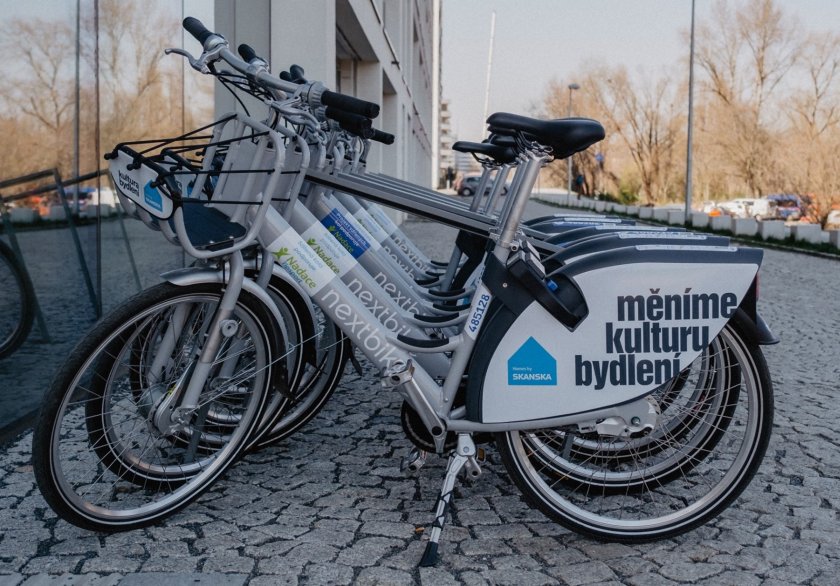 Image source: Facebook Nextbike Czech Republic
Mint green BOLT e-bikes
Most people associate BOLT mainly with taxi service or food delivery, however, from 2020 you can also see shared BOLT electric bikes on the streets of Prague, later adding shared electric scooters. Renting works again through the app (the same app can be used to order a taxi). Unlocking an e-bike usually comes with a fee, for this season BOLT is offering free unlocking. Then you are charged for every minute of the ride. The price varies between 3-5 CZK / min. The bike can only be parked in virtual parking spaces marked in the app (usually bike racks). Although Prague is not extremely hilly, if you want to move around the city in an eco-friendly way and without a sweaty t-shirt, these bikes are a good choice :)
https://bolt.eu/en/cities/prague/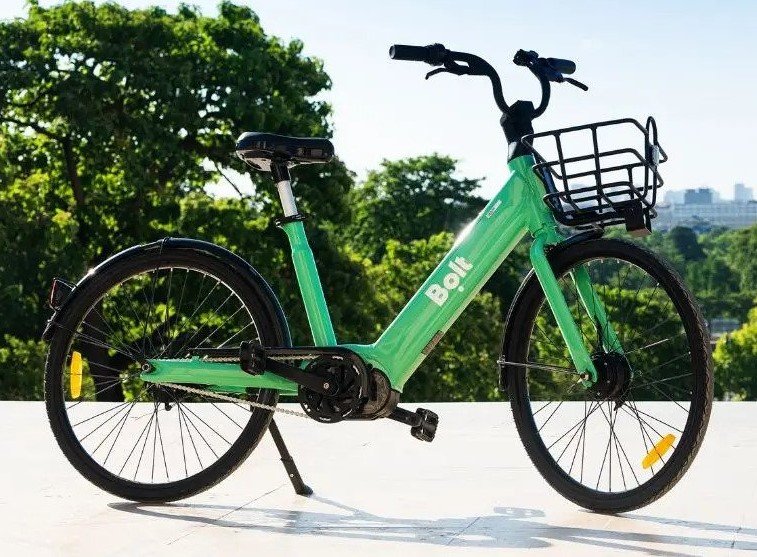 Image source: blog.bolt.eu
Red Lime e-bikes
Lime first came to Prague with shared scooters, which have won many fans as well as opponents - mainly due to the irresponsibility of users, dangerous rides on the sidewalk and parking in inappropriate places. In addition to scooters, Lime now offers electric bikes. They are mainly used by tourists - both because of the higher price (you pay for unlocking and then for every minute) and because of Lime's worldwide presence, so it is a well-known brand. Thanks to Lime's collaboration with Uber, bikes can also be rented via the Uber app.
https://www.li.me/en-cz/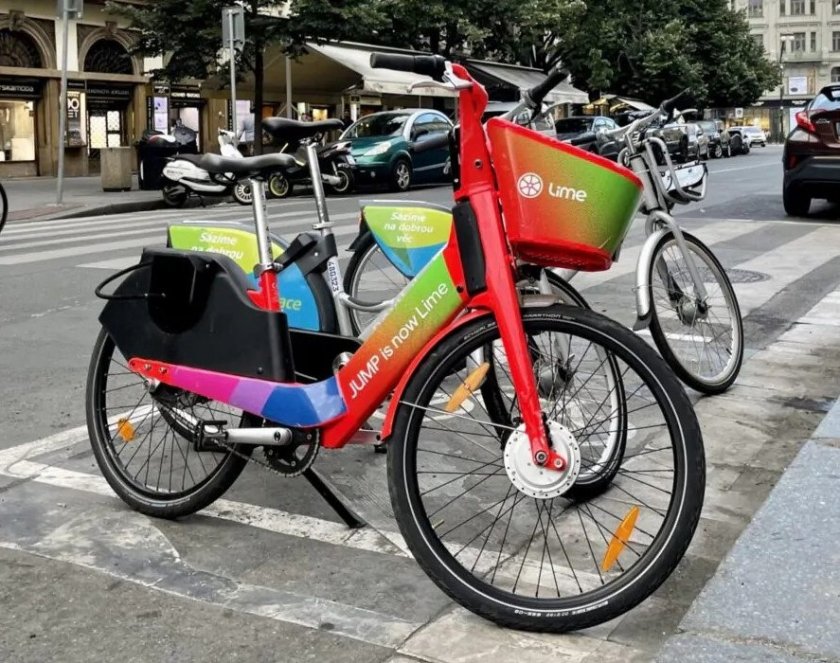 Image source: mestemnakole.cz
Now all you have to do is download the app, find your nearest bike and enjoy Prague from the saddle! :)
Interesting