TOP 13 Wine Bars in Prague
Tips from locals
Although the Czech Republic is mainly associated with beer, it is also - with Moravia in particular - famous for its vineyards and the production of quality wines. And Czechs love wine as much as they love beer! That's why you can find a wine bar in Prague on almost every corner. And not only with Czech and Moravian wines but of course also with foreign wines. However, as with beer or restaurants in general, there are significant differences in quality between them. That's why we've put together a list of the best wine bars in Prague that we recommend visiting, whether you're a wine lover or just enjoy a glass occasionally. What the selected wine bars have in common is not only a wide range of quality wines but also their pleasant ambience and professional service - because when it comes to wine, these factors play an important role. So, which wine bars in Prague are the best ones in our opinion, where you are guaranteed not to stay with just one glass?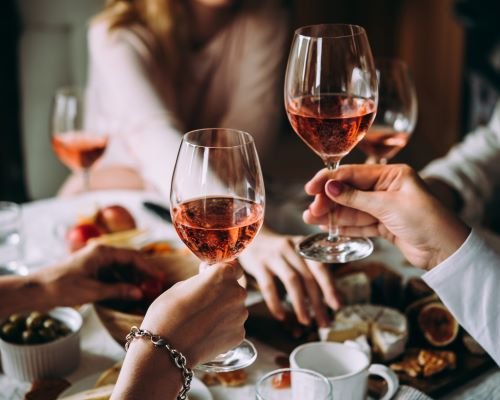 Wine bars Prague by category - overview
Just hanging out with friends in a friendly atmosphere? For a guided tasting? Or perhaps to try something different? To make it even easier to choose the right wine bar in Prague, we've divided our picks into several categories:
The well-known wine bars in Prague
Vinograf
Veltlin
Na břehu Rhony
Bokovka
Prosekárna
Wine bars in Prague win an unconventional concept
WineList
Na skleničku
Na břehu Rhony
For a glass of wine in a relaxed atmosphere and at comfortable prices
Koštovna u Počtů
Šenkovna Fine Wine Pub
Přátelé Wine Friends
Noelka Wine Shop
Vinárna U Sudu
Na Skleničku
Where wine tastings and other wine-related events are regularly held
Vinograf
Veltlin
Wine Office
Lot of Wine
Prosekárna
Šenkovna Fine Wine Pub
Na břehu Rhony
Koštovna u Počtů
Wine Office
---

Best wine bars in Prague
Vinograf
Address: 2 branches
Senovážné náměstí 23, Prague 1, GPS: 50.08548, 14.43169
Korunní 21, Prague 2, GPS: 50.07551, 14.44148
https://www.vinograf.cz/
Vinograf is one of the most famous ones among wine bars in Prague. It offers over 500 wines from Bohemia and Moravia as well as from all over the world, you can choose from wines by the glass or by the bottle. The branch on Senovážné náměstí is also a wine bar and restaurant in one, so you can go here for lunch or dinner. On Korunní Street, the modern wine bar is connected to a brick cellar, which is ideal for private events. The wine is served with great cheeses and cold cuts. There are also regular wine tastings, tailor-made events, and the possibility of ordering a wine assistant or even a wine tram. Vinograf also has a wine shop.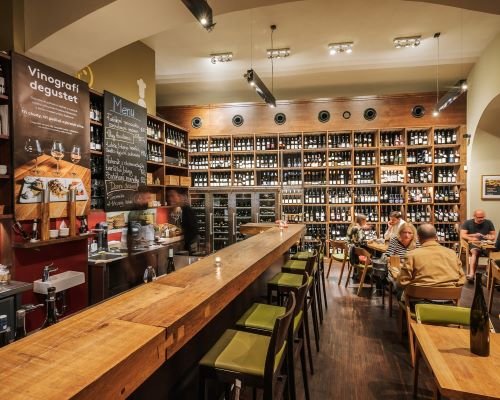 Source: facebook.com/vinograf/photos/

Veltlin
Address: Křižíkova 115, Prague 8
GPS: 50.09393, 14.45685
https://www.veltlin.cz/
A stylish, authentic wine bar in Prague that opened in Karlín before it became a trendy neighbourhood and hipster mecca. Veltlín focuses on natural wines from the regions of the former Habsburg monarchy, which differ from the classic ones by their specific taste. You don't know your way around wine? No problem, the helpful staff will be happy to explain everything and talk to you about the wines. After all, you won't find a wine menu here - the wines are opened according to the mood, taste and wishes of the customers. Of course, there is a selection of delicacies from local suppliers.
Additional Tip:
The sister wine bar "Autentista", located in the former literary café, also focuses on authentic wines. In addition to the unique selection of wines and champagne, the interior, which was even awarded in a design competition, is also impressive. A visit is a pleasant experience, but higher prices are to be expected.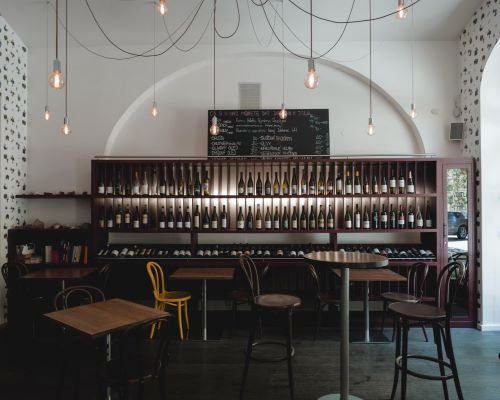 Source: veltlin.cz

Na břehu Rhony
Address: more branches in Prague, see the map below or overview on the website
(Prague 1, Prague 2 - Výtoň, Prague 2 - Nové Město, Prague 6 - Bubeneč, Prague 7 - Holesovice, Prague 10 - Vršovice
https://www.nabrehurhony.cz/
Na břehu Rhony wine bar can be found in several places in Prague, the most famous one is probably that overlooking the Vltava River - by the tram stop Výtoň and near the popular Náplavka. It is quite busy here, but it will make you feel like you are in the south of France while enjoying quality French wines, especially from the Rhone Valley. The bar is unique with self-service cabinets of wine in so-called bag-in-boxes. You pour wine into your glass according to your taste and each guest writes the quantity on a note. Every comma is one deciliter.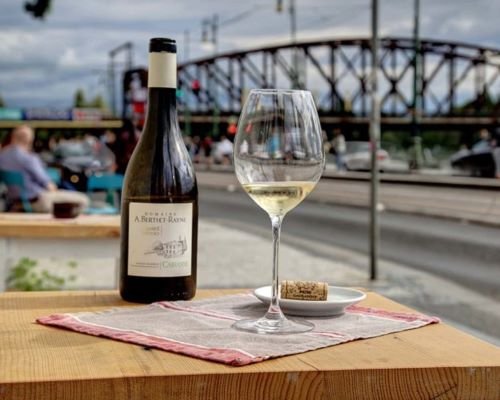 Source: nabrehurhony.cz

Bokovka
Address: Dlouhá 37, Prague 1
GPS: 50.09081, 14.42671
https://www.bokovka.com/
In the centre of Prague's nightlife, yet perfectly hidden so that you can enjoy a glass of Czech and foreign wines of exquisite quality. The very ambience of the courtyard with its pavilion, original arches and scratched walls give Bokovka a unique atmosphere. Add to this a team of professional sommeliers, its own fromagerie with cheeses from all over the world and other tasty treats (we recommend sardines) and regular themed tastings, and it's no wonder Bokovka is popular among wine bars in Prague. However, there are a few downsides to mention - higher prices are to be expected and tap water is charged as well.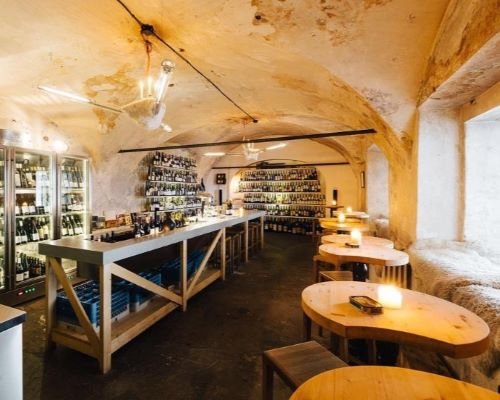 Source: bokovka.com

Prosekárna
Address: more branches in Prague, see map or overview on the website
(Prague 1, Prague 2 - New Town, Prague 2 - Vinohrady, Prague 7- Letná, Prague 9 - Vysočany)
https://www.prosekarna.cz/navstivte-nas/
Prosekárna is an ideal destination for those who love not only prosecco but also Italy as such. After all, it was the love of Italy and the desire to bring its treasures to Prague that led to the establishment of this wine bar. In addition to prosecco, you can also enjoy excellent Italian coffee and Italian delicacies. The wine bar also functions as a wine shop.
Additional tip:
One of the branches of Prosekárna used to be located at Slezská 48 in Vinohrady. Today you will find the Prosecco Spot wine bar here. The name has changed, but the quality of the wines, the service and the overall experience of the visit have not - so we can definitely recommend it!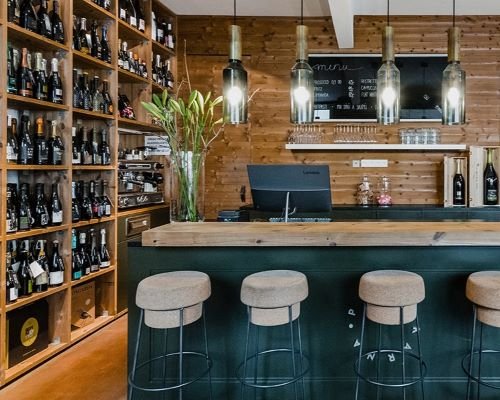 Source: prosekarna.cz

Na skleničku
Address: Jindřišská 901, Prague 1
GPS: 50.08548, 14.43169
https://www.nasklenicku.com/
Are you more interested in sitting with friends in a pleasant atmosphere with a glass of good wine, moreover at a fair price, than a top-tasting experience? Hop over to this small place just off Wenceslas Square. The menu in this favourite Prague wine bar is dominated by Moravian wines and delicacies from local suppliers. If you know you won't stick to one glass, the ideal choice is the so-called bottomless glass, where you can indulge in wine to your heart's content.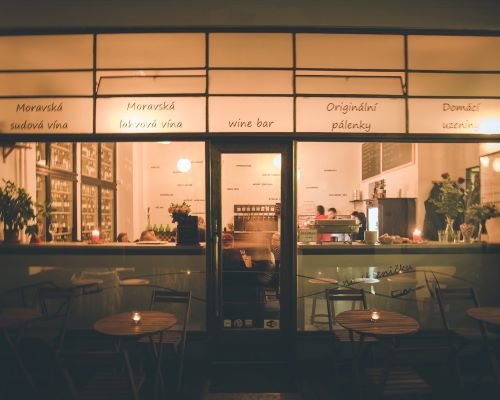 Source: facebook.com/nasklenicku

WineList
Address: Křižíkova 180/28, Prague 8
GPS: 50.09195, 14.44936
https://www.winelist.cz/
Another newbie among Prague wine bars, worth mentioning only because of the unconventional concept of the so-called "koštomaty" - machines used for self-service tasting, which is unique in Prague. You simply charge your card and then you can choose what you want from the 64 tasting machines to taste at your own pace. So, if you prefer a more relaxed style and a sommelier as wine director rather than a guided tasting, you'll love it here. To accompany the wine, you can nibble on pastries - focaccia, breadsticks, bread... - which the owners - two women originally tax advisors by profession - bake themselves.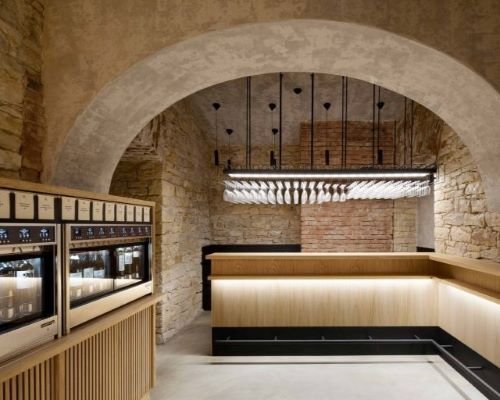 Source: winelist.cz

Wine Office Prague
Address: Truhlářská 10, Prague 1
GPS: 50.09015, 14.42963
https://www.wineoffice.cz/
If you like Spanish wines and especially sparkling Cava, this place should not be missing from your list of the best wine bars in Prague. If you also like tapas, it's doubly true. Wine Office is a cosy, stylish bar, a fusion of wine & tapas bar with perfect service. However, if you can't sit down because of time, you can buy wine to go as it also serves as a wine shop.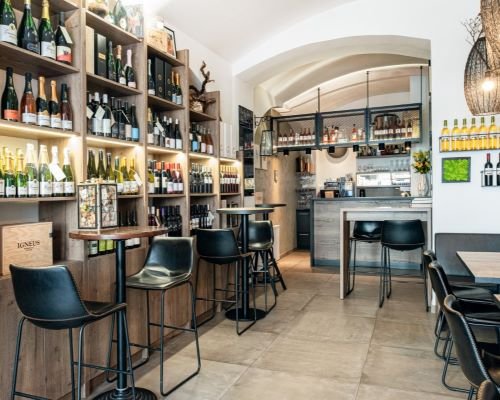 Source: wineoffice.cz

Koštovna u Počtů
Address: Milady Horákové 47, Prague 7
GPS: 50.09973, 14.42705
https://www.kostovna.cz/
In this wine bar in Prague's Letná district (or rather wine pub, as they call themselves) you will experience a little bit of Moravia in Prague. It stands out for its wide range of wines by the glass - and at pleasant prices, as well as for the unusual variety of snacks to go with the wine. Various events are regularly held here - tastings and evenings with a dulcimer band. It differs from other wine bars in Prague by being the first self-service tasting cellar in Prague, where you can enjoy unlimited consumption of a selection of 10-15 wines for a certain time.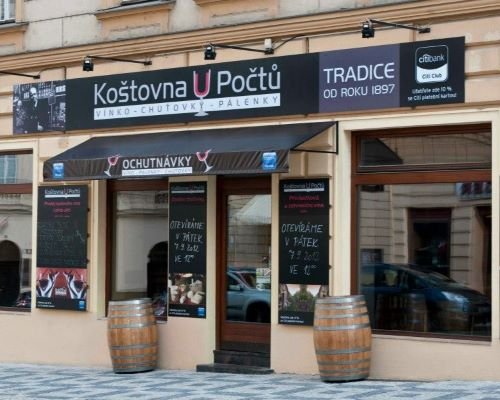 Source: facebook.com/KostovnaUPoctu

Šenkovna Fine Wine Pub
Address: Sokolská 1788/60, Prague 2
GPS: 50.07609, 14.42937
https://www.senkovnapub.cz/
As the name suggests, this is a "wine pub" rather than a wine bar and is popular not only for its wide range of wines from Moravia and abroad but also for its relaxed, informal atmosphere and pleasant prices. It is an ideal place for a drink after work, an evening for two, a party with friends, but also for a business meeting or lunch because in addition to the delicacies with wine, it also offers a lunch menu. In the summer there is a possibility to sit on the terrace. There is also Pilsner on tap, so you can go here even with someone who is not a wine drinker. Regular tastings or evenings with dulcimer music are held in this wine bar, too. Reservations are recommended!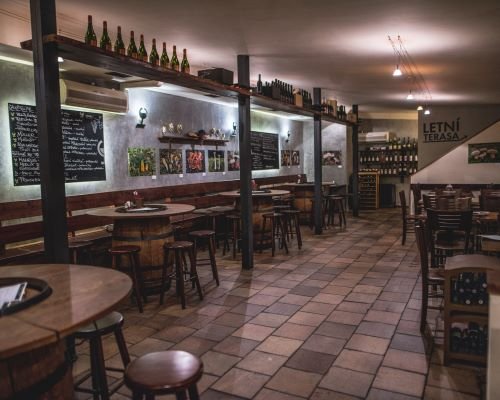 Source: senkovnapub.cz

Přátelé Wine Friends
Address: Rumunská 14/27, Prague 2
GPS: 50.0744, 14.43408
https://www.pratelewinefriends.cz/
Another wine bar in Prague where you can enjoy wine in a friendly, informal atmosphere - perhaps while sitting on a swing or listening to a piano. There are excellent wines on offer from Bohemia and Moravia, but also from France, Italy, Spain or Germany. In addition to these, there are plenty of cocktails, homemade lemonades, cider or beer. So if you're going out with a group of friends, rest assured that everyone will find something for themselves. The wine can be accompanied e.g. by a cheese or meat board or jerked meat. There is also a pleasant garden. The motto of this wine bar "Save water, drink wine" speak for itself.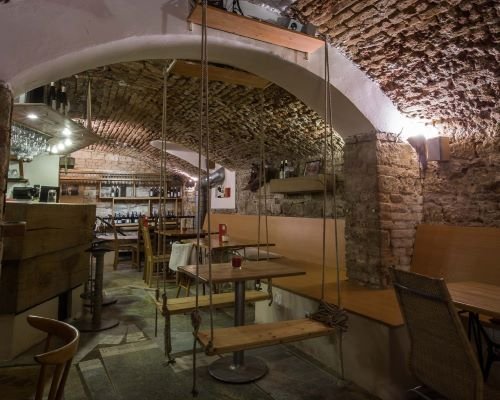 Source: facebook.com/PrateleWineFriends

Wine bar U Sudu
Address: Vodičkova 10, Prague 1
GPS: 50.07889, 14.42222
http://usudu.cz/
This wine bar is a legend in Prague, especially if you're looking for a place that's alive with a party atmosphere until the wee hours of the morning and where you can have a cocktail, a tank Pilsner or choose from a wide range of spirits for an absolutely unbeatable price. Just be careful not to get lost in the large cellar with a total of 3 bars, a piano lounge, a table football room and a courtyard garden. The total capacity is over 300 seats, but we dare say that after midnight the concentration of people is much higher. The convenient location right in the centre also contributes to this. If you get hungry in between glasses of wine, no problem, the kitchen is open until 3:30 in the morning. And their pickled camembert-style cheese is really worth it!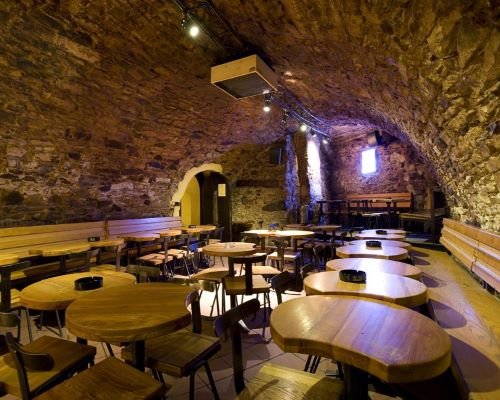 Source: usudu.cz

Noelka Wine Bar
Address: Slavíkova 3, Prague 3
GPS: 50.07855, 14.44819
https://vinotekanajiraku.cz/
At first glance, this inconspicuous wine bar in Prague focuses mainly on Moravian wines from smaller winemakers, but the crowds of people standing outside with a glass reveal where locals like to go for good wine. And not only for it but also for a nice chat with friends or directly with the owner Ota, who made his dream come true by opening this place, today one of the best wine bars in Prague. The location of the wine bar is also an advantage - just pay a deposit for a glass and you can enjoy the wine even during a picnic on the popular Jiřího z Poděbrad Square. Reasonable prices are just the icing on the cake for a very positive overall experience. So even if you just happen to be passing by, we recommend stopping by for at least a "standing" glass.

And because you can never have enough good wine...more tips on wine bars in Prague worth visiting
Lot of Wine - French wines from their own winery, delicious French delicacies, speciality are the crackers and canapés
Víno Vínečko - friendly atmosphere, nice prices and seating in the garden
Vinárna Náplavní - pleasant atmosphere and prices just a short walk from the Dancing House
Vinárna Karlín and Křižík - a wide selection of wines from Bohemia, Moravia and abroad at good prices
Wine not? Prague - opposite the Mánes Gallery overlooking the Vltava River
Wonder Wines Bar - a wine paradise in the middle of Prague district Anděl
Strada Del Vino - Italy with everything you can imagine
Vinotéka & Bar Nerudovka Wine - convenient location just a short walk from Prague Castle
Wine bar 0,75 - a tip especially for design lovers with its unique design interior
Champagneria - for lovers of sparkling wine and culture - the wine bar includes also a gallery

Combining fine wine with dinner
Some snacks are offered in practically every wine bar, but where to go if you want to pair a glass of wine with something to eat - a dinner or lunch?
Red Pif - a restaurant with French and Czech food, they always choose a wine to suit your taste, not from the wine list
Wine bar Po Letech - wine & burger bar with a self-service wine consumption concept
Monarch - a combination of fine wine with premium quality steaks
Atelier Red & Wine - focus on seasonal international cuisine, a wide selection of fish
Salabka - surrounded by vineyards in Prague's Troja district, a member of the prestigious Michelin Gastro Guide
Brut - for lovers of fine wine and oysters
Le Terroir - wine bar and restaurant in French style
Le Caveau - French wine bar connected with a café and bakery
Map with an overview of the best wine bars/wine shops in Prague
Interesting