TOP 10+1 steakhouses in Prague
Tips for the best steaks in Prague
Are you a meat lover? Great! We've reviewed the current Prague steak house scene and selected 10+1 best steak restaurants in Prague just for you. The selection is compiled so that you can enjoy great steaks and not leave with an empty wallet. But if you want to indulge in a culinary experience with a luxurious touch - read further, we have thought of such cases as well.
WARNING! When reading this, you may get an unsustainable craving for a proper steak! :)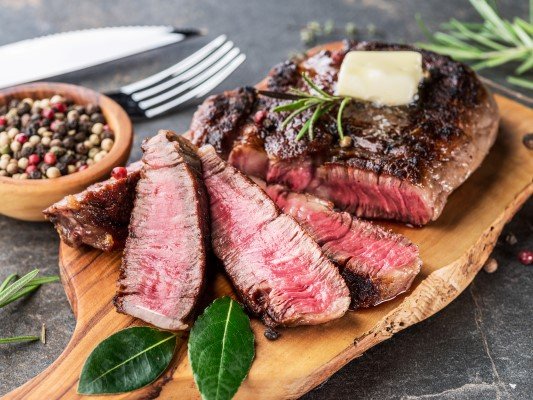 Bílá kráva
Address: Rubešova 10, Prague 2 - Vinohrady
GPS: 50.07774, 14.43274
https://www.bilakrava.cz/
The family-run French restaurant Bílá kráva has been on the Prague steak scene since 1993 and is one of the best steakhouses in Prague for good reason. It specializes in steaks made from Charolais beef, which they take from Czech breeders. The name of the restaurant refers to the characteristic colour of this breed. The perfect taste is not only due to the quality of the ingredients but also to the slow, dry ageing method. A local original speciality is the Spider steak, and we recommend the dessert prepared with liquid nitrogen. The ambience of the restaurant is pleasant and cosy, and the owners pride themselves on a casual family atmosphere. And like anything from their kitchen, they do it well!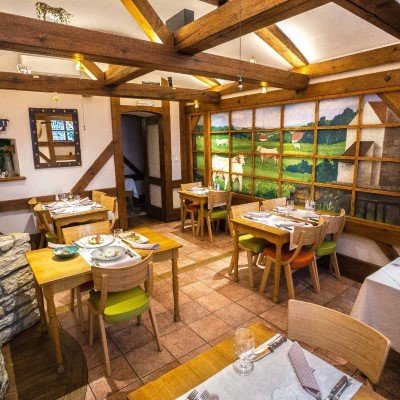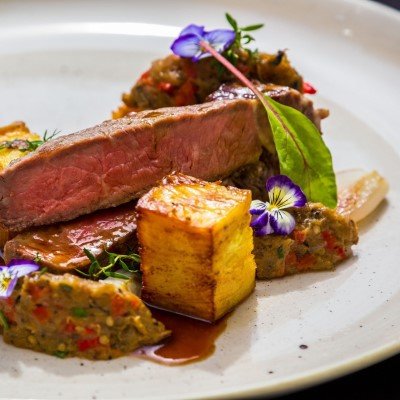 Source: instagram.com/bilakrava/,
facebook.com/ubilekravy

Stejkárna
Address: 3+1 branches
Holešovice: Veletržní 5, Prague 7, GPS: 50.10253, 14.43636
Vinohrady (Orionka): Říčanská 7, Prague 2, GPS: 50.07408, 14.45944
Dejvice: Bubenečská 352/19, Prague 6, GPS: 50.09977, 14.40394
Maso a kouř by Stejkárna: Žufanova 1714/28, Prague 17 - Řepy, GPS: 50.07146, 14.30529
https://www.stejkarna.cz/
A restaurant concept specialising in steaks made from South American Aberdeen Angus meat and US Beef from the Black Angus breed from the USA. The oldest and most famous branch is the Holešovice Stejkárna, while the youngest restaurant is Maso a Kouř. Besides steaks, you can also go here for a great burger. The offer is similar in all branches, so no matter which one you choose, you can be sure of a gourmet experience, pleasant environment and service. The prices are - compared to other steakhouses in Prague - still affordable.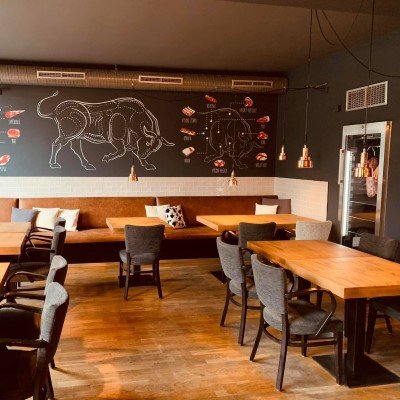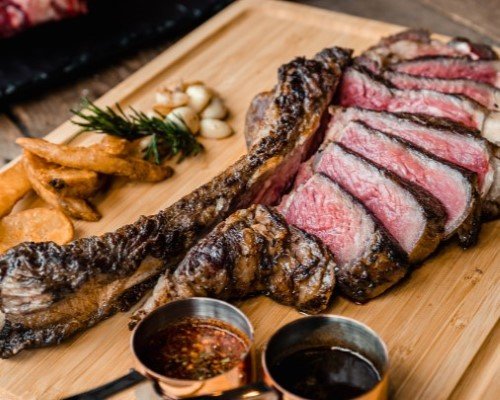 Source: facebook.com/stejkarnadejvice

George Prime Steak
Address: Platnéřská 19, Prague 1
GPS: 50.08755, 14.41793
https://georgeprimesteak.com/
This American-style steakhouse is located right in the heart of historic Prague. Here you can taste first-class Black Angus steaks in USDA Prime Beef standard. They carve the meat themselves and let it age for at least 30 days. What makes it different from other steakhouses in Prague? Steaks are prepared on a special grill that sears the steak at 650 degrees Celsius so the steak retains its perfect juiciness inside. We recommend ordering some of the California wines and American cocktails with your steak. The interior is elegant and the overall experience is upscale on the level of fine dining. However, higher prices are to be expected.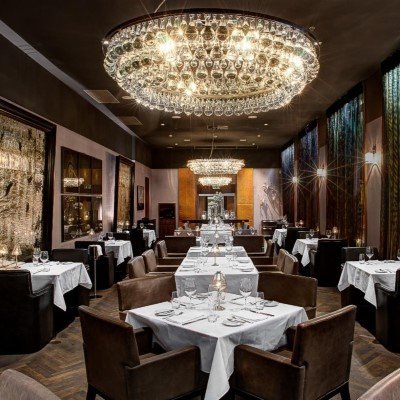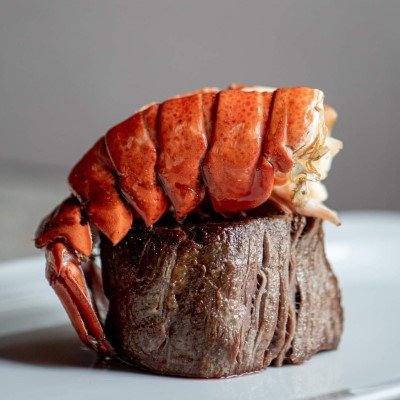 Source: facebook.com/georgeprimesteak

Gran Fierro Steak House
Address: Myslíkova 8, Prague 2
GPS: 50.07735, 14.41547
https://granfierro.cz/
This Argentinian steakhouse in Prague will impress you from the moment you enter. The vast space is dominated by a combination of metal, concrete, wood and leather, one wall is decorated with backlit silhouettes of cows, while another showcases concrete blocks with charcoal on display. Why all this? The uniqueness of this restaurant - beyond the perfect steaks - lies in the concept of sustainability and operating based on a circular economy. The menu is based on Argentinian cuisine, with Spanish influences reflected as well. This is evident not only on the menu but also in the drinks. Whatever the choice, the visit itself is an experience thanks to the impressive interior.
Moreover, you can watch the preparation of your chosen dish live thanks to the open kitchen. The steakhouse also has a garden and a conservatory. So if you're anywhere near the Dancing House and you're in the mood for a good piece of meat, you know where to go.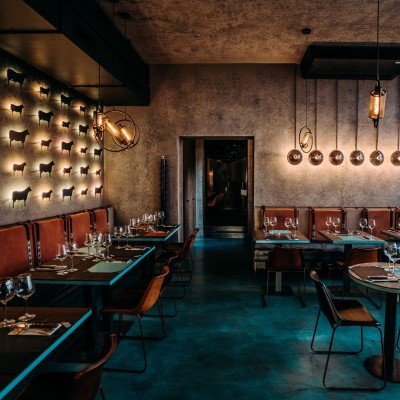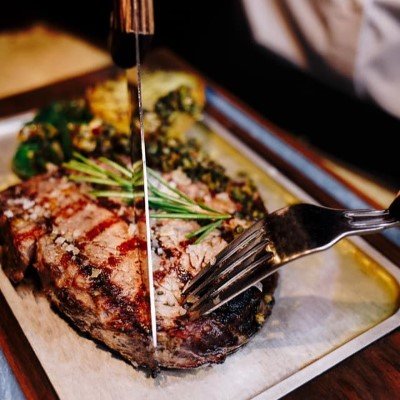 Source: facebook.com/granfierro.cz

BEEF Bar Prague
Address: Na Perštýně 10, Prague 1
GPS: 50.08331, 14.41891
https://www.beefbar.cz/
A visit to the BEEF Bar in Prague can be likened to a culinary journey across continents: you can start with some of the South American specialities made from aged beef, then move north to New York pastrami or to the European continent with empanadas or great Spanish hams and cheeses. And then wash it all down with a Czech beer from the family-owned Matuska brewery. If you're not a beer drinker, there's a fine selection of wines from family-owned Uruguayan and Argentinian wineries.
Meat, wine and ingredients for the preparation of specialities can also be purchased here. The BEEF bar is also the only direct import of Uruguayan beef to the Czech Republic. The interior is decorated in a modern industrial style with seating - well, like at a bar.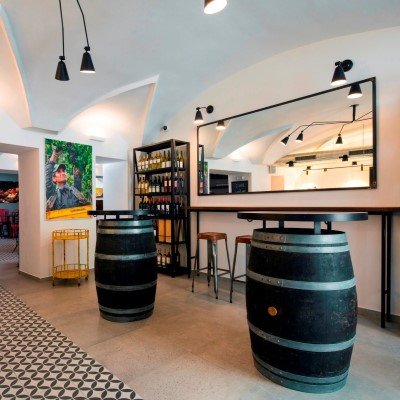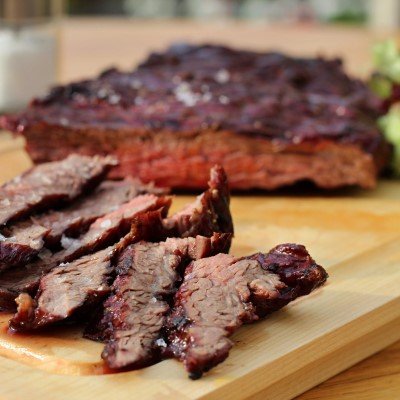 Source: facebook.com/BeefPragueBar

Brasileiro U Zelené žáby & Slovanský dům
Address:
U Radnice 13/8, Prague 1, GPS: 50.08744, 14.41942
Na Příkopě 22, Prague 1, GPS: 50.0864, 14.42744
https://www.restauracebrasileiro.cz/
Brasileiro restaurants offer an "all-you-can-eat" approach and are based on quality Brazilian beef. The meat is prepared here in the churrasco-rodizio style, i.e. on a grill needle over charcoal. Just like the South American cowboys used to do. The server then cuts it right off the skewer and onto your plate until you've had enough. For one price, you can also get seafood, sushi or anything from the salad bar. Both restaurants are ideal for a group of friends or a lunch with business partners, where you don't have to rush anywhere, you can enjoy your delicious steaks in Prague in peace and with a pleasant conversation.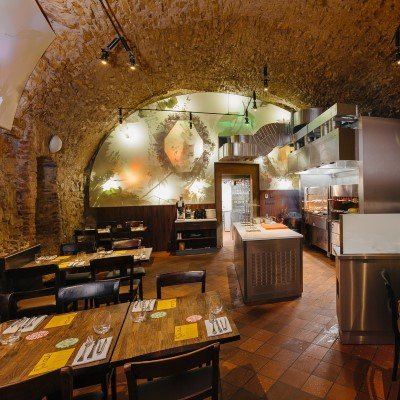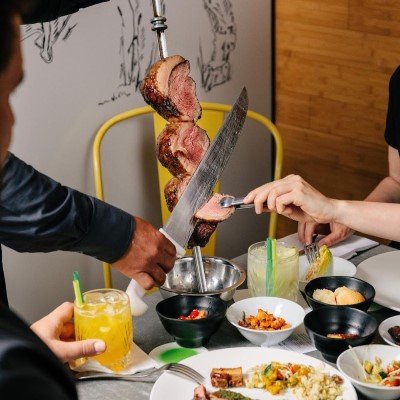 Source: facebook.com/brasileiro.ambiente

MeatEater Steak & Wine
Address: 8 Vejvodova Street, Prague 1
GPS: 50.08452, 14.4194
https://meateater.cz/
This is a relative newcomer to the Prague steak restaurant scene. However, it has managed to work its way up to one of the best steakhouses in Prague. It is due to Daniel Govoni, the owner and chef in one person, who has participated in several World Steak Challenge competitions worldwide, and you can get steak from meats that you can't find elsewhere in the Czech Republic. The method of preparation is also different - instead of cooking at high temperatures (as in George Prime Steak), the steak is cooked on charcoal with a maximum temperature of 220 degrees, the meat is cooked for 6 minutes on both sides and then allowed to finish cooking. In other words - people have to wait for a good steak here. And rest assured, that time is worth it and you´ll be served one of the best steaks in Prague. After all, the food here has won several awards at top competitions.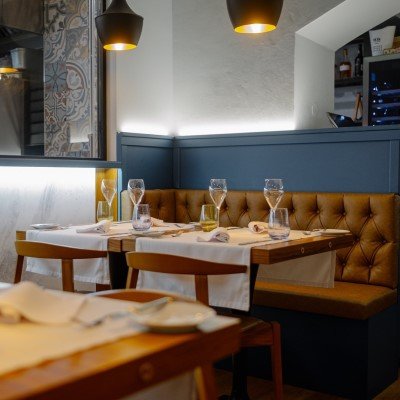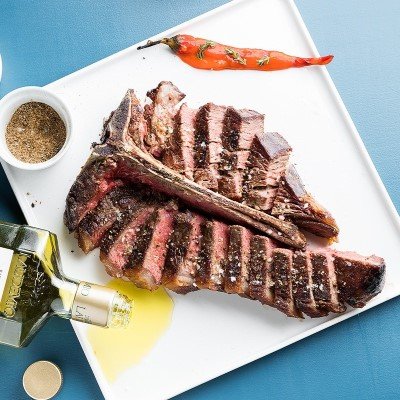 Source: facebook.com/meateatercz

Čestr
Address: Legerova 57/75, Prague 1
GPS: 50.07954, 14.43243
https://cestr.ambi.cz/
Steaks made from meat from Czech farms (the name Čestr is derived from the breed "český strakatý skot"), Pilsner beer from the tank and stylish modern interior - this is Čestr, another from our selection of the best meat restaurant in Prague. Any business from the Ambiente network is a guarantee of quality, and Čestr is no exception. You will also be impressed by the unique way the meat is prepared - in addition to charcoal grilling, the open kitchen features a sauna, which is used for slow roasting large cuts of meat at a low temperature. We recommend trying the three-course tasting menu, which you can arrange according to your preferences. You can also count on excellent service and a modern interior with eye-catching ornaments, including cow-shaped chandeliers.
Tip:
The Ambiente restaurant network also includes Kantýna, a restaurant and butcher's shop in one, which is unique in its concept of a self-service buffet and a real canteen: you choose your food at the counter, take it to your table on a tray, and according to the consumption on the ticket when you leave.
Speaking of great meat, we must also mention the Naše maso butcher shop, where they will also prepare anything to your taste on the spot. We particularly recommend the hamburger or meatloaf in a bun.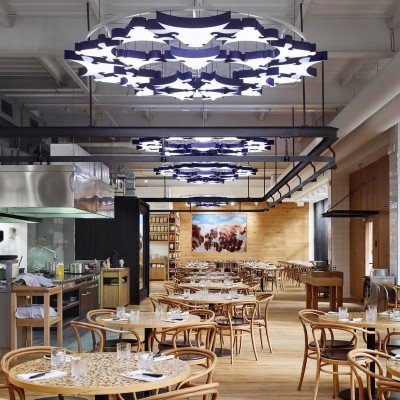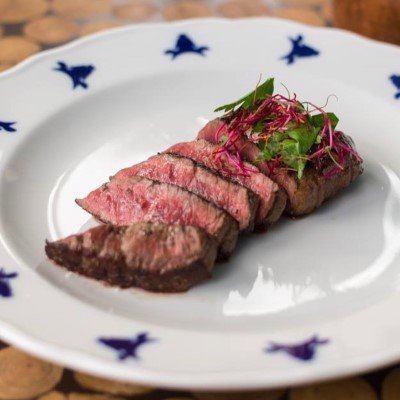 Source: facebook.com/cestrambiente

Highland Steak House Prague
Address: Baranova 1832/13, Prague 3-Žižkov
GPS: 50.07913, 14.45767
https://highland-restaurant-steak-house.business.site/
This place is a bit of a hidden treasure among steakhouses in Prague. At first glance, it's an inconspicuous place just a short walk from the Flora metro A station, which you probably wouldn't expect to offer some of the best steaks in Prague. The interior is rather austere as well. But don't be fooled! The steaks, which they prepare exactly according to your wishes, are really excellent, and at very reasonable prices. We dare to say that the price/performance ratio is unbeatable. We recommend making a reservation and also bringing cash - they don't take cards here.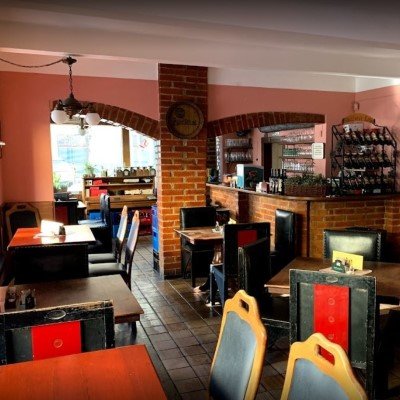 Source: highland-restaurant-steak-house.business.site/#gallery

Beef House Grill Bar
Address: Mlynářská 3, Prague 1
GPS: 50.09186, 14.43412
https://beefhouse.cz/
For quality steaks in Prague, you can also stop by just a short walk from the Florenc bus station. You will be greeted by very friendly staff who will be happy to advise you on the selection. Incidentally, apart from the great food, it is the service that guests praise the most. If you prefer more privacy during your meal, take a seat in one of the "boxes". The menu isn't limited to steaks, there's also a lunchtime menu. The restaurant also has its own butcher shop a few steps away.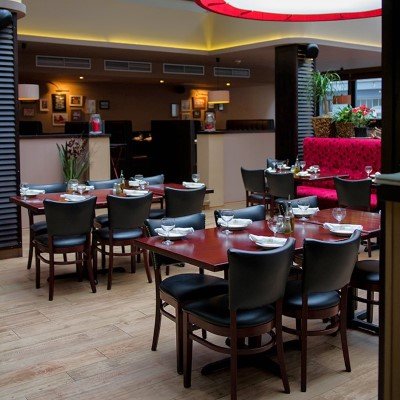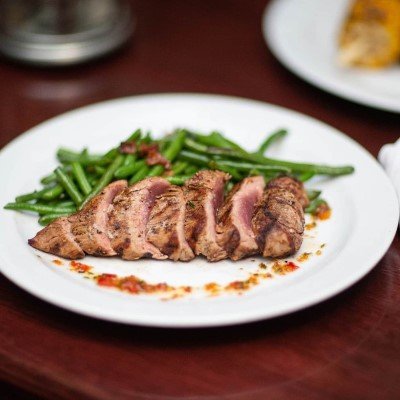 Source: instagram.com/beefhouseprague/,
beefhouse.cz/grill-bar/#galerie

Extra Tip:
La Casa Argentina
Address: Dlouhá 35/730, Prague 1
GPS: 50.09081, 14.42631
https://www.lacasaargentina.cz/
We deliberately mention this Argentinian steak house as a "+1 tip", because it's not just about steaks, but also a show in South American rhythms with everything you can imagine. The restaurant offers 380 seats, is spread over three floors and divided into several sections (lounges), each with a completely different interior. There is also a playroom for children. Thus, the restaurant is suitable from dinner for two to family celebrations and corporate parties. When it comes to steaks, on the original Argentinian Parilla grill there is prepared the finest meats - Argentine Beef, US Prime Beef or even Kobe Beef - the most expensive beef in the world. In addition to meat, other dishes from Argentine cuisine are also on the menu. A visit to this steak restaurant in Prague is not only a culinary experience, but also a cultural one - musical or dance performances are regularly scheduled. In other words - Argentina with everything!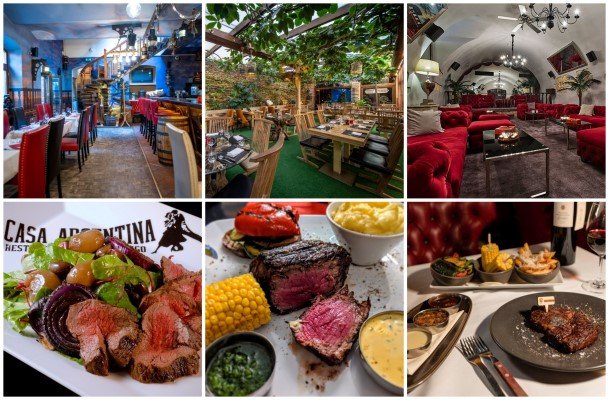 Source: facebook.com/lacasaargentinapraha,
lacasaargentina.cz/

Additional tips for Prague steak restaurants that didn't fit into our list of the best steakhouses in Prague, but where you're also guaranteed to enjoy delicious steaks.
Monarch
Steaks from aged Black Angus beef of the highest quality (USDA certified), plus a wide selection of very fine wines. Quiet elegant place, ideal for a degustation evening.
https://www.monarch.cz/
Dock House
A speciality of this steak restaurant is steak meat aged using both wet and aged methods. A lava grill is the dominant feature. Somewhat away from the centre, but worth a visit.
https://www.dockhouse.cz/

Map with the overview of the best steakhouses in Prague
Interesting