Best rooftop bars and restaurants in Prague
TOP 11 tips from locals
Are you looking for a place to spend a nice evening with a drink in hand or to start a long night of fun until the wee hours of the morning? And do you want something more than just a regular bar? Then you've come to the right place! Spice up your evening or night out with a great view of Prague! Just choose one of the best rooftop bars in Prague from our TOP11 list. Moreover, we've thrown in our picks for the best rooftop restaurants with a view of Prague - so if you get hungry during your party or night out, no problem!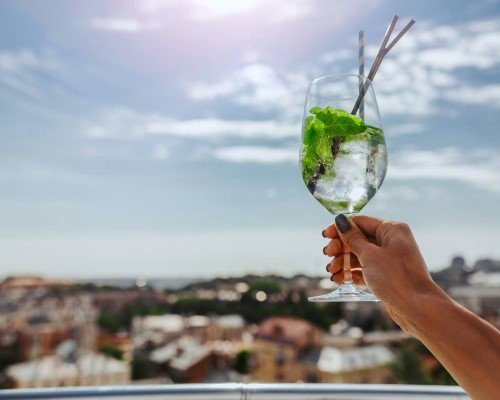 Balcony Bar
Address: 17 Jungmannovo nám., Prague 1
GSP: 50.08321, 14.42316
https://balconybar.cz/
Everyone who comes to Prague will head to Národní třída and the National Theatre. How about seeing these famous places from above? Just a few steps from Prague Wenceslas Square, the rooftop bar Balcony Bar is located on the roof of a building where musical instruments are sold, and its terrace offers a spectacular view of one of Prague's most famous streets. While the crowds of tourists stream below you, you can enjoy great wine, champagne or cocktails on the terrace. Gin & tonic lovers will be especially happy here. We recommend ordering tapas to go with your glass, the local speciality is the Alsatian savoury Tarte Flambeé cakes.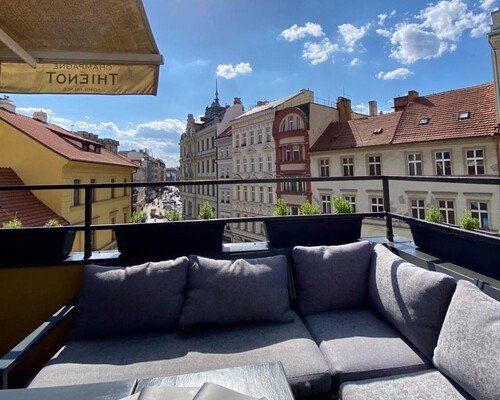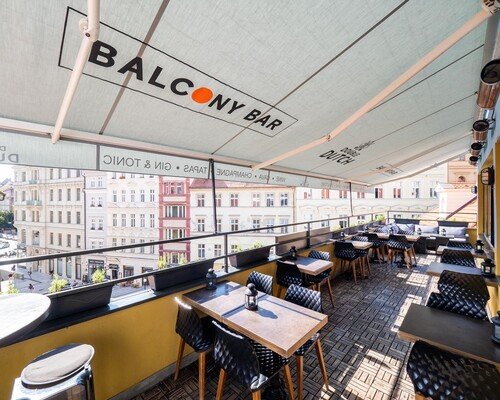 Source: facebook.com/balconybarprague

Cloud 9 Sky Bar & Lounge
Address: Hotel Hilton, Pobřežní 1, Prague 8
GPS: 50.09349, 14.43948
https://cloud9.cz/
At a height of 40 metres, on the roof of the Hilton Hotel, you will enjoy one of the best views of the whole of Prague. The sunset from here is phenomenal! When you add original cocktails and great food, the experience is even a level higher. If the weather doesn't favour sitting on one of the two terraces, you won't lose the view thanks to the glass walls. For meetings with friends, a night out for two and corporate events, these luxurious, finely tuned spaces are ideal. A visit to this Prague rooftop bar will impress everyone.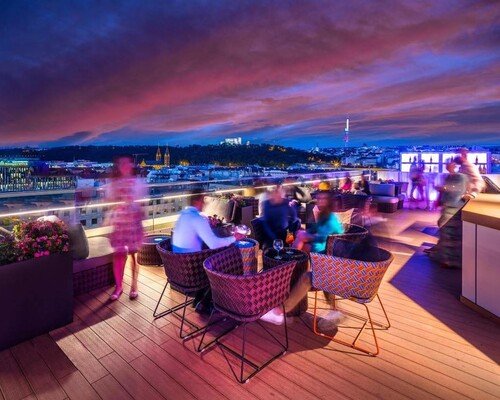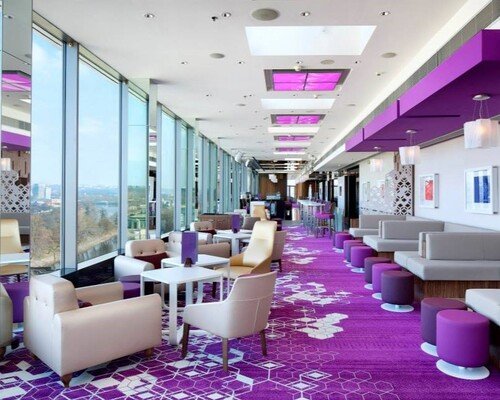 Source: facebook.com/cloud9prague

Duplex
Address: Václavské nám. 21, Prague 1
GPS: 50.08236, 14.42668
https://www.duplex.cz/terrace-bar/
Duplex is mainly known as a nightclub with world-class DJs, but fewer people know that it also includes a rooftop bar with one of the best views of Prague, right in the heart of the city - Wenceslas Square. Thanks to the heated dome resembling an igloo, you can sit outside even during the winter months. Start the evening with a pleasant sitting on the rooftop terrace with one of the great cocktails, or even dinner, and end it in a whirlwind of dancing until the wee hours of the morning. This place has witnessed many memorable parties and yours could be next! Definitely one of the best rooftop bars in Prague you should not miss.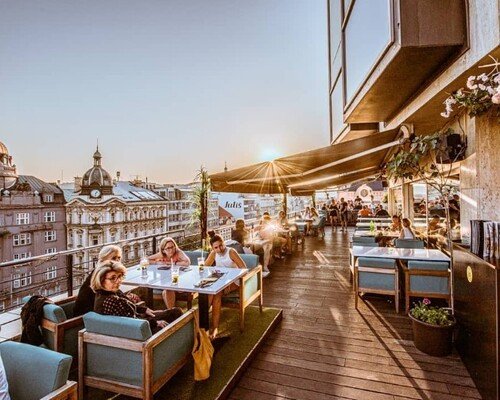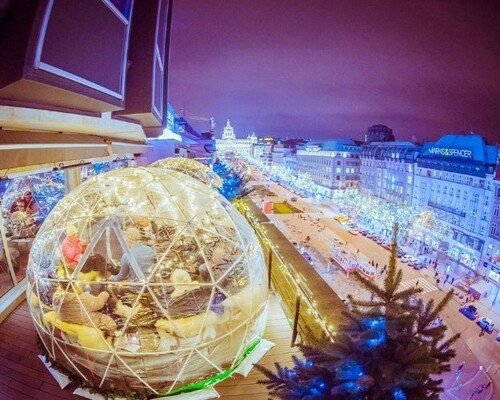 Source: instagram.com/duplexrooftopvenue/

Střecha Lucerny
Address: Štěpánská 61, Prague 1
GPS: 50.08101, 14.42631
https://strechalucerny.cz/
Střecha Lucerna is a unique, multifunctional space above the Lucerna Palace complex, just a short walk from Wenceslas Square. It is not only a place where you can enjoy a drink in peace with an amazing view of Prague, but above all it is a venue for various cultural events - lectures, concerts, projections...or even yoga or fitness classes. At one time there was also a community garden. Before visiting this unique space, we recommend checking the calendar of events and opening hours - it is usually closed during the winter.
Interesting fact: The rooftop bar can be reached by stairs, or take a special elevator, called a paternoster. This alone can be an experience for some!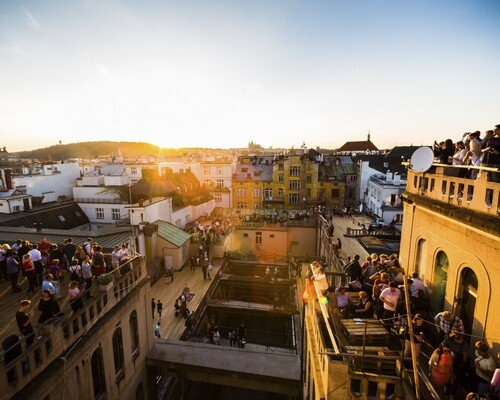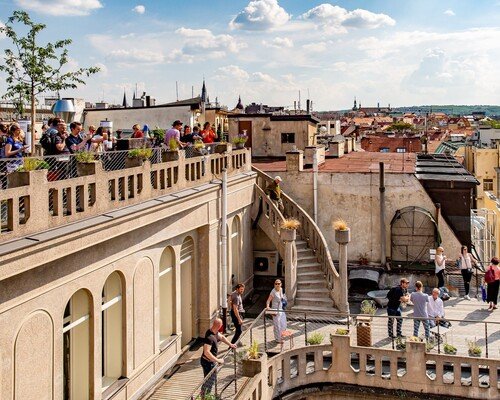 Source: facebook.com/strechalucerny

Střecha Radost
Address: nám. Winston Churchill 2, Prague 3
GPS: 50.0842, 14.44259
https://www.facebook.com/StrechaRadost/
A short walk from the main train station is the functionalist building Dům Radost, where you can enjoy a refreshing drink at the rooftop bar and one of the most beautiful views of the whole of Prague. After all, it is Prague's first ever high-rise building. You can go here not only for a drink, but also for culture and entertainment - the roof regularly hosts various events in the season - concerts, gastronomic events, lectures, screenings... The originality of the space is also added by elements that you would probably not expect on the roof of the house. In previous seasons, for example, it was a hunting seat, then the seat was replaced by a pond with a swan paddle boat - exactly the one you know from the Vltava River. The entrance fee to this Prague rooftop bar is 100 CZK, but the price includes one drink.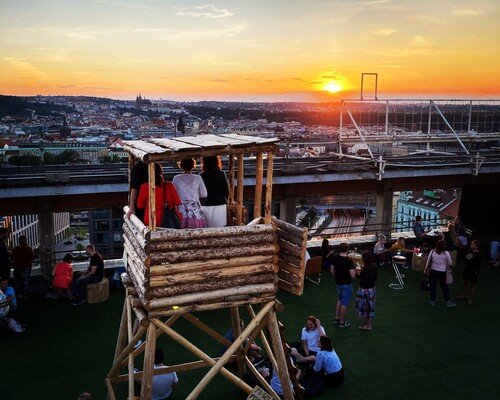 Source: facebook.com/StrechaRadost

Terasa Smíchov
Address: Roof of OC Nový Smíchov, Plzeňská 233/8, Prague 5
GPS: 50.07249, 14.40158
http://www.terasasmichov.cz/
Terasa Smíchov is a relatively newbie to the Prague rooftop bar scene. Only recently, the unused terrace on the roof of a shopping centre, right in the middle of the busy Anděl district of Prague, has been transformed into a place that is an oasis of calm during the day and a venue for various dance events and rooftop parties in the evening. Of course with a beautiful view of the surroundings. It's just a pity that this rooftop bar in Prague - Smíchov is only open seasonally, from May to September.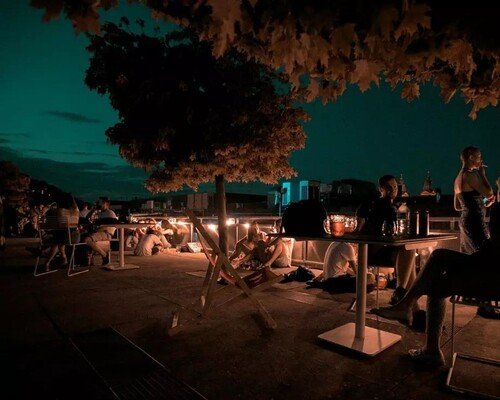 Source: facebook.com/terasasmichov

Rooftop bars offering not only a great view but also a gastronomic experience

Glass Bar
Address: Jiráskovo nám. 1981/6, Prague 2
GPS: 50.07547, 14.41408
https://www.glassbar.cz/
Everyone in Prague knows the Dancing House. However, this unique building offers another treasure on the top floor - a rooftop bar with a terrace with a breathtaking view of Prague Castle, Petrin Hill and the National Theatre. The bar is divided into an indoor, glassed-in part and an outdoor terrace. In addition to mixed cocktails, you can enjoy beer, wine, as well as coffee, tea and other soft drinks. If you get hungry of the view, just head down to the Ginger & Fred restaurant one floor below. There's either a 100 CZK entrance fee to the terrace, or you can just buy something at the bar. There are also regular events here. So if you visit the Dancing House during your Prague wanderings, we recommend you put a visit to one of the best rooftop bars in Prague on your agenda!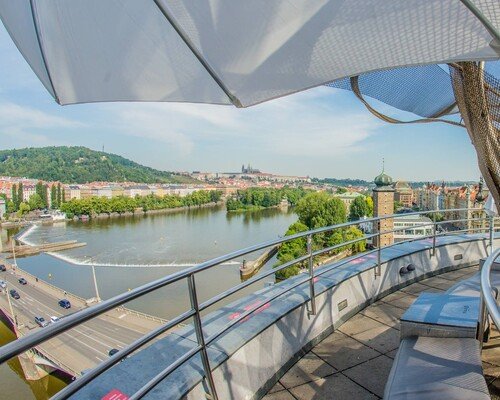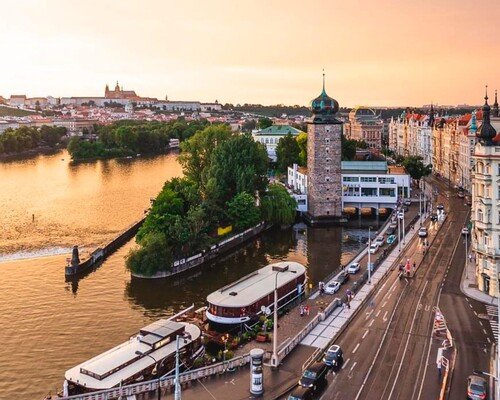 Source: facebook.com/glassbardancingbuilding

Terasa U Prince
Address: Staroměstské nám. 29, Prague 1
GPS: 50.08644, 14.42011
https://terasauprince.com/
You've probably already heard about this Prague rooftop bar and restaurant, as it is mentioned in most guidebooks. Moreover, everyone who has ever visited Prague has a photo from the Bubble Point View (supposedly the best insta spot in Prague) with a view of the OldTown Hall with the Astronomical Clock. Yet (or maybe that's why) we can't deprive you of it in our selection of the best rooftop bars in Prague. The view from here is truly exceptional. In addition, part of the terrace is roofed and insulated, so you can enjoy this view all year round, compared to some other rooftop bars in Prague. Whether for breakfast, brunch, lunch, dinner or just for dessert. However, we recommend making a reservation, there is a lot of interest in visiting, even though the prices are higher. But if you want to impress someone, this place is perfect e.g. for a romantic dinner. It's not for nothing that it's been ranked one of the world's most impressive rooftop bars and restaurants.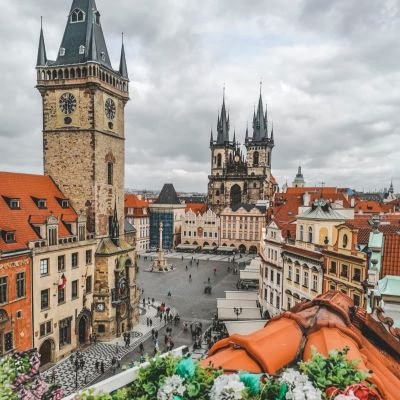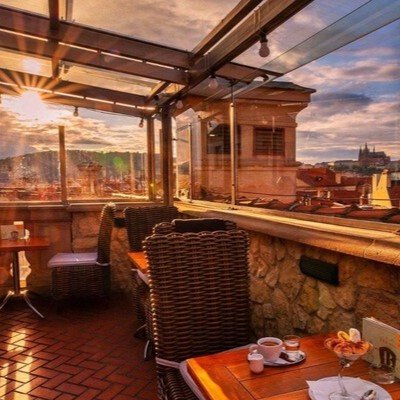 Source: facebook.com/terasauprince

Aureole Fushion Restaurant & Lounge
Address: Hvězdova 1716/2b, Prague 4
GPS: 50.05042, 14.43614
https://aureole.cz/rooftop-bar/
Aureole is not just any other rooftop bar in Prague. With its location on the top floor of the only skyscraper in Prague (and the second highest in the Czech Republic), it is the highest Prague rooftop bar. It will offer you a view of Prague like no other - straight from 109 metres up. In addition to premium spirits and first-class cocktails, which can be mixed according to your preferences, you can enjoy dishes mainly from Mediterranean cuisine. Breakfast is also available. However, be aware that this exclusive view comes with higher prices.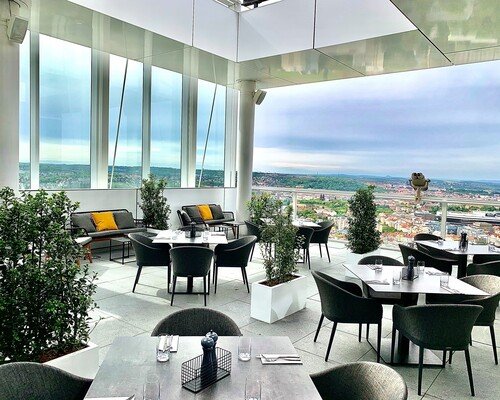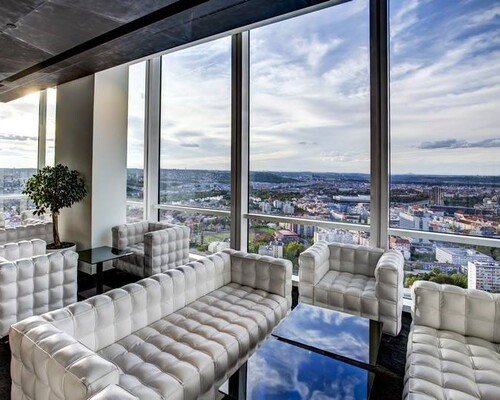 Source: facebook.com/AureoleRestaurant

Terasa U Zlaté studně
Address: U Zlaté studně 166/4, Prague 1
GPS: 50.09094, 14.40449
https://www.terasauzlatestudne.cz/
Directly under Prague Castle is a restaurant renowned not only for the dishes, which here are almost alchemical masterpieces, but also for the rooftop terrace with a rooftop bar, which offers a magnificent view of the rooftops of the Lesser Town. In addition, this place will offer visitors another treasure - during the summer months, it is possible to go from the terrace through a private entrance directly into the royal gardens of Prague Castle.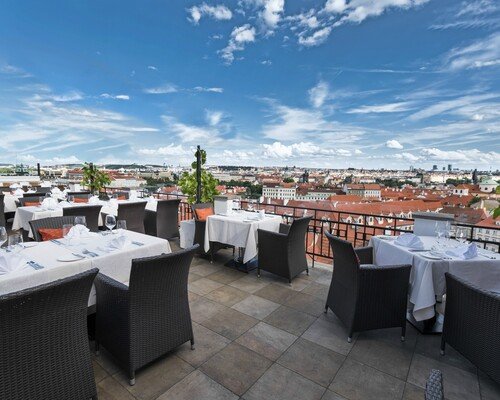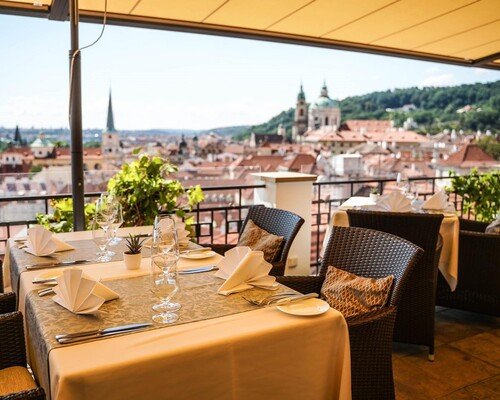 Source: terasauzlatestudne.cz/, FB U Zlaté Studně

Restaurace Coda
Address: Tržiště 368/9, Prague 1
GPS: 50.08712, 14.40264
https://www.codarestaurant.cz/
Another of the rooftop bars in Prague worth mentioning, which will offer you a unique gastronomic experience in addition to the view. From here you will have Hradčany, Petřín and St. Nicholas Cathedral like "on your plate". The restaurant with a terrace is part of the Aria Music Hotel and people with artistic soul will be pleased here - the interior is decorated with works by Dali or Picasso and the atmosphere is completed by live piano music. A symphony for all the senses!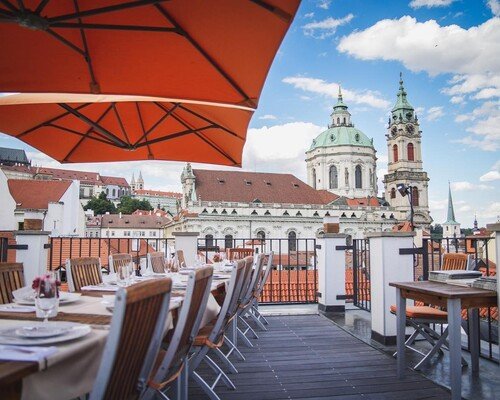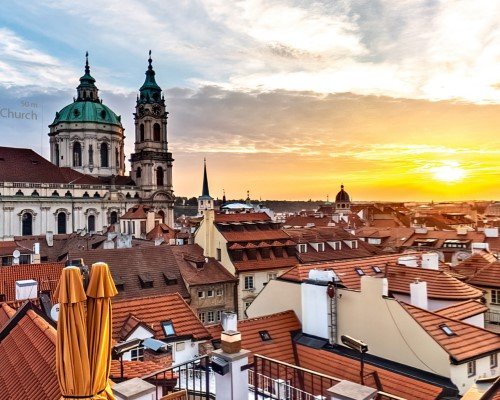 Source: facebook.com/CodaRestaurant/

Rooftop Bars in Prague with a nice view, but...
A wonderful view of Prague is also available from the roof of the Kotva department store, right opposite the Palladium shopping centre. The Sun Terrace T-Anker, which offers up to 12 beers on tap, will delight beer lovers in particular, but those who are not so fond of beer will not be left out. The second venue is the Fashion Club & Restaurant, which besides a terrace nar includes also a nightclub. So a quiet afternoon or evening with a refreshing drink in your hand and the sun setting on the horizon can end on the dance floor until the early hours of the morning.
Unfortunately, both these rooftop or terrace bars are somewhat lacking in service and attitude in general. That's why we don't include them in our selection of the best rooftop bars in Prague. However, we thought they are at least worth mentioning because of the view, which is really awesome from here.

Map with overview of the best rooftop bars in Prague
Interesting