Best Pork Knuckle in Prague
TOP 7 tips from locals
Pork knuckle is often mentioned in tourist guides as one of our national dishes and a renowned Czech specialty. No wonder tourists from all over the world come to the Czech Republic to try it. Although it is paradoxically a lower-quality meat, it is popular with locals and tourists alike for its crispy, golden crust and juicy flavour.
It is not difficult to find a place in Prague that offers pork knee. It is usually part of the menu of all restaurants specialising in Czech cuisine. But not everywhere can prepare pork knuckle so well. Therefore we've compiled a list of the restaurants with the best pork knuckle in Prague that are a real treat for any lover of a good piece of meat. Sure, it's not a dish suitable for dieters, but it would be a shame to visit Prague and not try this delicacy with crispy crust, like the knee from Pork's Prague, for example!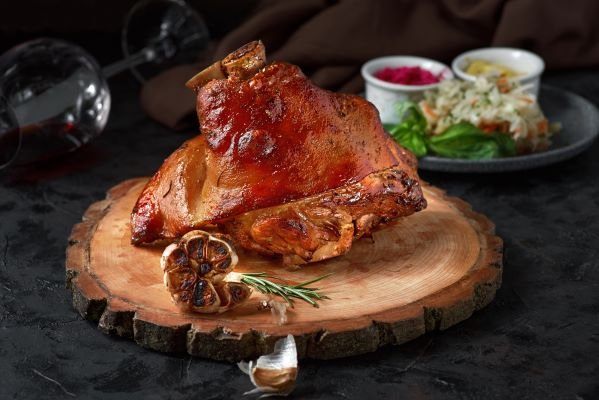 Do you know... Pork knee is also popular in neighbouring Germany and Austria. While in Germany it's traditionally served with Bavarian dumplings, cabbage and potatoes, and in Austria it's baked with radishes, pork knee in Prague is usually served with mustard, horseradish, pickled vegetables and bread.
Pork's Prague
Address: Mostecká 16, Prague 1
GPS: 50.0875, 14.40605
https://www.porks.cz/
If you want to taste pork knee or other pork delicacies that will really get you in the knees, go to Pork´s Prague. Over 100 portions of pork knuckles are served there a day - and that's saying something. On the menu, in addition to the knuckle, you'll find pork ribs, pork schnitzel, a specialty jerk knuckle in a giant buttered roll and - that's all. Minimalism in a perfectly cooked form. Order a pork knuckle, wash it down with a tank beer and just enjoy it all in a beautiful interior with a pleasant atmosphere. No wonder that if you ask a local where to get the best pork knuckle in Prague, the answer is Pork's.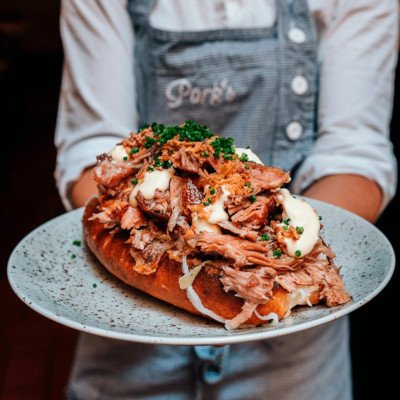 Source: instagram.com/porks.cz/

U pečeného kolena
Address: U Michelského mlýna 75, Prague 4
GPS: 50.05716, 14.44959
https://www.upecenehokolena.cz/
A simply furnished restaurant just a short walk from the Botič river in Prague, where you can even sit in the garden in the summer months. Although time has stood still a bit in the interior, their pork knuckle is one of the best in Prague. There are two weights on offer - 800g or 1200g portions served with horseradish, mustard and red and white cabbage.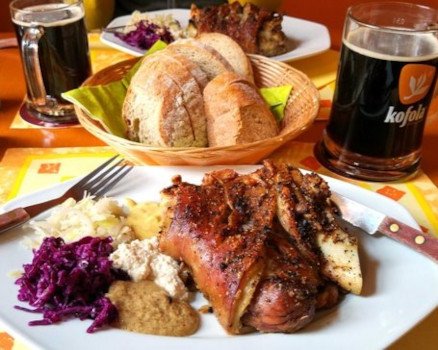 Source: upecenehokolena.cz

U Pinkasů
Address: Jungmannovo náměstí 16, Prague 1
GPS: 50.08326, 14.42354
http://www.upinkasu.cz/
A restaurant with a big name and an even stronger tradition, popular with many leading Czech actors, writers and politicians. The first Czechoslovak president T.G. Masaryk is said to have visited the Pinkas for a beer as well. It is a stylish pub that has retained its genius loci, with excellent beer and top Czech cuisine. Their pork knuckle, one of the most famous in Prague, is served in a roasting tin.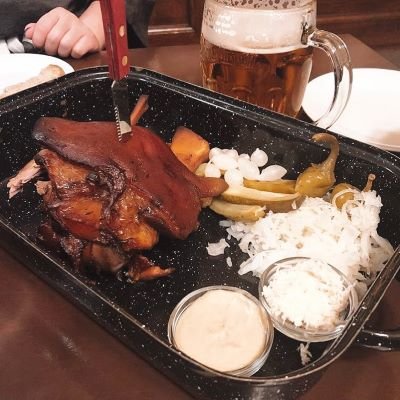 Source: instagram.com/upinkasu/

Kozlovna u Paukerta
Address: Národní 17, Prague 1 - Old Town
GPS: 50.08199, 14.417
https://www.kozlovna.cz/u-paukerta
The restaurant was created in 2015 by reconstructing the original well-known First Republic delicatessen and today it is a modern Prague beer house specialising in traditional Czech dishes with a modern touch. We recommend washing down the delicious pork knuckle with their fresh beer from the tank.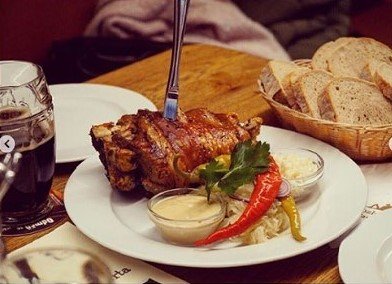 Source: facebook.com/upaukerta/

Pub U krále Brabantského
address: Thunovská 198, Prague 1
GPS: 50.08898, 14.40162
http://www.krcmabrabant.cz/
The ideal place for history lovers. Do you want to combine tasting pork knuckle Prague with a unique experience? Head to this pub. On selected days, guests can experience an amazing medieval show and pork knuckle and other medieval specialties prepared on an open fire can be enjoyed here accompanied by medieval dancers, swordsmen or a fire show. The staff tries not to fall out of role, so expect some rough speech. Anyway, their pork knuckle as well as honey ribs are renowned and fall off the bone. A real cultural and gastronomic experience guaranteed! Moreover, the restaurant is located by the castle steps below Prague Castle, so you can end your walk through the historic city centre there.

Source: facebook.com/krcmabrabantpraha/

U Glaubiců
Address: Malostranské náměstí 266/5, Prague 1
GPS: 50.08765, 14.40352
https://uglaubicu.com/
A stylish restaurant in the romantic arcade of Malostranské náměstí with a long history and a prestigious address just a short walk from the Royal Route, Charles Bridge and St. Nicholas Cathedral. Over the many years of its operation it has been visited by many historically famous personalities. The beautiful historical interior and the cellar with beer tanks have been preserved to this day. For local pork knuckle we recommend making a little more space in your stomach as it can be served with dumplings and cabbage. The prices are not exorbitant, the beer is even one of the cheapest in Prague.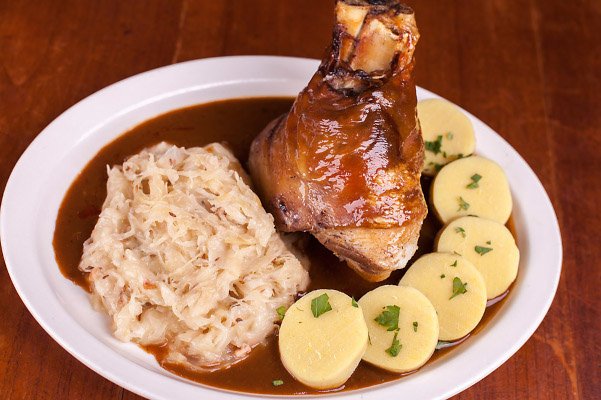 Source: uglaubicu.com

Karlínská pivnice
Address: Březinova 513, Prague 8
GPS: 50.09263, 14.4572
http://www.pivnicekarlin.cz/
Karlín is mainly famous for its cafés, but thanks to several restaurants - including Karlínská pivnice - beer and meat lovers also like to come here. The portions of roasted pork knuckle are enough for two people, the service is fast, therefore this gastronomic experience together with excellent beer will land on your table in no time. The pub is popular for its relaxed atmosphere, don't be surprised by the sometimes a little bit gutsy, sometimes unusual cordiality of the staff, when they familiarly address you as "darling" or "sweetheart". And one tip, even though it might sound strange - do not miss a visit to the toilets - the pub character doesn't deny itself here either! :)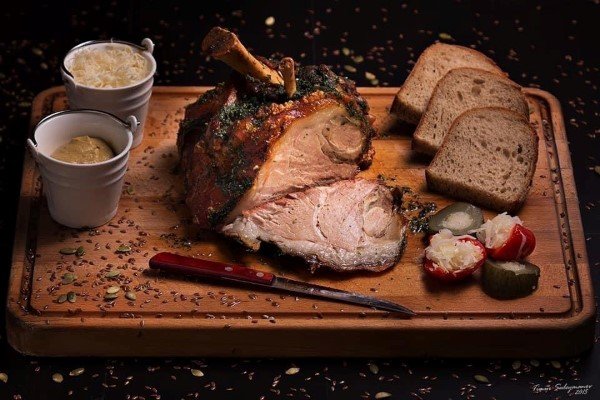 Source: facebook.com/KarlinskaPivnice
Where did the pork knee in Prague come from? The history of pork knuckle in the Czech Republic dates back to the beginning of the 20th century. According to Prague restaurateur Bohumil Pavlík, Prague pork knuckle was first offered in the Skořepka pub during the First Republic. At that time, however, the knees were baked in the German way, i.e. marinated in a salt and liquor mixture, a method that was considered to be a smoking technique in this country, which meant strict demands on production facilities and hygiene. Skořápka therefore came up with a new process. Firstly, the knee was cooked in a broth of wild spices, onions and garlic, then left to cool, seasoned with paprika and salt and finally baked. Pork knee served in this way soon became a popular delicacy, not only in Prague. Nowadays you can find many pork restaurants in Prague.

Map with an overview of the TOP 7 restaurants
with the best pork knuckles in Prague
Interesting