Best parks and gardens in Prague
The 22 Most Beautiful Green Spaces You Have To Explore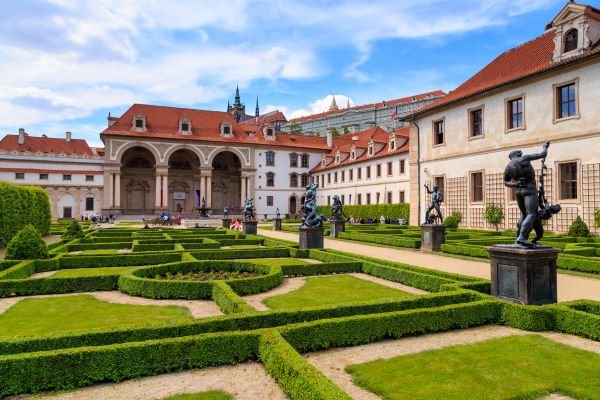 Prague is mainly known for its historical monuments and culture. But did you know that it is one of the greenest cities in the world? So if you're looking for a place to escape the hustle and bustle of the city, hide in the pleasant shade, have a picnic or just relax, Prague offers plenty of wonderful places in this regard, whether more or less well-known. What's more, green parks or gardens are spread all over Prague, so you'll come across some greenery just wandering around Prague.
Join us as we take a journey through the enchanting parks in Prague and discover the hidden oases that await within the heart of the city. This guide with tips on the best and most beautiful parks and gardens in Prague will help you.

---
RECOMMENDED: Don't miss the most beautiful places in Prague! Our latest article TOP 20+ places to visit in Prague will guide you through all the famous Prague attractions and must-see gems.
---

Table of Content
BEST PARKS IN PRAGUE
1. Petřín Hill
2. Letná
3. Stromovka
4. Riegrovy sady
5. Vyšehrad
6. Ladronka
7. Hvězda
8. Vítkov
9. Parukářka
10. Grébovka
11. Kampa
12. Chotek Gardens
13. Střelecký & Slovanský Island
14. Malešice park
THE MOST BEAUTIFUL GARDENS IN PRAGUE
15. Prague Castle Gardens
16. Wallenstein Garden
17. Franciscan Garden
18. Vojan Garden
19. Vrtba Garden
20. Kinsky Garden
21. Botanical Garden
EXTRA TIPS

BEST PARKS IN PRAGUE

1. Petřín Hill: A park (not only) for romantic souls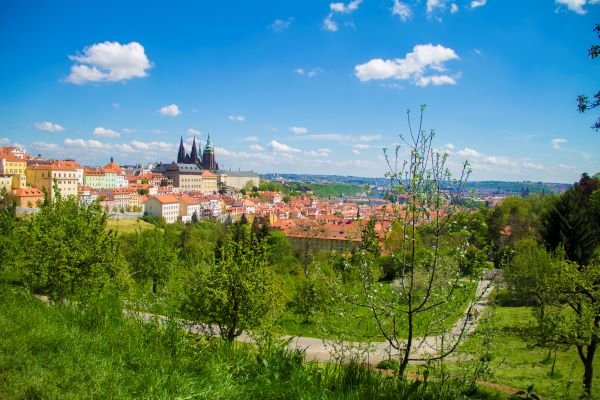 Although Petřín Hill is mainly known among tourists thanks to the Petřín Lookout Tower, it is undoubtedly one of the most beautiful parks in Prague. Or better said, a complex of parks and gardens, as it includes several of them. As you explore the gardens, you'll be treated to breathtaking panoramic views of Prague's skyline and the majestic Vltava River. Especially during spring as the trees in Petřín parks are covered in blossoms, it is one of the most romantic spots in Prague (and therefore really popular with couples in love). Although you can reach the top of Petřín Hill conveniently by cable car, we recommend going on foot, enjoying the winding paths lined with greenery and discovering the magic of this beautiful park. And once you're here, in addition to the Petřín lookout tower, visiting the mirror maze is worth your time as well. Tickets are available here.

2. Letná Park: Where nature meets culture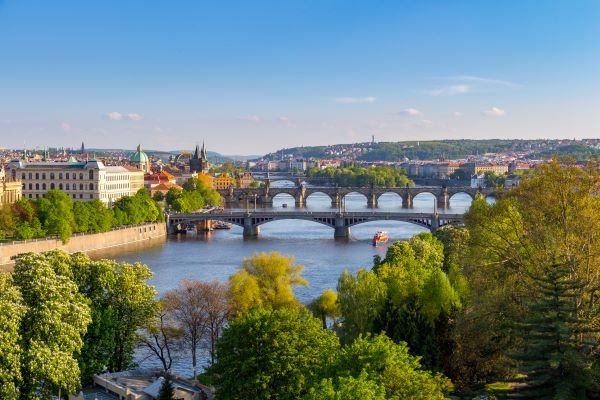 This large Prague park is popular with locals and visitors alike and provides an ideal setting for outdoor activities. Plus, with one of the best views of Prague. Formerly home to the world's largest statue of Stalin, it was later replaced by a giant metronome - now one of the symbols of Letná Park. In the summer months, the park hosts several cultural events. Whether you're heading to Letná for a beautiful view of Prague, refreshment during the summer days (check out the famous Letná beer garden!) or looking for the perfect place for sports activities or relaxation - Letná Park has it all, making it one of the best parks in Prague.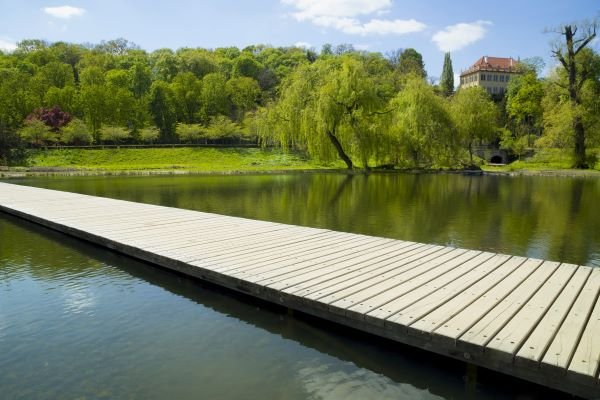 This largest Prague park, known also as Prague´s Central Park, is a popular place for… well, actually for everyone as it offers countless opportunities for active leisure and relaxation. Come here to jog, skate, have a picnic, stretch a slackline among trees, play with your dog or just sit on a bench and enjoy a beautiful afternoon. Once a royal hunting ground area, today a true oasis of tranquillity interspersed with landscaped paths, picturesque ponds, picnic areas or a workout playground. Especially in autumn, Stromovka Park is a magical palette of colours worth visiting. You can also combine a walk through Stromovka with a visit to the planetarium, the sea world or the ZOO, which is located right on the opposite bank of the river.

4. Riegrovy sady: Prague paradise for sunset and beer lovers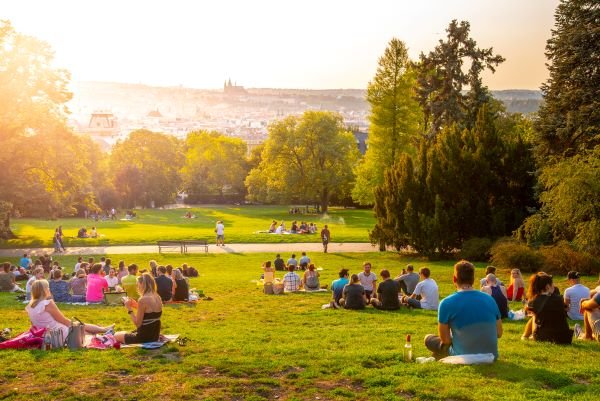 Located in the Vinohrady district, Riegrovy sady is one of Prague's most popular parks and hangout spots in Prague, where locals love to head for a breathtaking sunset view and a refreshing beer in the popular beer garden. Various concerts, festivals and sports screenings are also held here throughout the year. It's a place where you can enjoy both tranquillity and a lively atmosphere, especially during the summer months. And no wonder - the view of Prague Castle at sunset from this Prague park is something you definitely shouldn't miss.

5. Vyšehrad Park: Where even legends rest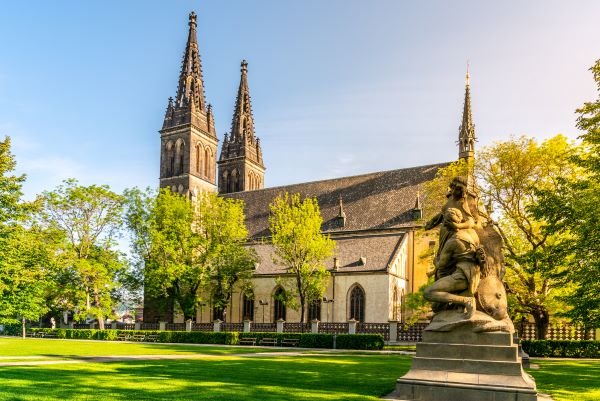 An oasis of peace, a beautiful view of Prague, romantic corners and a place with a magical touch - all this describes Vyšehrad, a historical fortress complex nestled on a hill overlooking the Vltava River. You can walk along the medieval walls, sit on one of the benches or local cafes, admire historical monuments such as the Basilica of St. Peter and Paul or simply find a quiet spot to enjoy the unique atmosphere of Vyšehrad Park. The local cemetery is also the resting place of some of the greatest Czech personalities such as Karel Čapek, Božena Němcová, Bedřich Smetana and Karel Hynek Mácha.

6. Ladronka Park: An active escape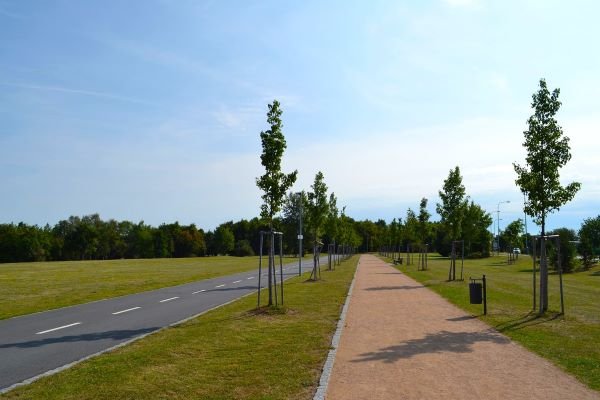 Ladronka Park in Prague is a popular destination for outdoor enthusiasts and sports lovers. Its vast open spaces and well-maintained trails make it perfect for activities such as cycling, jogging, and especially rollerblading, as there is the longest illuminated in-line track in Prague. If you don't have your sporting equipment, no problem, just rent them from a local rental shop. The kids will have fun at Ladronka Park with some playgrounds or a trampoline park. Additionally, the park features spacious green meadows, ideal for picnics (there are also barbecue stations), frisbee games, or simply basking in the sun. Whether you're looking for an active day out or a peaceful retreat in the middle of nature, this park in Prague is a must-visit destination.

7. Game reserve Hvězda: Hidden star among Prague parks
Tucked away in the western part of Prague, a former royal hunting ground Hvězda Park charms visitors with its unique architecture and serene ambiance. The park is dominated by the Hvězda Summer Palace, a remarkable Renaissance building shaped like a six-pointed star (hence the name "hvězda" = star). Today, besides three main avenues leading to this summer house, this nice park in Prague offers plenty of crisscrossing trails through the forested area and is a favourite place for relaxing, walking, jogging or, in winter, even cross-country skiing. The park is a venue for some events as well. As it is quite further from the city centre, not many tourists know about this little gem.

8. Vítkov Hill: Where history unfolds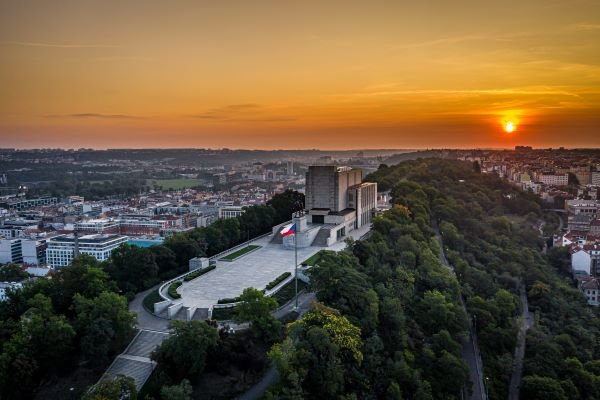 On the list of best parks in Prague, Vítkov must not be missing. Perched atop Vítkov Hill, this historic park tells tales of Czech history. The centrepiece of this Prague park is the National Monument with the Jan Žižka statue, a symbol of Czech resilience and independence. But it is worth going here not only for the history. In addition to an extensive network of paths, spots for picnics or playgrounds, Vítkov park is another place that offers a breathtaking view of Prague.

9. Parukářka Park: A shelter (not only) from the urban bustle
This inconspicuous Prague park located in the Žižkov district is one of our favourites. Although Parukářka park is less well known than the nearby Vítkov, it offers equally breathtaking views of Prague's skyline and the iconic Žižkov Television Tower as well. And not only that. In addition to the benches and playgrounds, there is also a pub in the park, or you can bring your food and take advantage of one of the barbecue areas. If you're interested in history, check out the Parukářka bomb shelter, which also houses a Cold War museum.

10. Kampa Park: A Riverside escape with artistic charm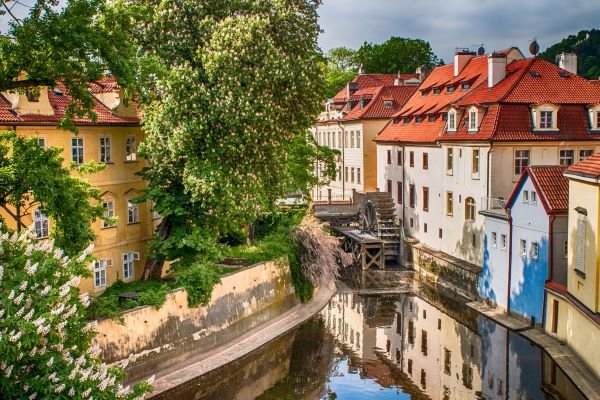 This picturesque Prague park, located in Prague's Lesser Town, is actually an island as it is separated by the Vltava branch called Čertovka. Thanks to its picturesque and romantic touch, Kampa island is also called the Venice of Prague - that alone calls for a visit, doesn't it? It was even declared the second most beautiful city island in the world! Although Kampa Park is not extensive, its tranquil ambience makes it a favourite spot for leisurely walks, picnics, and romantic moments by the river. Art lovers also appreciate the art museum or the outdoor sculptures that adorn the park, including the famous crawling babies created by artist David Černý, similar to those crawling up the Zizkov TV Tower. Kampa Park also includes the excellent Kampa Park restaurant with a beautiful terrace where you can enjoy a real culinary experience.

11. Grébovka Park: A must-visit not only for wine lovers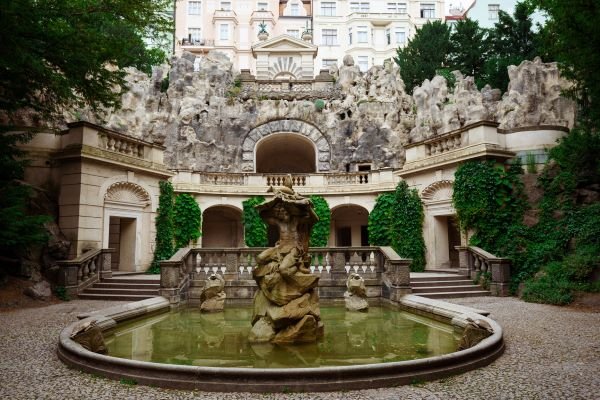 Havlíček Park or Havlíčkovy sady, better known among locals as Grébovka, is a park in Prague inspired by the Italian Renaissance. It is located in Prague 2 and besides a nice view of a slightly different part of Prague, this picturesque park features vineyards, charming pavilions, a fountain, a water cascade, a pond, a unique stone grotto or neo-Renaissance Gröbe's villa (hence the name Grébovka park). Are you a wine lover? All the more reason to visit this Prague park. The park includes a large vineyard, so you can end your pleasant stroll by sitting in a local wine bar with a glass of wine. Thanks to its picturesque setting, Grebovka is also a frequent venue for various food and wine festivals.

12. Chotek Gardens: The first among all
If there's one park that shouldn't be missing from the list of Prague's best, it's Chotek Gardens (Chotkovy sady) - the very first public park in Prague. It was founded in 1832 and is located just a short distance from Prague Castle, the Royal Garden and the popular Prague Letná Park. An interesting feature of this English-style park is the monument to the writer Julius Zeyer.

13. Střelecký and Slovanský Islands: Escapes in the heart of Prague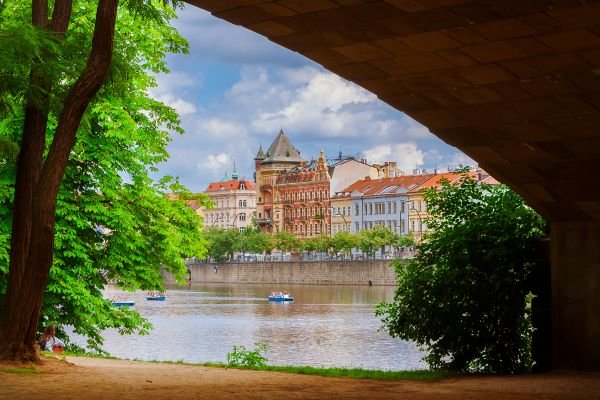 Střelecký Island can be reached from the "Most Legií" (Legion Bridge). This park offers an unusual view of Prague and the Vltava River, landscaped paths, playgrounds for children and other activities. There is also a restaurant. Various festivals, concerts, open-air festivals and other cultural events are occasionally held here.
Just a short distance from Strelecky Island is Slovanský Island, also called Žofín after Žofín Palace, which is located there. This traditional venue for balls and concerts makes this Prague park an important centre of the city's social and cultural life. The park includes a children's playground and especially boat and pedal boat rentals, which teem on the Vltava during the summer months.

14. Malešice Park: Fun and relaxation for everyone
Although Malešice Park is further away from the Prague city centre, it is nonetheless excellent for its variety of activities for everyone, and all ages can have fun here. Especially for children, this Prague park is a paradise thanks to a unique system of sound and water elements, a rope climb, swings, playgrounds and other fun elements. Active individuals can take bicycles, scooters or in-line skates and ride around the special-surface circuits or head to the outdoor gym. The park has special exercise features for seniors as well. In addition, Malešice park is the only one that is adapted for wheelchair users. Even dogs are welcome here and there are areas for them to run free.
THE MOST BEAUTIFUL GARDENS IN PRAGUE

15. Prague Castle Gardens: Royal Garden and Palace Gardens below Prague Castle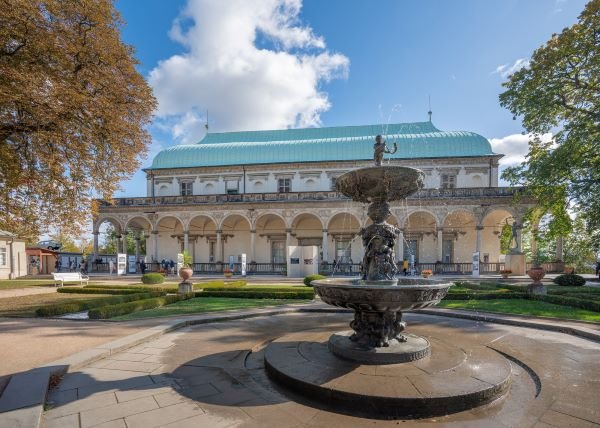 What would be an overview of the best parks and gardens in Prague if we left out the Prague Castle Gardens, which include the Royal Garden and Palace Gardens below Prague Castle.
Located on the site of former vineyards, the Royal Garden is separated from Prague Castle by the Deer Ditch and originally served as the private garden of Czech kings and queens. Exotic plants from distant lands were a rarity. Today, the Royal Garden is open to the public and, in addition to the beautiful nature and tranquillity, it also offers the spectacle of, for example, Queen Anne's Summer Palace, the Singing Fountain or the President's House.
The Palace Gardens below Prague Castle is a complex of five beautiful gardens situated on the southern slope below Prague Castle. You will be delighted not only by the colourful vegetation but also by the rich architectural decoration, observation terraces, decorative staircases, pavilions and other elements that together form a picturesque whole.

16. Wallenstein Garden: Baroque elegance with a unique grotto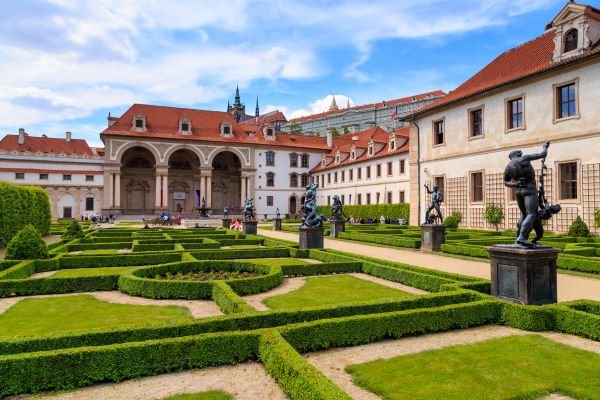 The Wallenstein Garden (Valdštejnská zahrada) is the second largest garden in the centre of Prague (the largest are the Prague Castle gardens). It is located just below Prague Castle, next to the Senate building, and once you enter, you will feel like you are in a castle. These baroque gardens are beautifully maintained, boasting landscaped hedges, fountains, a pond with a statue of Hercules, and one of the biggest attractions for which the Wallenstein Garden is famous is the unique grotto wall - an artificial cave where human faces and animal likenesses are hidden among the stalactites. However, for many visitors, the highlights of the visit are the freely moving peacocks.

17. Franciscan Garden: A tranquil oasis near the historic centre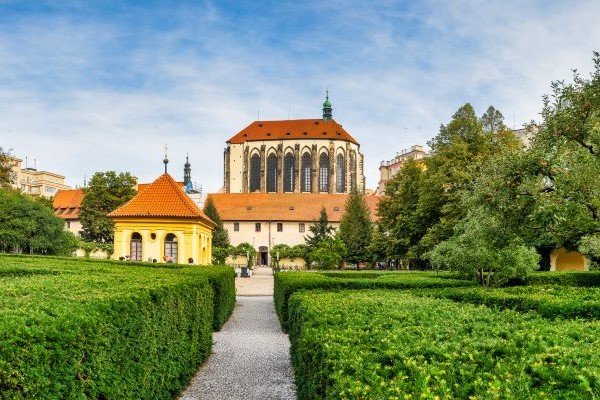 In the very historical centre of Prague, between Wenceslas Square and Jungmann Square, there is a small but cosy piece of green in the middle of the bustling city. The Franciscan Garden (Františkánská zahrada) is surrounded by walls and buildings, so who doesn't know Prague, few would expect to find one of the most pleasant gardens in Prague here. The many benches invite you to sit down, either with a book or an ice cream in hand, and enjoy the local tranquillity. In addition to the greenery, there is also a children's playground and a very nice café.

18. Vojan Garden: A hidden gem behind the walls
Vojanov Garden (Vojanovy sady) in Prague are literally a hidden gem. Although they are located just a short walk from the Charles Bridge and the Wallenstein Gardens, it is easy to miss them hidden behind the walls. However, this is what makes it a true oasis of peace. Apart from being Prague's oldest garden, it has a special atmosphere as a former monastery garden. There are three chapels, one of which is reminiscent of a stalactite cave, a pond, an observation deck with a sundial and a children's play area. As in the Wallenstein Garden, peacocks will keep you company there. This Prague garden is especially beautiful in spring, when, in addition to the fruit trees, the magnolias bloom.

19. Vrtba Garden: Prague baroque pearl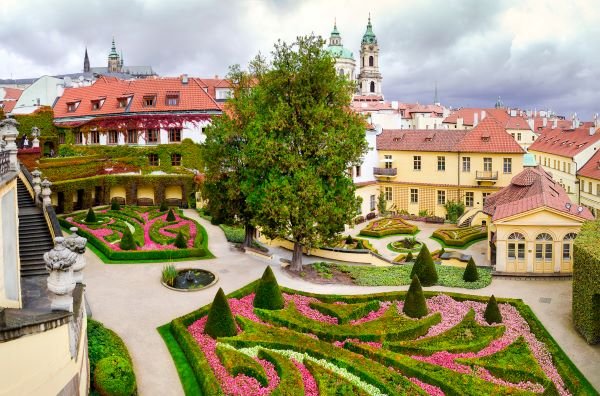 If any Prague garden can be called a true treasure, it is the Vrtba Garden (Vrtbovská zahrada) located on the Petřín hill. It is considered to be one of the most important and beautiful Baroque gardens not only in Prague but in Central Europe, so no wonder that it is on the UNESCO list as well. Vrtba Garden is interesting for its impressive terraced structure, which is connected by elegant ornate staircases. Thanks to its location, it offers beautiful views of the rooftops of the houses of the Lesser Town. Moreover, the more intimate character of the Vrtba Garden literally encourages weddings and various ceremonies to take place here.

20. Kinsky Garden: The oasis behind the Hunger Wall
Another of the gardens in Prague that are part of Petřín Hill and is separated from the others by the Hunger Wall. Kinsky Garden (Zahrady Kinského) offers visitors not only a pleasant walk along winding paths but also the Kinský Summer Palace, picturesque lakes with a waterfall or a statue of a sea lion and playgrounds for children. If you´re planning to visit Petřín, the Kinsky Gardens are ideal for descending back to the city streets.

21. Botanical Garden of the city Prague: A green journey around the world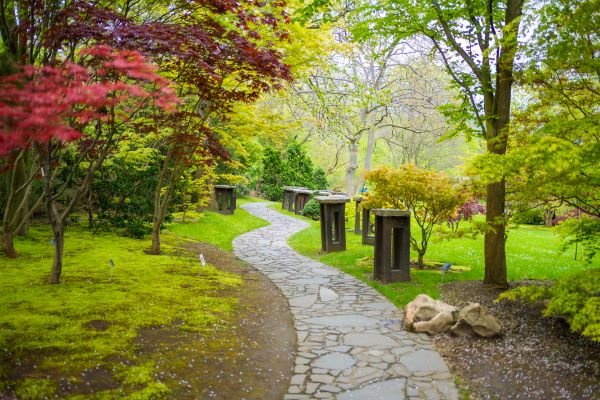 A list of the most beautiful gardens in Prague - and not mention the Botanical Garden? Impossible! It is definitely one of the must-sees of Prague's gardens - and not just because of its size. The Botanical Garden is located in Troja just a short walk from the ZOO and consists of three parts: the outdoor exhibition, the Fata Morgana greenhouse and the St. Clare Vineyard. The tour is basically a journey around the world - you will find trees and plants from all over the world. The Japanese Garden, the North American Prairie, the Ornamental Garden and the Mediterranean are just a fraction of what you can visit. The Fata Morgana Greenhouse is like a trip to a tropical rainforest. Although there is an entrance fee to the Botanical Garden, it is definitely worth a visit.

EXTRA TIP(S)
Do you prefer the wilder side of nature rather than just landscaped parks and gardens? Or do you want to escape from Prague's urban hustle and bustle, even for a whole day? Then this is exactly for you.
22. Divoká Šárka
Wildlife within easy reach of public transport? That's exactly what Divoká Šárka is. This nature reserve is located in Prague 6 and is one of the most famous and most visited nature parks in Prague. You will find there everything you can imagine: landscaped paths along the Šárecký Brook as well as scenic trails, steep rocks, forests, meadows, former Slavic forts, breathtaking views of the surrounding area, even a natural swimming pool and a water reservoir where you can cool off in the summer. If you are looking for a tip for a day trip, the stunning natural beauty of Divoká Šárka will not disappoint you. offers a retreat from the bustling city life of Prague and here you will easily forget that you are still in Prague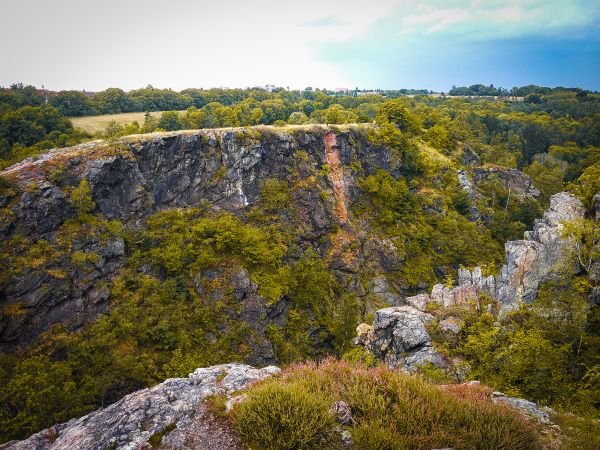 ---

As mentioned at the beginning, Prague really has a lot to offer in terms of green places to relax. If you have more time to explore nature, parks and gardens in Prague, we can recommend visiting these as well:
Dalejské and Prokopské Valley
Kunratice Forest
Hostivařs Forest Park
Rokytka River surroundings
Košíře-Motol Nature Park
Průhonice park

Map with the best and most beautiful parks and gardens in Prague
Interesting