TOP 13 Cocktail bars Prague
Enjoy the best cocktails in Prague according to locals

Long gone are the days when the cocktail offer in Czech bars was limited to mojitos, sex on the beach or negroni. Some of the cocktail bars in Prague even regularly excel at international bartending competitions. And so that you know where to go when you're in the mood for premium alcohol and creative combinations of flavours, we've put together a selection of the best cocktail bars in Prague, where you'll find the cocktail gems with the perfect service that won't leave you with just one drink. We've tried to choose the bars as varied as possible so that everyone can find something to suit them, whether you prefer a quieter evening for two or a cocktail party into the early hours. Probably needless to say, reservations are advisable at most of them, and higher prices are also to be expected.
Note: If you don't want to bother your wallet too much and still enjoy good cocktails in Prague, at the end of this article you will find some additional tips for cocktail bars in Prague, where the price tags are more favourable, or they offer e.g. cocktail happy hours.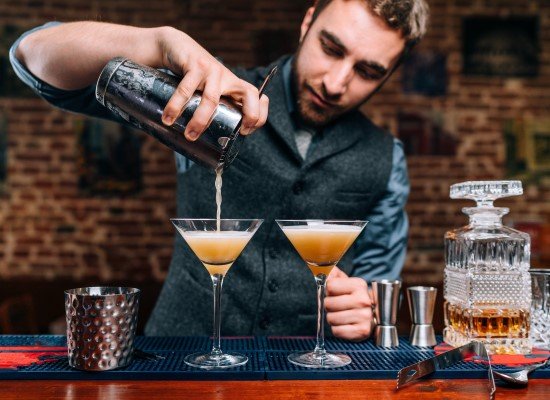 Hemingway Bar
Address: Karolíny Světlé 26, Prague 1
GPS: 50.084, 14.41428
https://www.hemingwaybar.cz/bar-praha/
Ernest Hemingway was a brilliant writer and a lover of alcohol and mixed drinks. His personality is imprinted not only in some of the cocktails, but also in the design of the bar's interior, which is dominated by solid dark wood, leather seats, typewriter details and cigar boxes, and which will transport you to the atmosphere of the first half of the 20th century. The bar has earned the title of one of the best cocktail bars in Prague thanks to its luxurious cocktails made from premium ingredients, the utterly professional service that combines the serving of each drink with a short story, and the overall unique experience. The bar is also unique for its wide range of premium rums and especially absinthe.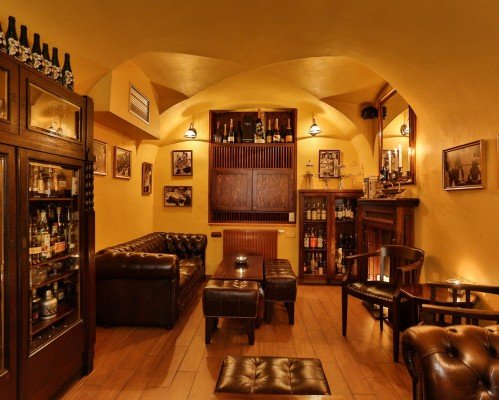 Source: hemingwaybar.cz

AnonymouS Bar and AnonymouS Shrink's Office
Address:
Michalská 12, Prague 1, GPS: 50.08535, 14.42008
Jungmannova 11, Prague 1, GPS: 50.08037, 14.42213
https://www.anonymousconcept.cz/
AnonymouS is a concept of three venues (in addition to the above mentioned "Ideas are Bulletproof") that - as far as their position among cocktail bars in Prague is concerned - are definitely not anonymous. On the contrary! You can hardly find a free chair here without a reservation. Each cocktail is presented in a unique, playful way, some accompanied by a bartender show. Part of the menu is secret and only readable under UV light, while part of the menu - the so-called Anonymous Classics, which are twists on popular classics - is projected on the wall. The bar concept is inspired by the V for Vendetta movie, comic books and the personality of conspirator Guy Fawkes. So don't be surprised if the bartenders welcome you in this mask. The stylish interior with dimmed lights adds to the already mysterious atmosphere and unique experience you'll take away.
Also worth a visit is the second AnounymouS Shrink's Office, where you basically pick your drinks blindly based on pictures using a Rorschach test. Everything is based on playing with the senses and consciousness, and you can be sure that here they can mix you the right "medicine". The bar follows in the tradition of American bars from the Prohibition era, so it's no surprise that the bar is hidden underground and only those who look carefully will find the entrance. Definitely one of the must-visit spots with the best cocktails in Prague.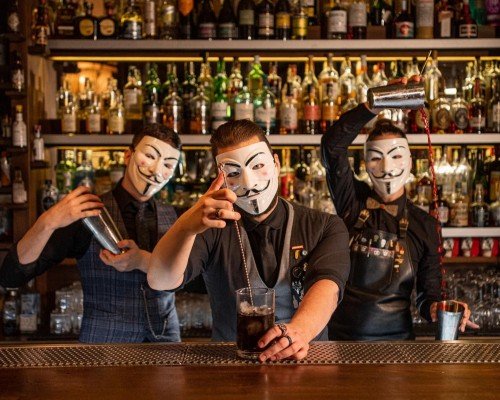 Source: facebook.com/anonymousbar.cz

L'Fleur Mixology and Champagne
Address: V Kolkovně 5, Prague 1
GPS: 50.08965, 14.42168
https://www.facebook.com/LFLeurBar/
This cocktail bar in Prague with an elegant French name and Belle Epoque atmosphere is synonymous with top mixology. It has also earned a reputation as one of the best cocktail bars in Prague for its exceptionally wide range of champagne. Indeed, right at the entrance you will be greeted by a statue of Dom Pérignon (a monk considered the "father of champagne", also the brand of the most luxurious champagne). Whether you choose one of the classic, signature cocktails or have a bespoke drink prepared by the experienced bartenders, you won't be disappointed. A few years ago, the bar was merged with the bistro, so you can complement your cocktail with a delicacy from French cuisine. In summer, there is also a garden.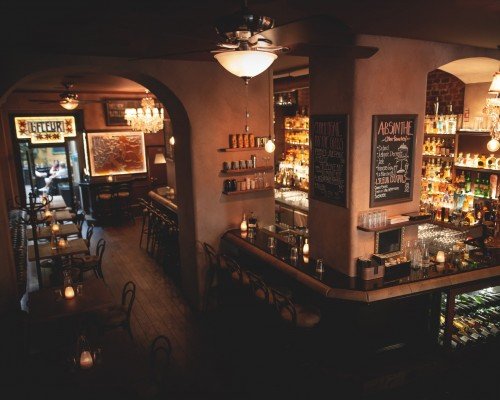 Source: facebook.com/LFLeurBar

The Alchemist Bar
Address: Provaznická 386, Prague 1
GPS: 50.08462, 14.42301
https://www.thealchemistbar.cz/
The Alchemist makes you feel like you're in a castle or a lounge for royalty from the time of Rudolf II rather than a bar. It's like you're in another world. Mystery and mystique permeate not only the luxurious interior, but also the cocktail menu, which you also receive bound in leather and reminiscent of an old alchemist's book. The Alchemist has also gained popularity among Prague cocktail bars thanks to its "Choose Your Destiny" concept, where you pull out a tarot card and a drink from the secret menu is prepared according to it. From the classic menu, we recommend the Alice in Wonderland or Death by Penicillin drinks.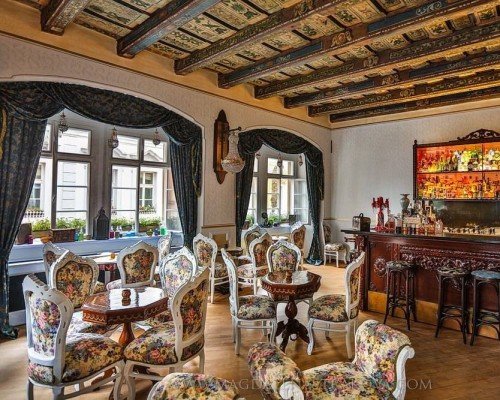 Source: facebook.com/TheAlchemistBar

Black Angel's Bar
Address: Staroměstské náměstí 29, Prague 1
GPS: 50.0865, 14.4202
https://www.blackangelsbar.com
In a gothic cellar with a lucrative location right on Old Town Square, below the equally famous Hotel U Prince, you will find a bar that has been awarded in prestigious world competitions. And of course, a bar with the best cocktails in Prague. The bar is decorated in the style of American prohibition bars of the 1930s, where people of all classes met secretly over a drink. It still retains the secret bar element today, for example by prohibiting photographs. The cocktail menu is inspired by the notes of bar genius Alois Krcha, which were found during the renovation of the building. The originality of the recipes is underlined by the creative serving. Live music on piano or saxophone completes the atmosphere. Just pay attention to the prescribed dress code - so that you don't miss this experience to visit this unique Prague cocktail bar.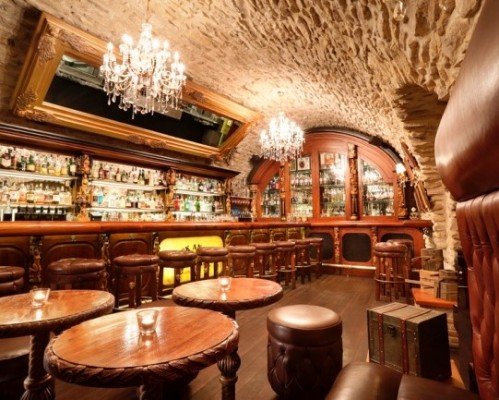 Source: bauergroup.cz/

Bugsy's Bar
Address: Pařížská 1068/10, Prague 1
GPS: 50.089, 14.42002
https://www.bugsysbar.cz/
Bugsy's Bar, named after the famous American gangster, was the first ever cocktail bar in Prague. It has won several prestigious competitions and has maintained its quality for over 25 years. From Mojitos, Negronis, High Society and other classic cocktails that were introduced to the Czech bar scene back then and are still popular in Czech bars today, the menu at Bugsy Bar has moved on to its own original recipes, even with its own gin. From the prices, which are admittedly higher, but still affordable given the prestigious location on Pařížská Street, you get not only first-class cocktails in Prague, but also professional service that will fulfill your every wish.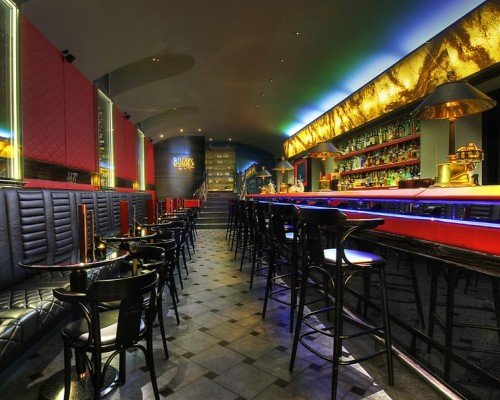 Source: bugsysbar.cz

Liquid Office
Address: Pernerova 691/42, Prague 8
GPS: 50.09206, 14.45749
https://www.liquidofficebar.cz/
Liquid Office is the successor of the famous Cash Only bar and the "sibling" of the famous Hemingway bar. This alone guarantees a first-class experience. At the same time, Liquid Office combines two concepts - during the day you can enjoy a selection of coffee with a croissant, while in the evening this establishment, located in a modern office building (hence the "office"), changes from Coffee Office to Cocktail Office. The cocktail menu changes seasonally and includes classic and signature cocktails, prepared using the latest mixology techniques. Another cocktail bar in Prague definitely worth visiting!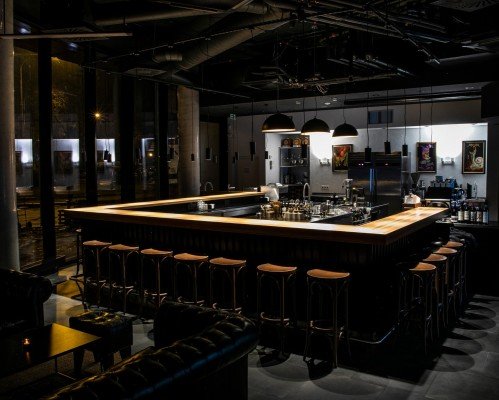 Source: liquidofficebar.cz

The Banker´s Bar
Address: Haštalská 16, Prague 1
GPS: 50.09105, 14.42483
https://www.bankersbar.cz/
"The only bank you can really like." That's the motto of this cocktail bar in Prague, and we can confirm that you'll really like it here. After all, the fact that the bar is located in a former bank building is matched by the original interior, where you can't miss the door to the vault, the safe hiding the lounge or the display case resembling a safety deposit box. But of course the main role here is played by the cocktails, which are a combination of unusual ingredients and modern bar techniques. If you still can't choose from the original menu, the bartender will mix you a cocktail on request. Cocktail tastings are also available.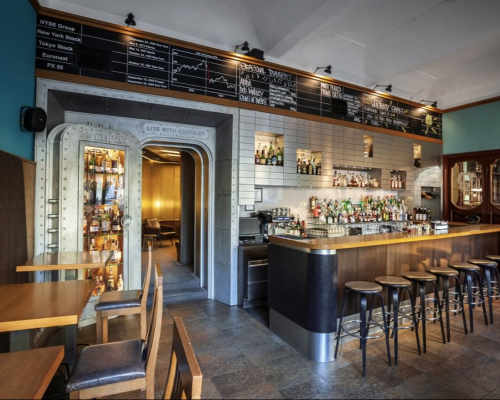 Source: bankersbar.cz

Beyond the Bar
Address: Liliová 218/3, Prague 1
GPS: 50.08458, 14.4164
https://beyondthebar.cz/
While the era of covid meant the end for many businesses, it opened the door for an Indian IT guy and entrepreneur to fulfill his dream - opening a cocktail bar in Prague called Beyond the Bar. Moreover, in place of the famous Cash Only Bar mentioned here. You will be welcomed by a stylish interior, a pleasant atmosphere and professional bartenders who will make sure that you enjoy every cocktail to the last drop.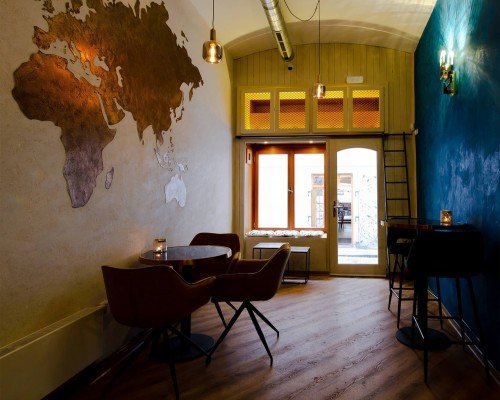 Source: beyondthebar.cz

Café Bar Pilotů
Address: Donská 168/19, Prague 10
GPS: 50.07137, 14.44692
http://www.cafebarpilotu.cz/
If you ask someone in Vršovice where to go for the best cocktail in Prague, they will recommend Café Bar Pilotů. It's no coincidence that this bar is very popular among locals. It's not only the delicious and completely original cocktails, but also the cosy atmosphere - leather sofas, carpets, walls lined with books and paintings make you feel like you're in someone's living room. The cocktail menu is dominated by 12 signature drinks, which change seasonally and surprise you with combinations of ingredients you never thought could taste so good. The bar is located right next to the cinema of the same name - the perfect opportunity to pop in for a drink after a movie.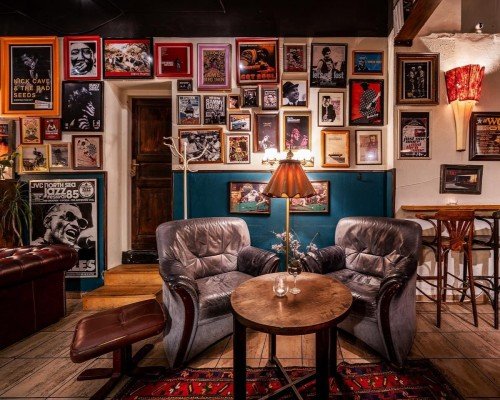 Source: facebook.com/cafebarpilotu

Fermé
Address: Lucemburská 1492/11, Prague 2
GPS: 50.07896, 14.4535
https://ferme.cz/praha
"To live, you need oxygen, light and somewhere to go for a beer or a well-treated drink." That's the philosophy behind this legendary cocktail bar in Prague's Vinohrady district, where - when it comes to beer, cocktails, food or a friendly, casual atmosphere - you definitely won't be at a loss. Although the menu is not extensive, everything is even more fine-tuned to the detail. If you can't choose from the cocktail menu, which they present as chemical compounds, just ask and the bartender will mix to your liking.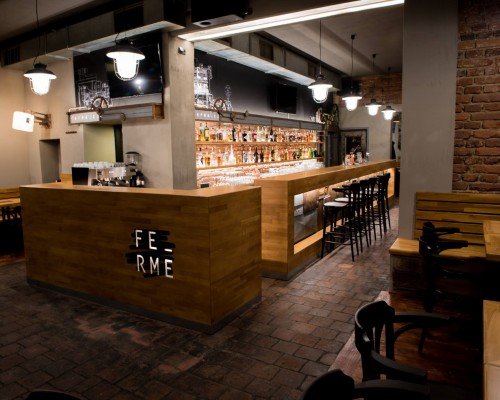 Source: facebook.com/fermebar

Parlour
Address: Krakovská 15, Prague 1
GPS: 50.0786, 14.4281
http://www.parlour.cz/
One of the hidden gems among the best cocktail bars in Prague. Imagine walking into a bar and instead of putting a menu on the table, the bartender starts asking you what you're craving - and mixes you a drink based on that. That's exactly how it works at Prague cocktail bar Parlour. In other words, they listen 100% to the guest's wishes. After all, the fact that the bartenders here can mix you the right drink is based not only on bartending skills, but also on their knowledge of psychology. You just have to experience this! The simple interior may not impress, but the cocktails do.

More tips on where to go for a cocktail in Prague
Needless to say, there are many more cocktail bars in Prague where you can enjoy a pleasant evening with a tasty cocktail in your hand. But then we could also end up with a list of not TOP 13, but TOP 100. :) However, we would like to mention at least a few more cocktail bars in Prague, which didn't make it into our list, but are at least worth mentioning. These are mostly bars that offer a casual, friendly atmosphere, perfect for an evening with friends over a cocktail, when you don't need a unique experience, experiments or a spectacular cocktail show. And maybe they'll even entice you with happy hour prices.
Brothers Bar & Cafe
Modern American-style bar, casual atmosphere, fine cocktail prices, just beware - cash only.
Cobra Bar
Formerly a 24-hour gambling hall, now a popular spot for (not only) hipsters. Pleasant, casual atmosphere, offering not only cocktails, but also beer, wine, cider, part of the bistro, so suitable for brunch.
Bonvivant's CTC bar
Not only a cocktail bar, but also a tapas bar. Casual atmosphere, including seating in the garden.
BeBop Bar
Part of the Alcron Hotel, which is matched by the quality of service (and so prices). It impresses with an Art Deco style and creative cocktails with original presentation.
Crazy Daisy
First Republic atmosphere, unique video mapping show on the walls, cocktails served e.g. in a light bulb and a piano in the middle of it all. A bit of circus, a bit of cabaret. Simply crazy.
Gossip Bar
Perfect for a chat with friends, garden included. Happy hours till midnight.
Milá tchýně
Two branches, lively atmosphere, a popular place even among students for its reasonable prices. 2 drinks every month for an extra price.
Orange Bar
An unassuming smaller bar with a friendly atmosphere and fine drinks at fine prices.
Zanzibar
For parties with friends until the wee hours of the morning, it's ideal. Casual atmosphere, DJ, wide range of mainly gin tonics, plus a special price every Thursday.

Map with an overview of the best cocktail bars in Prague
Interesting