Best things to do in Prague with kids, part 2
To the playground, amusement park or café, where you and the kids can enjoy coffee in peace
Even kids can have fun in Prague! Here's a series of tips on places in Prague to go with your kids on a trip or just to spend a nice afternoon together. All the tips are always divided into thematic sections, and in this article we've focused on the best playgrounds, theme parks and play areas in Prague. And how about a café with a children's corner, where you can enjoy your coffee in peace while the kids can frolic in the play area without fear? Prague for Kids offers a range of options to make the most of your time with the kids in Prague. And you know it - Idle hands are the devil's playgrou­nd. :)
Want even more inspiration and tips for activities with children in Prague? Read more articles on this topic!
Best things to do in Prague with kids - part 1
Best things to do in Prague with kids - part 3
Best things to do in Prague with kids - part 4
Would you recommend any other places that we don't have in our selection? Let us know, we will be happy to add it to the list.
The one who plays is not angry:
playgrounds, fun parks, children's play areas

1. Children Playgrounds in Prague
Every mom has favorite playgrounds near her home, but sometimes it's nice to break out of the routine. Nowadays, you can find nice playgrounds in almost every park in Prague. But some of them stand out so much that it's worth a little trip to see them.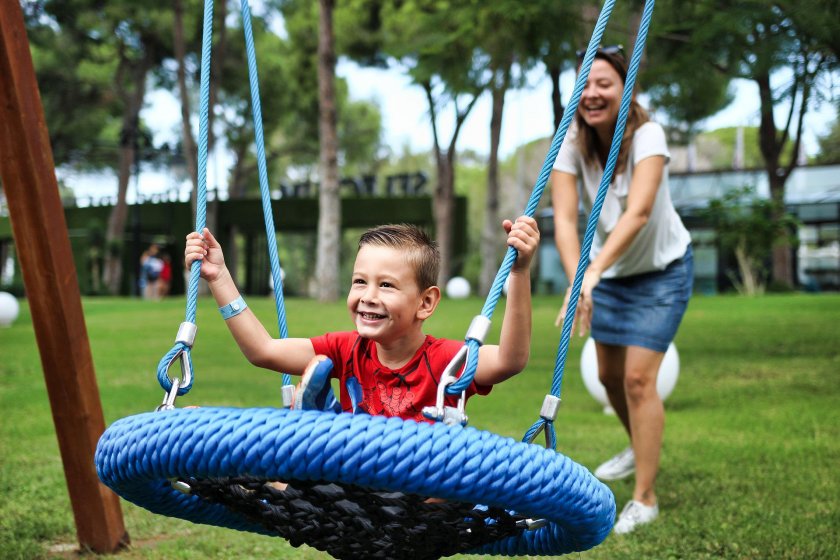 Gutovka (https://www.gutovka.cz/) - a leisure area in Strašnice offers activities for all ages. Among the many sports facilities (climbing wall, mini-golf, ball sports, skatepark...) there are also several tuned playgrounds with rope climbing frames and slides. There is also a unique "water world" where children can build dams, dredge sand, pull the floodgates or just paddle around. On a hot summer day, a program beyond gold!
Areál Vltavanů 229 (https://www.vltavanu229.cz) – a sports and relaxation centre on the site of the historic waterworks in Braník surrounded by greenery. Its main attraction is the rope park, which is one of the most attractive in Europe in terms of its size and height. Everything here is simply bigger: climbing frames, swings and slides. In addition, there are perfect facilities including a café and an indoor playroom for children.
Aktivní lesopark Řepy (https://www.repy.cz/fotogalerie/lesopark) – a simple wooden playground spread out on a small circuit in the middle of nature. Children can slide down a 9-metre tower, jump on a trampoline or into the sand, ride a pendulum swing, climb through a wooden castle and try out sound elements such as a dendrophone. A great place for a picnic or to roast sausages.
Dětský ostrov – The island surrounded by the Vltava River in Smíchov does not bear its name in vain. Children of all ages will have fun here. The daily maintained multifunctional playground provides plenty of shade and nice views. In addition to climbing frames of all kinds, you will find a refreshing fountain, a sports area for ball games and a skate park, as well as attractions adapted for disabled children.
Park Zahrádky – a set of playgrounds in Prague 9 offers fun for children of all ages. In the beautifully revitalized park, through which the Rokytka stream flows, you will find a giant climbing castle with slides, rope climbing frames of various difficulty levels, a rope swing, an open tepee with a sandpit, a climbing "pyramid" with a slide, a trampoline, a children's climbing wall and a fitness playground for adult athletes. You can also watch the ducks on the small pond and refresh yourself in the newly built kiosk.
Playground at Točná Airport (https://www.tocna.cz) – a playground with a number of climbing frames and interactive elements has been created on a large area near Cholupice. But the best part: you can watch planes landing just outside the fence! One biplane is also permanently located in the playground area.
Jilmová traffic playground (http://dopravni-hriste-jilmova.cz/) – one of the most pleasant traffic playgrounds in Prague is located in the Jewish Furnace Park in Žižkov. Children can try out the rules of traffic and even refuelling on their own or borrowed vehicles, from bicycles to pedal go-karts. All this accompanied by songs coming from the loudspeakers.
Many of the playgrounds in Prague's parks have an original element. In Parukářka, children can play on the longest slide in Prague, in Stromovka near the Vozovna, a replica of an old tram has been created for their play. For unique water and acoustic elements, head to Malešický Park, and for a giant trampoline, head to the park by Vinohradská vodárny
Extra TIP: If you're heading to the centre of Prague with your kids, it's a good idea to have a tip for a hidden playground where you can take a break from the hustle and bustle of the city. The playgrounds in the Karlín Barracks, in the Vojanovy Sady on Malá Strana, in the Franciscan Garden at the bottom of Wenceslas Square, which you can walk to from the Světozor arcade, or on Kampa next to the Owl Mills are great places to play.

2. Children's fun parks and playrooms in Prague
Family and community centres and children's play areas in Prague are still growing like mushrooms after the rain and are a great way to connect with other mums in the area. You're sure to find a similar place in your neighbourhood. But if you want to try something spectacular, here are some tips.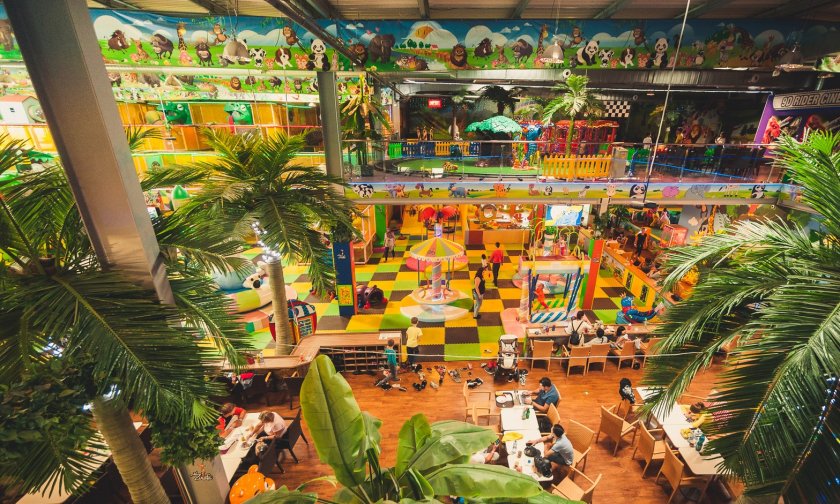 Image source: FunPark Žirafa website

FunPark Žirafa (https://www.zirafapraha.cz/) – for the biggest amusement park in the whole of the Czech Republic, head to Čestlice. They've got a giraffe plane, electric train, Ice Age slide, balloon whirlpool, bumper cars, funny rides and swings, and monkey bars. In the interactive game, children can become a fireman, hockey player, pilot, fisherman or even a zombie hunter.
Krtkův svět (https://krtkuvsvet.cz/) – an amusement park in the forest park near Horní Měcholupy provides fun for the whole day. Outside you can enjoy a well-equipped playground with climbing frames, bouncy castles and water attractions, and escape from the weather into a fairy-tale "greenhouse" where children can learn about animals and plants in a fun way.
Tanzania park (https://www.tanzania-park.cz/) – in Měcholupy you will also find a more modest children's playroom based on the theme of a playful jungle. In the labyrinth there are hidden pools with balloons, various slides, car tracks, trampolines, for the little ones there is a fun castle or a giant lego.
Koala Café (http://www.koalacafe.cz/) – a café, but above all a children's playroom situated in Hostivař. When children get tired of the extensive labyrinth, slides, pedal cars and other attractions, they can replenish their energy with pizza or homemade waffles.
Toboga fantasy (https://www.toboga.cz/praha) – in the huge children's park in Zličín your children will feel like in a dream: mega slides, tubing and bobsled rides, ball cannons, balloon fountains, spider tower, electric cars, slides, trampolines... and the fun doesn't stop there.
Large children's playrooms can also be found in many other shopping centres throughout Prague: SuperLand (Galerie Butovice), Kulíškov (Shopping House Kotva and Park Hostivař), Harfiště (OC Harfa), Maxíkov (OC Černý Most), Dětský svět (OC Flóra), Panda Play (OC Stromovka), etc.

3. Cafés with children's corner Prague
There's nothing like sitting down for a cup of coffee without someone constantly demanding your attention. For an undisturbed moment of peace, head to one of the cafés with children's corners. Some of them have adapted their ambience to children and also offer snacks.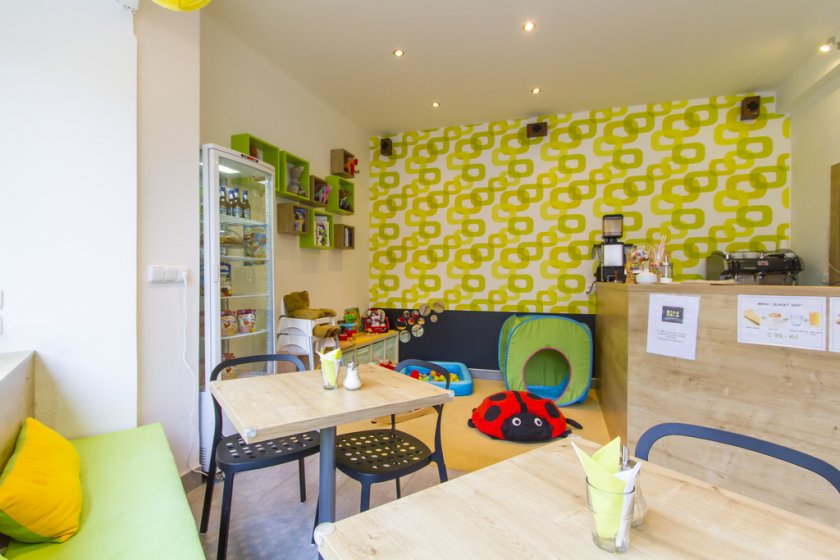 Image source: Halabala café & baby website

Kavárna Jasmínka (https://www.kavarnajasminka.cz/) - a café in Záběhlice has been tailored for parents with children. The large playroom boasts a slide, trampoline, ball pool, kitchen and lots of mostly wooden toys. They have good coffee and honest homemade cakes.
Food Lab (https://www.food-lab.cz/) – this five-star gastro place in Hastalska hides a generous kids' zone with a ball pool, board games, a cinema and a climbing wall. The food offer is so tempting that you won't even notice the kids at the coffee.
La Cravatta (https://www.lacravatta.cz/) – a charming space in the basement of a house in Libeň. A café offering small meals and drinks for kids and moms (great prosecco!) and a spacious playroom that regularly turns into a theatre of the funny Mr. Kravatta.
Halabala café & baby (https://halabalacafe.cz/) – a nice place to stop during your walk around Hradčany. A small but well-equipped children's corner, an outdoor garden and an interesting selection of snacks and drinks for the little hungry ones in the menu.
Café Mistrál (https://www.mistralcafe.cz/) – stylish, bright, airy, full of flowers, this is the café near Old Town Square. Children have a separate play area in the form of a playhouse.
Jakoby Záletná (https://zaletna.business.site/) – a family café/bistro near Letenské sady is ideal for outdoor seating in nice weather. Kids run around in the spacious garden and can ride the First Republic carousel or swing on the swing.
Café Pragovka (https://www.kafepragovka.cz/) – a café with a creative atmosphere in the beautiful industrial premises of a former factory hall. A play area, books, a swing, a piano and lots of other interesting objects to explore will keep the kids busy.
Erhart Confectionery (https://www.erhartovacukrarna.cz/) – renowned traditional treats can be enjoyed in Vinohrady in the immediate vicinity of the smaller play corner and you'll also find inspiration for your child's next birthday cake.
Café Pointa (http://cafepointa.cz/) – this pleasant café and bistro in Hradčanská Street has a rather large corner in a glass alcove with a cool children's kitchen reserved for little visitors.
Cat Café (http://www.catcafeprague.com/) – an unusual concept where you don't pay for drinks, but for the time spent in the café. Here you can play various board games in the company of cute cats. Suitable for older, quiet children who won't be cat hunting.

Extra TIP: You can also go to the restaurant for a coffee or lemonade. For example, a place where the drink is brought to you by a machine. Restaurant Výtopna (https://www.vytopna.cz/) also has a children's corner, but you better believe the kids won't want to leave the table.
Interesting